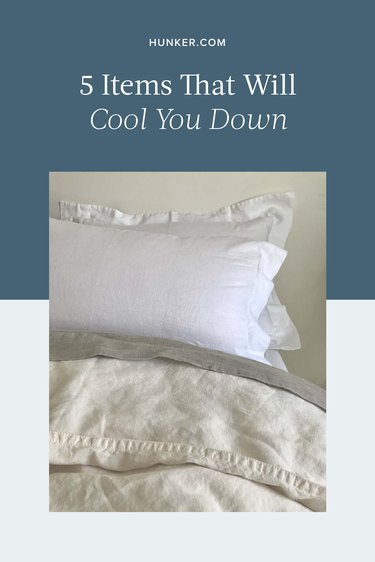 Welcome to The Cool Down, Hunker's definitive guide for staying cool, calm, and collected all summer long.
There's a lot going on this summer ... we won't get into it, but if you're feeling overwhelmed in addition to overheated, we got you covered. In an effort to help us all cool off — both mentally and physically — we tapped Decorist designer duo Forbes + Masters, Tavia Forbes and Monet Masters, that is. The interior design team is based in Atlanta, Georgia — where they specialize in marrying bold, eclectic designs with the personality of each client — so you could say they have a little bit of experience in how to handle the humid and hot summers of the south.
Given everything that's going on this summer, we asked Forbes + Masters to give us their top picks for how to stay cool, calm, and collected no matter how hot (or heated) things get. Here are their favorite cool-down picks.
"With summer in full swing, we like to switch out sheets for linen weaves. They not only regulate your body temp, but are soft, moisture resistant, and actually stimulate blood flow to promote restful sleep."
"Blackout curtains aren't just helpful while you're sleeping. Close them during the day to keep the sun at bay, so your room is not burning up by the time you go to bed."
"This weighted blanket is like getting a cool hug — comforting and cooling."
"A dab of an herb infused balm on your pressure points have a full-body calming and cooling effect right before bed. If CBD isn't your thing, try Scentered balms."
"This sleep fan is not only cooling, but also comes in any imaginable configuration to fit any decor."
---
Katie is a Los Angeles-based writer who covers shopping trends, deals, and product reviews for Hunker. She's written for PureWow, Food Network, and Well+Good. When not online shopping, you can find her collecting vintage glassware or rewatching Nancy Meyers' movies for design inspo.