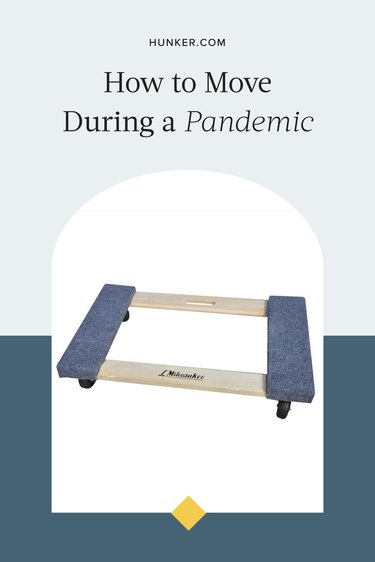 Moving already feels stressful once you realize all the things you shoved into the back of the closet now need to get packed. Add in a pandemic and high temperatures, and you get the perfect recipe for an exhausting few days.
As someone who just moved during warm days and coronavirus precautions, there were a few lessons I wanted to share that made my experience at least a little easier. For starters, it's important that you stay safe and follow the usual precautions. These tips just made the whole process a little smoother. Still doesn't explain why I need so many books at home (they are heavy when packed!) but that's for another post. Here's how two people (plus one mover for a couple of hours) moved items from a one-bedroom apartment during the pandemic and summer.
The biggest challenge we faced item-wise was our couch/futon. Because of its dual purpose, it weighs a lot. It's always been difficult to move, no matter the season. But we really couldn't imagine lugging it down the street in 80-plus degree weather.
When we rented our U-Haul, I looked up how much it would cost to rent furniture dollies. It turned out it made more sense to actually buy a couple, because it would be the same price as renting them just for the day. We figured we would make use of them again at some point in the future. They were easy to use and have a little carved-in handle so you can carry them. We used them to move the couch, a dresser, and a couple of smaller items. These can withstand up to 1,000 pounds.
This obviously goes without saying but wow, it's hard to wear a face mask during hot days. Couple that with the sweat pouring onto your face from lifting things for hours at a time. Thankfully, there are plenty of places to order face coverings from so that you can have a spare one nearby. Wear the same one during the move and keep one for after. I washed my face immediately after we were done to avoid breaking out and then put on a fresh mask to run errands later that day. It made a huge difference, tbh.
By the end of one day, I started feeling a little lightheaded. I realized that the heat, plus my lack of hydration, probably explained it. Keep a full water bottle nearby so you can just grab it on your way out. Make sure you're drinking it throughout the day because it will be a long one and this heat, along with the lifting, will absolutely tire you out.
Shorts are great but leggings really allowed me to not worry about chafing (or bruising my legs against furniture). Bonus points if you have some with mesh panels that make them more breathable. I used the same pair for a few days while we moved and they were comfortable and also helped with the heat.