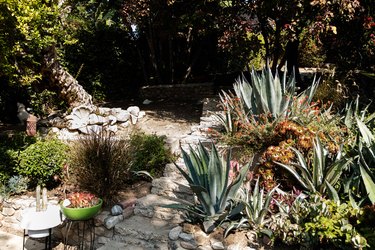 If life is a journey and not a destination, there's all the more reason to create gorgeous garden paths through your landscape. The idea is to make being in transit between the house and the apple tree as delightful an experience as possible. While the course of the path is very important, the material of which it's made will also have a significant impact on the project. There are many different materials you can use to make a garden path more beautiful, whimsical, chic or practical, so consider their benefits and challenges before you jump in.
Gravel Garden Pathway Ideas
A garden path can get you from here to there, but that's just the beginning. Outdoor walkways and pathways can add grace and interest to the yard as they wind their way from the home to the garden, to the barbecue station or to the cozy bench by the weeping willow. Design factors can make a stroll more inviting, including the material or materials you select for the path.
One of the easiest choices for walkway material is gravel. Gravel pathways are attractive, inexpensive and soft to walk on yet solid enough for heavy equipment like wheelbarrows or lawnmowers. They work well for light to moderate foot traffic, are low maintenance and will last indefinitely.
You'll need to dig down a few inches and build a border into your plans to keep the gravel in place. Add a layer of landscaping fabric to avoid a weed invasion. Alternatively, you can use a gravel grid.
Gravel pathways are casual, but they can be dressed up with a stone border, or inject a traditional feel with brick edging. For a borderless look, use metal edging. The use of pea gravel can upgrade the look. Pea gravel is made up of small, smooth stones that are the size and shape of peas. It comes in many shades.
However, gravel has its limitations. It isn't fun to walk on without shoes and shouldn't be used too close to the front door of your home since it sticks to your shoes and walks in with you. Gravel is not appropriate for a pathway on a steep incline since one good rain will wash it down the hill. Some maintenance is required, including regular weeding and occasional renewal of the gravel.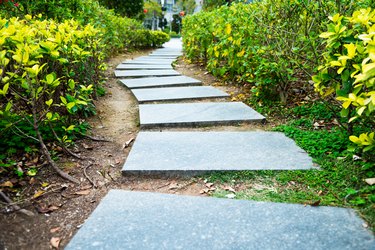 Stepping Stones and Stone Paths
In Asian gardens, stepping stones are used to slow down the pace of those passing by, causing them to focus on the pathway and each step they take. Stepping stones are popular in this country too, giving a casual, informal look to a garden design. Even a beginner can install a stepping stone pathway as a DIY project in a weekend. You can opt to place large, flat stones over dirt, grass or gravel areas, first using a couple inches of sand as a setting bed. Natural stones like flagstone are among the most expensive materials for a garden path, but you can buy prefab concrete stones at a much lower cost.
Traditionally, stepping stones are placed at intervals that match the average user's stride and alternate between the right and left sides of the pathway. However, that is not required, and a pathway paved with large, flat stones can also be called a stepping stone pathway. A cobblestone path may not direct a walker's focus like traditional stepping stone placement, but it may be easier to access.
Stone walkways don't disturb your lawns and gardens, and you can curl them around the vegetable garden and circle mature trees to prevent root compaction. This type of path is also good for an indecisive homeowner since stones can be moved without too much trouble if the placement proves problematic.
Stone makes a good path for light to moderately heavy foot traffic. On the other hand, natural stones are uneven and may not be the easiest garden pathway for wheeled machines like lawn mowers, wheelbarrows and even kids' bikes. Stone paths also tend to be difficult to shovel in winter.
For a durable pathway that is easy to maintain, you cannot beat concrete. According to Borst Landscape & Design, concrete walkways are durable, resilient and cost-effective path options. Given the many decorative possibilities available in commerce, concrete doesn't have to be plain, gray and smooth. You'll find options in lots of colors and textures that can work well with different garden path ideas.
Poured concrete gives you a smooth, seamless look, but you embellish it with various decorative treatments, like scoring, stamping or staining. Concrete can take on any form that works for your garden path. All concrete paths are slip-resistant, easy to clean with a hose and virtually maintenance-free. However, poured concrete may be too difficult for a beginner DIY project.
You can also use concrete pavers, which are available in many sizes, shapes and textures. Interlocking concrete pavers attach to each other like jigsaw puzzle pieces without mortar or even grout. You might also consider large concrete pavers that look like mini slabs. Concrete pavers are a relatively expensive option but make up for the extra cost by being low maintenance. They can also withstand heavy weight, they are easy to walk on and they can last a lifetime.
It's not difficult to install a garden pathway of concrete pavers, which makes it a viable project for DIYers. The pavers are installed over gravel and sand in exactly the same way that you would install a brick path without mortar.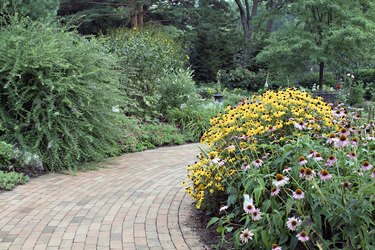 Brick has a traditional appeal and makes a classic, durable pathway. You can opt for full-sized bricks laid with or without mortar in various patterns. Herringbone is one extremely popular pattern, but you might also choose basket weave, running bond or stacked bond pattern. Color options aren't limited to traditional red brick and range across the earth-tone pallet including shades of green, mahogany, brown and beige.
Brick pavers are thinner than regular bricks and are available with different finishes. The traditional way to install a nonmortared brick paver walkway starts with a 6-inch layer of gravel for the base topped by a 1-inch layer of sand and the pavers themselves. You can simplify this by purchasing lightweight paver base panels instead of gravel and installing the pavers directly on top. For mortared pavers, you typically install them over an existing concrete walkway.
The advantages and disadvantages of brick are quite a lot like those of concrete. Brick pathways are durable and require little maintenance. You can wash the pathway with a strong hose jet and let it dry in the sun. On the other hand, brick pathways in shady areas can develop a slick, mossy coating. In some areas, you may need to use a sealer to keep the bricks from absorbing water.
Wood pathways have an undeniable shabby-chic charm reminiscent of beach boardwalks and park walking trails. They are less expensive and less labor intensive than stone or concrete, and some styles work well on sloped areas and across marshy areas. You select the ambiance of your walkway by picking wood that meets the moment, from weathered driftwood logs to fine, polished planks. The pathway should harmonize with and enhance the natural landscape, creating an understated or dramatic impression depending on your preferences.
Options for garden paths made of wood include walkways made of pallets, timber, split logs, sliced logs and even wood chips. To get the job done faster, look for roll-out wooden pathways. You can also use rounds of logs sunk into a bed of sand for a quick and effective pathway.
While many wooden pathways are great DIY projects, raised boardwalks may require professional help to make sure the walkway is strong and level. Remember that most wood will rot due to moisture and ground contact. To forestall rot, use long-lasting wood like cedar or pressure-treated wood. If you are considering a pathway made from wood chips or chipped bark over landscape fabric, remember that these are often used as mulching material and can be expected to break down quickly.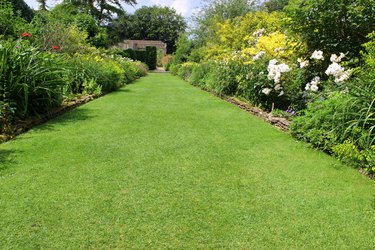 Green Garden Pathway Ideas
Last but far from least, consider green grass pathways, also called mowed paths. One iteration of a grass pathway involves planting grass seeds along a long, narrow strip to walk on, but that's not the only option, according to Gardenista.
Many gardeners are tired of labor-intensive traditional lawns that require constant maintenance, and they replace them with meadows or tall native grasses. This type of vegetation requires less irrigation than a classic American lawn and provides greater biodiversity, which is helpful to beneficial insects, wildlife and the planet in general. If you go this route, create a mowed pathway by deciding where you want the walkway to pass and trimming the grasses to several inches along the route.
Grass paths are pleasant to walk on and create a very natural-looking and inviting path. If you like the look of stones on grass, it's easy to add stepping stones or pavers over the mowed area. The taller the grass and flowers in the area, the wider you'll want to make your path.
Garden steps are just as important as garden paths in creating access to your yard. According to Architecture Art Designs, outside steps are one of the first features that catch the eye in a garden or backyard, so put an extra effort into the design. You have the same broad range of potential materials for steps as you do for pathways plus a few extras. Designs for outdoor steps can include materials like stone, concrete, bricks or wood as well as creative choices like old car tires.
What is the most popular material for making outdoor steps? It is the same as the most popular material for pathways: natural stone. You can mix and match materials as well, like combining concrete with colored pea gravel. Keep in mind that there should be a certain unity in the elements of backyard design. Your step design should work harmoniously with the style of the garden and the pathways.