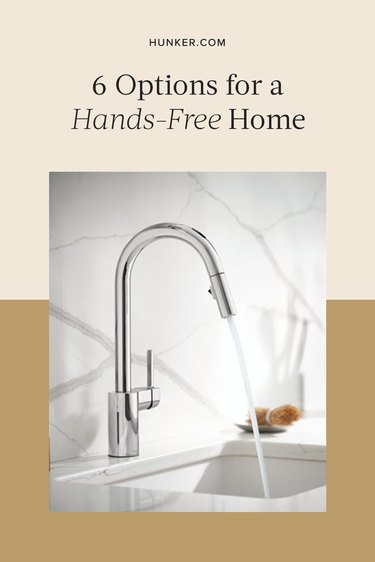 If you've been in any public bathroom in the past five years, you've probably used a sensor-operated sink faucet that was ... maybe not the most beautiful fixture you've ever seen. But in recent months, Covid-19 has ushered in an increased need for touch-free kitchen and bathroom fixtures and accessories, and we always like to prioritize form and function at the same time. Whether you're trying to keep your kitchen as clean as possible, want to adjust the temperature of a much-needed bath with a wave of your fingers, or find yourself in search of the perfect trash can that opens at the sound of your voice, we have you covered. Take a look at some of our favorites below.
Kohler's bathroom and kitchen faucets and fixtures are known for their classic designs, but their Purist line is particularly streamlined and minimalist. Their touchless faucet uses an adaptive infrared sensor that gathers and analyzes the surrounding area after it is installed, which allows for calibration of the sensor and avoids false triggering. We're big fans of how this faucet is wall-mounted, making it easier to clean sink basins.
If the thought of an automatic light switch conjures memories of The Clapper's infamous "clap-on, clap-off" TV ad, think again: The IOTTY Smart Switch is the hands-free light switch of the future, no clapping needed. Created using "Italian ingenuity and design," it can be controlled with automation set by your cell phone, by voice activation, or going the old-school route of touching the glass panel manually. It integrates with Alexa, Siri, Google, and other apps, making it perfect for when your hands are full of groceries and you're struggling to flick the light switch to your kitchen.
The Litze faucet from Brizo is chock full of new technology, featuring tap on/tap off functionality and a colored LED light that indicates water temperature. Its knurled handle makes for easy gripping and a textural change for a bit of visual detail. It comes in gold, chrome, polished nickel, and stainless.
The trash cans that double as design objects are few and far between, but Simplehuman has cornered the market of beautiful garbage disposals. Their sensor-activated cans, available in two different sizes — 45 or 58 gallons — come in four finishes and are activated by both motion and sound (yes, you got that right!). The lid opens and closes with either a wave of the hand or the words "open can." Keeping the kitchen clean just got that much easier!
Meet your newest kitchen helper: the U by Moen Smart Faucet. The voice-activated faucet takes voice commands seriously, dispensing quantities of water at temperatures dictated by you, from a tablespoon of ice cold water for a pastry dough to four quarts of hot water for cooking pasta. The faucet also has a hands-free activation operated by a wave sensor that enables users to turn it on or off with a simple hand movement, and of course there's still the option to use it manually like any other faucet. It's all about the options to make life easier! What's more, we like how it keeps a modern and clean profile — its extra hardware is out of sight.
Whether you're into liquid soap or foam soap, rose gold or stainless steel, Simplehuman has your back yet again with their rechargeable sensor-activated soap pumps. They're clog-free, dispense variable volumes, and come in five high-grade brass stainless steel finishes: brushed stainless steel, polished stainless steel, rose gold, white, and brass.