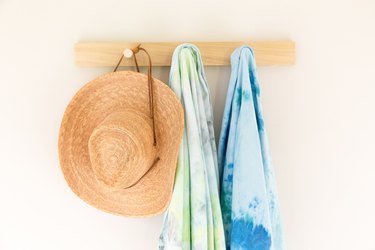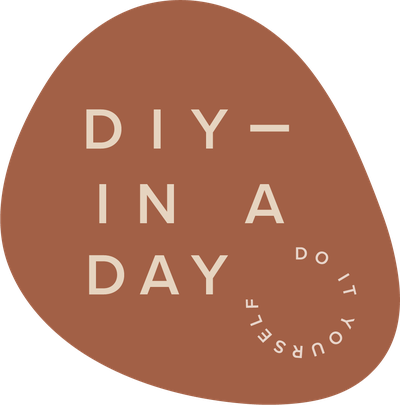 DIY in a Day brings you step-by-step instructions for easy projects that will spruce up your space — within 24 hours (or less!).
Jump on the tie-dye trend with this colorful and creative project. We use an ice dyeing method that gives a watercolor effect to a plain white towel. (It's mesmerizing to make!) For this DIY, we use large turkish towels — they'll look lovely while laying out in the sun in your backyard or while at the beach.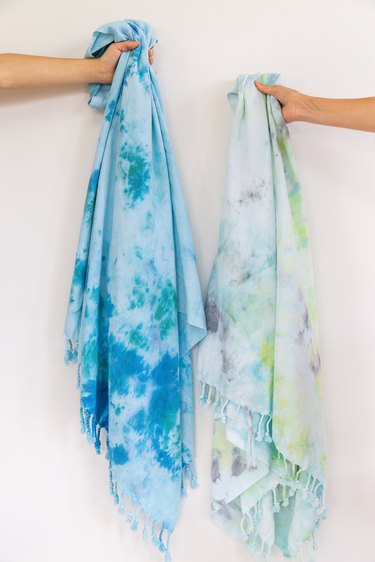 This method of dyeing uses ice along with fabric dye and pretreated natural fabric. The fabric is washed and kept damp. Then ice is placed onto pieces of bunched fabric, followed by applying powder dye to the ice. The melting ice gives a water color effect as you allow the ice to completely melt over the fabric. It's gorgeous!
Things You'll Need
Powdered Fabric Dye (we like using Rit Dye)

100% cotton large Turkish towels

Cooling racks

Ice

Plastic container or dish to catch ice

Gloves

Plastic tablecloth (or something comparable to protect your work surface)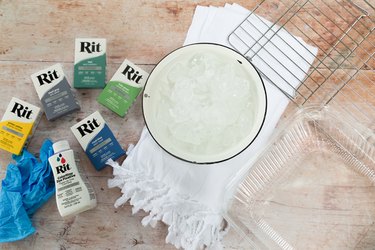 Step 1
To begin, wash the fabric, but do not dry. You will want the fabric to be damp for this project. If using Rit All Purpose dye, you do not need to pretreat the fabric. Cover your work surface with a plastic tablecloth.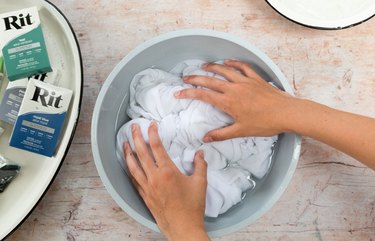 Step 2
Bunch the damp towel on top of the cooling rack. You will want the fabric to be more flat than in a mound in order for the ice to stay.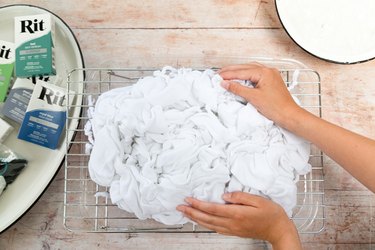 Step 3
Place as much ice as you can on top of the fabric.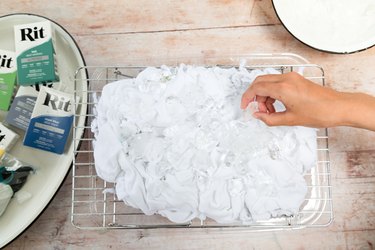 Step 4
Sprinkle powdered dye onto the ice with a teaspoon. A little bit goes a long way! You do not need a large sum.
NOTE: If you use multiple colors of dye, leave a little room in between where you sprinkle the powdered dye so that the colors do not overly blend. For this DIY, we used teal and royal blue on the mostly blue towel (as seen in the top photo). Then, we used grey, green, and teal on the multi-colored towel.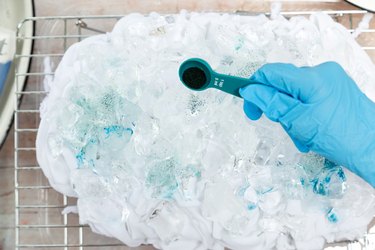 TIP: The powdered dye will turn into an almost watercolor effect during the melting process. For instance, the green dye will show some yellow, blue, and green shades on the fabric.
Step 5
Allow the ice to melt completely, about six to eight hours or overnight.
After the ice is completely melted and you've allowed the dye to be absorbed, rinse the fabric with cool water. We recommend rinsing the areas with the dye only. If you ring out the fabric too much, you will lose any white areas.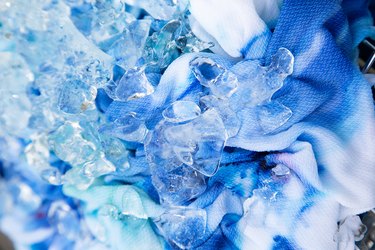 Step 6
Now it is time to set the dye. We used Rit Dye Fixative in hot water (about two tablespoons in two gallons of hot water). Allow to sit in the fixative and water bath for 10 minutes. You can also heat-set the fabric by wrapping in plastic wrap and microwaving for two minutes. Then wash and dry in the washing machine and dryer on cold/cool.