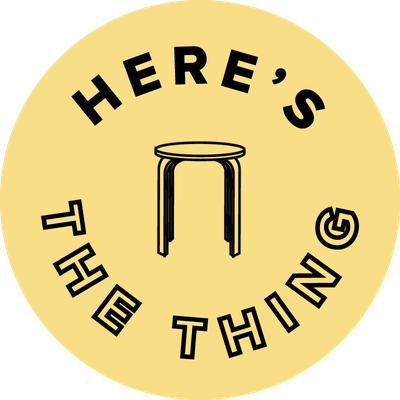 From the mundane to the quirky and outdated, Here's the Thing explores the histories and legends of the objects in our homes.
"Are you going around in circles trying to plan conversation groupings for your living room?" asked interior decorator Carleton Varney in ​The Hartford Courant​ in 1971. If you were, he had the answer to this eternal question: the sectional sofa, which encouraged sofas to be "separated and used as chairs at a moment's notice or simply when the occasion arises. Most important it creates an atmosphere for scintillating conversation," he concluded.
Indeed, by midcentury, the sectional sofa had become one of the most popular pieces of furniture in the living room. In 1950, the ​Chicago Daily Tribune​ attributed the increasing popularity of sectionals to their "utility and charm in small rooms as well as large," where their flexibility made them easy to move around and their sections interchangeable.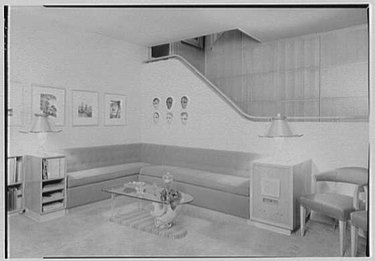 But the history of the sectional sofa as we know it today, with its individual pieces made out of the same materials and connected together to create a single piece of furniture, has origins that go back to the early 1800s, according to some furniture experts.
Who invented the sectional sofa?
These historians (somewhat contentiously) assert that sectional furniture can be traced back to the turn of the 19th century to one very specific pocket of the United States: an area in Virginia near Washington, D.C. Thanks to the region's heavy military influence, furniture that fared well on the battlefield — where it needed to be portable, easily separated, and moved from one camp to another — turned out to also fare well in the home. Local furniture companies began manufacturing three-piece sectional sofas, and the type was soon popularized, albeit just in the region.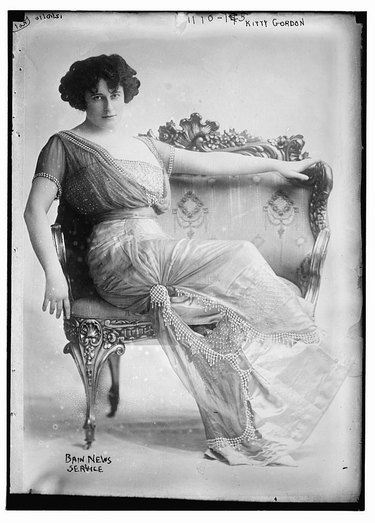 And while the Victorian era saw the rise of newer takes on seating like the loveseat or the chaise longue in all their lavish glory, sectional sofas remained at the fringes of fashionable furniture. On the rare occasions when they were produced in the late 1800s, they typically consisted of two or more similar sofas latched together to create an extra-long, linear couch, allowing for large groups of guests to be comfortably seated — but not exactly enabling the "scintillating" conversations that Carleton Varney strove for.
It wasn't until the 1930s and 1940s that the sectional sofa as we know it today burst onto the interior design scene, definitively resolving the perpetual entertaining problem (at the very least from a seating perspective!) in living rooms large and small. Gilbert Rohde, a designer for the pioneering modern furniture company Herman Miller (whose book, ​Herman Miller, A Way of Living​ came out last year from Phaidon and is chock-full of furniture eye-candy), was a trailblazer of the sectional, creating modular pieces for all types and sizes of rooms.
Although sectional sofas appeared in furniture stores in America in the early 1930s, they were usually more traditional in fabric and form. But in 1936, Rohde introduced the "grouping principle" in a new line of distinctly modern, streamlined furniture, where different pieces could be arranged together to create something new: armless chairs that could be combined with a critical "corner chair" to create the now-classic L-shaped sectional. By the late 1930s, Rohde's interchangeable "groupable chairs" were creating undulating and corner-turning sectional sofas in homes, offices, and retail establishments across the country.
When did the sectional sofa become popular?
As Americans started to embrace modern design, the sectional really took off. Newspaper articles of the era touted its ability to go from "a cozy love seat and a separate chair" to "three chairs" in an instant. Soon, other famous midcentury creatives like the dynamic designing duo Charles and Ray Eames, industrial designer Russel Wright, and acclaimed architect Eero Saarinen also began designing iconic sectional sofas.
And by using the latest materials and technologies that had been engineered during World War II, like molded plywood and foam rubber, the sectional sofa took new gravity-defying forms, floating off the wall in office lobbies or laying low in conversation pits.
How did sectional sofas evolve?
Since then, sectional sofas have only continued to evolve, incorporating additional elements like built-in coffee tables, backless bench-like sections, fold-out beds, and chaise longues. People appreciate them for their flexibility and versatility in smaller living rooms, where they can take advantage of tight corners or create different seating arrangements, while others love the way that sectionals can sit centered in a larger space to create a barrier between one area and another.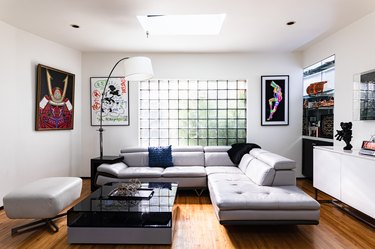 Today, of course, sectionals are still a de facto item in many living rooms, and have been updated to incorporate just about every feature your heart could possibly desire. Cup holders and integrated USB ports encourage marathons of TV binge-watching; recliners and operable ottomans make naps feel almost inevitable; and built-in pull-up tables even make work-from-home (but still on the sofa) possible.
So whether you're lounging or working, Netflixing or entertaining, it's clear that sectionals make one of, if not ​the​, most comfortable seats in the home, and despite their flexibility, they're not going anywhere soon.