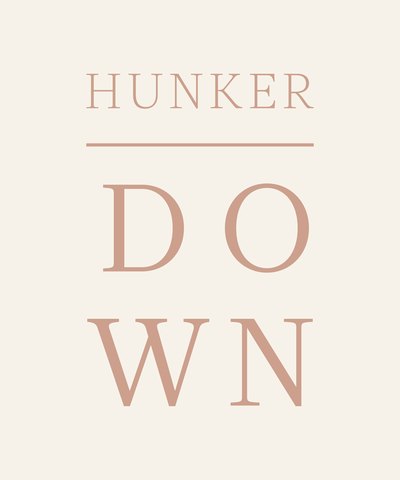 Join design editor Ariane Moore for Hunker Down as she gets to know the creators and designers she's followed for ages.
As if being the the founder and creative director of the edgy and oh-so-cool London-based home fashion label Buster + Punch wasn't enough for one resume, Massimo Buster Minale is also an architect, industrial designer, husband, father, and a self-described "East London warehouse," (told you, oh-so-cool!). After scrolling through that list of titles, one can't help but wonder, What type of architecture best describes ME?, but I digress, that's probably a topic best left for another time. It also begs the question, What does life at home look like for Mr. Minale?
But before I got too carried away with visions of mysterious hideouts — the kind you can only gain access to if you know the secret handshake and you're riding in on a classic motorcycle à la Steve McQueen, of course — I thought it would probably be best to just go straight to the source and ask. Thankfully, Massimo graciously accepted my invitation to hunker down and chat about design and life in his newly renovated (and gorgeous, might I add!) Scandi-meets-industrial, three-story lakeside home in Stockholm.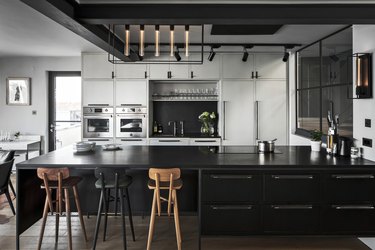 Hunker: How would you describe your home's style?
Massimo Minale: Me and my wife are very different people when it comes to style, taste and our upbringings. Our home is a reflection of that and is essentially the love child of an East London warehouse (me) and a traditional Swedish period house (my wife). It has a very strong 'architectural' steel structure and exposed metal work and detailing. And in between this structure sits a lot more Scandinavian warmth in the shape of raw natural woods, soft tonal colors, and earthy stone detailing. Then [there] are the color and life [that have] been added with furniture and art that we have collected over the years from living in a number of different countries, so I guess [it] is very eclectic and personal.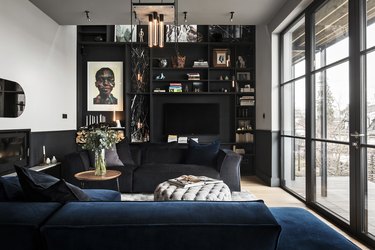 Hunker: Your home was originally built in the '40s. Are there any existing features that were part of the original design? If so, why did you choose to keep those elements?
MM: Initially we wanted to demolish the house and build a very modern house on the site, however after finding out both the house and land were protected, our exciting new-build project quickly turned into a daunting renovation project. Rather than adopt a beautiful period home full of intricate original features, the house was a pretty ugly 'faceless' sugar cube, with lots and lots of small rooms all on strange different levels. We solved the small room issue by building a mega structure within the skin of the house, which meant we could open up all the floor plans. However it was impossible to remove the different levels throughout the house and instead we had to embrace them, and these have become the original features that have given our home the character that it needed and helped define the different spaces in our house.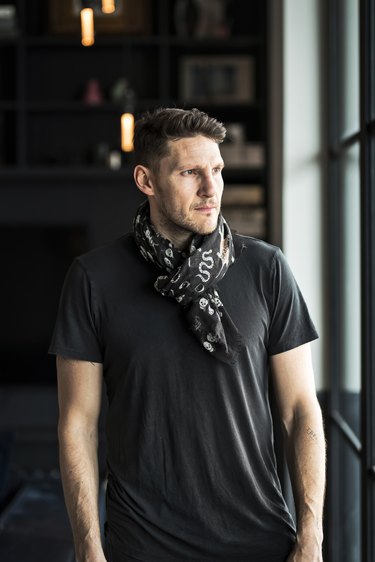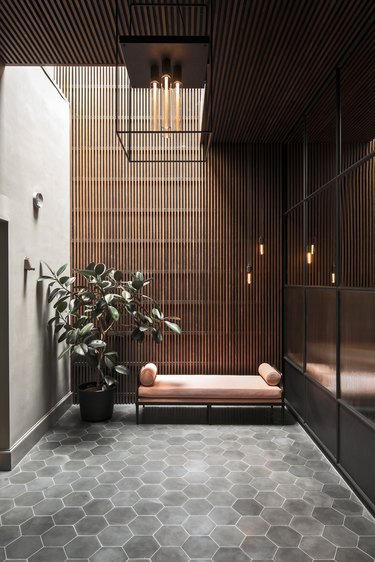 Hunker: Is there anything in your home that looks expensive, but was really a bargain find or a DIY project? If so, what?
MM: In my life before starting Buster + Punch, I was an architect that specialized in interiors, which was something that [architecture] firms always saw as an after-thought. My main task in this role was to always make something look [like] a million dollars, but cost a fraction of that, and I have used all [of] those tricks in this house:
Make sure you paint the walls the same color as the ceiling, as everything feels more expensive.
If you can't afford custom cabinets, then buy nice standard pieces and build walls around them to give the illusion that they were built for the space.
Ensure that all [of] the hardware and ironmongery that you touch on a daily basis — such as light switches, door handles, cabinet pulls, etc. — is where you spend your money. If these things feel 'quality' then the whole house will feel quality.
Ensure you mix contemporary furniture with antiques, art, and heirlooms to give your home what we call in Scandinavia 'hygge' which translates as 'heart warmth' … this turns a space into a home.
More specifically: I made all the baby gates and dog gates, [which] usually ruin a space, from the same steel and mesh as the staircases and steel detailing, which always gets people excited when they come to the house.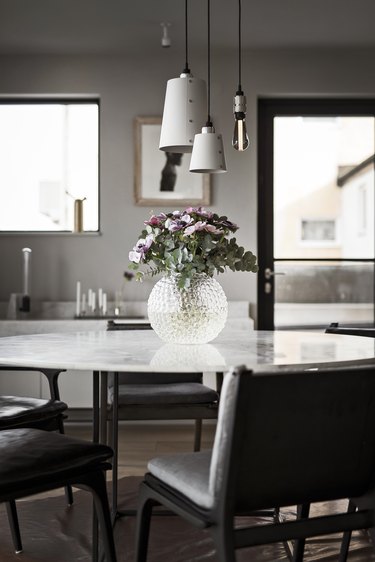 Hunker: Do you have anything in your home that has been handed down? Would you mind sharing the story/history behind it?
MM: As mentioned before, I truly believe that handed down items of furniture and photography will be where your home gets its heart from. My prized possession, is a 1st edition Eames armchair that I used to chew when I was two years old, and now my two year old chews it. It has lived longer than me, but looks a lot better than me.
Hunker: Which room in the house is your favorite and why?
MM: I love our kitchen the most, as it's quite simply where we spend most of our time. We love to cook, drink, and spend time with family and friends, and this is where it all happens. It also has a wall of glass that overlooks the lake, which gives me some peace whilst the kids jump all over me!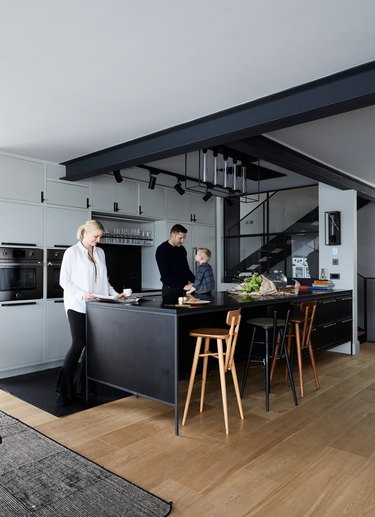 Hunker: Many people are working from home right now. What are a few of your home office/studio must-haves?
MM: I've got two toddlers, which makes working from home tough at the best of times, so my number one tip is get some noise-canceling headphones. My number two tip is to make sure your office door has a lock. And lastly, I have installed a small portable fridge under my desk, which keeps the gin and tonic cold.
Hunker: Do you have a favorite piece of home decor? If so, what is it and why is it your favorite?
MM: I love contemporary art and have a number of original pieces by a British artist called Matt Small. He paints portraits with layers and layers of oil colors, which are both stunning and add explosions of color to what is otherwise quite a muted color palette in our home.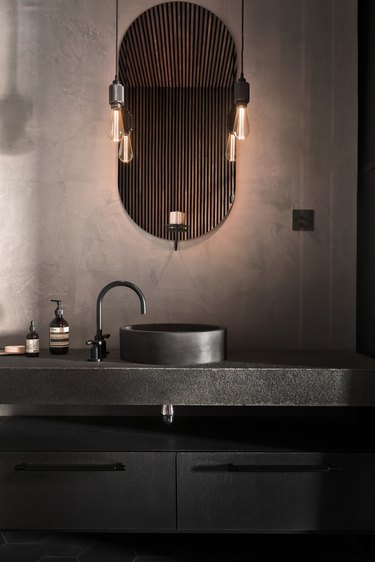 Hunker: What home decor/architectural trends are you obsessed with right now? Have you worked them into your own home?
MM: As an architect, I have always been obsessed with metal detailing around the home. How things are finished on the outside gives the only indication of how well they are finished behind the walls (i.e. there is no point in spending lots of money to build or renovate if the functional fittings and detailing you touch every day — door handles, light fittings, balustrades, etc. — are cheap and poorly thought out).
I have manifested this obsession through my interior brand Buster + Punch, and the latest trend we are trying to trailblaze into our home fittings is the idea of heating solid metals to create color. We have just launched a finish called 'Burnt Steel' which is [when] we put stainless steel into a flame-thrower and it creates an amazing natural rainbow of blues, purples, and yellows. I recently switched out all [of] our spotlights and cabinet pulls for burnt steel ones, and they take the phrase 'God is in the detail' to [a] whole new level ... God is in the detail and he's riding a motorbike!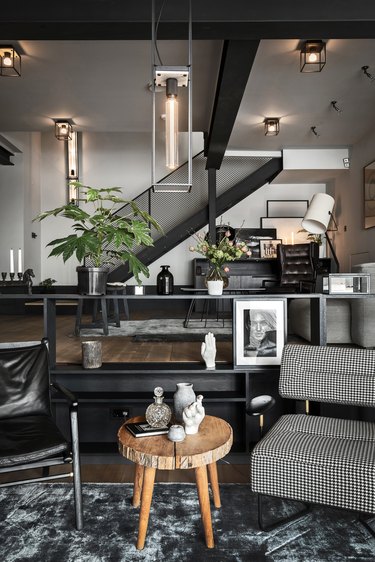 Hunker: Where do you go for inspiration?
MM: I find most of my inspiration from the fashion and music industries and my friends within it. Currently I take a lot of inspiration from brands like Acne Studios, designers like Virgil Abloh, and musicians like Travis Barker … the latter of which, we are currently working on a really exciting collaboration together where music meets interiors.
Hunker: I've been seeing a lot of people talking about their morning routines lately. What's your morning routine?
MM: Lockdown is proving extremely hard for most people, but my saving grace is that we have a lake at the bottom of the garden. I usually have a nice long swim, followed by coffee on our jetty, which normally straightens me out and sets me up for the day.
Hunker: What is the secret to keeping your home looking so stylish with little ones running around?
MM: At least one or two rooms that are used to hide junk and toys with lockable doors. Out of sight out of mind.
Hunker: What advice would you give to anyone planning to renovate their house?
In practical terms, I think the most important thing to do is to hire a builder or designer that you really trust and comes highly recommended. With any renovation this relationship will be the most important and will certainly get strained at some point, so make sure you are tight! In terms of design, I think it's important to really think how you want to use the space and design around your family needs rather than seeing kitchens and living rooms that you like on Instagram and Pinterest and trying to replicate someone else's dream.
Be original, be daring, and execute your ideas (however crazy) with conviction. If money is tight, spend on those functional fittings that will be installed from day one and remember you can always change or add furniture and lose fittings over time. Lastly, remember your new home will never be complete when the builders hand back the keys, it takes years and years to turn a house into a home so make sure you are ready for the long haul!
---
Ariane Moore is Los Angeles-based writer and editor who covers architecture, design, home decor, and trends for Hunker. She has a B.S. in Interior Architecture and Design and previously worked as an interior designer at award-winning firms in both Las Vegas and Los Angeles.