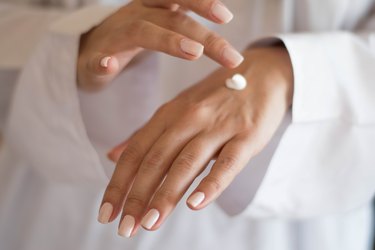 If you'd like to know if you're washing your hands enough, there is one true sign: Dry, cracked, painful hands.
Recently, when the topic of dry hands came up, I tapped the other editors on the team to send me their go-to hand lotions, creams, balms, and salves — full list coming ASAP — and this particular one was mentioned by four of them. Even more impressive, when I alerted them that they sent duplicates to see if any of them had an alternative, none of them could even think of a close runner-up! That is hand lotion dedication.
The Rave Reviews
"It's the only product I've found that really hydrates in a meaningful way without feeling super greasy afterward or taking ages to soak in." — Gina Goff, Director of Audience Development
"The biggest plus for me is that a little goes a long way, and it really moisturizes without making my hands feel greasy." — Ariane Moore, Design Editor
"It's a little on the pricier side for me, but it's creamy, yet not so heavy, so a little goes a long way." — Mory Men, Design Manager
"Huge fan here! The scent is divine (without being too feminine or masculine smelling), it moisturizes perfectly without being greasy, and the packaging is lovely enough to keep out on display on my bedside table." — Laurie Grossman, Director, Editorial Operations
The Takeaways
While each one mentioned the high price tag (which clocks in around $30 per tube), they all agreed that a little goes a long way — and therefore lasts a long time! — to keep your hands ultra-moisturized and not greasy. Plus, the packaging is gorgeous and each of our design-minded editors loved that it became a pretty addition to their desk or nightstand.
It's clearly a hit with shoppers everywhere since it's sold out on a bunch of sites, but luckily we tracked it down on a few, below. If you've been struggling with dry, cracked hands, don't skip the good-for-you hand-washing — just swap in this ultra-moisturizing balm and get ready for the softest hands of your life.