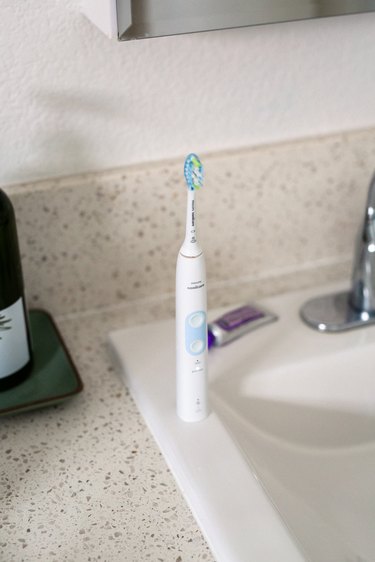 Squeaky is all about the borderline genius hacks and ideas that keep literally every inch of your space pristine.
The human mouth harbors millions of bacteria, which is why oral care is so important. Ideally, it should be disinfected at least once per week, and always after any illnesses. Dentists also recommend you also replace your toothbrush every three months. These easy tricks will show you how to disinfect a toothbrush with a few simple ingredients.
How to Disinfect a Toothbrush with Peroxide
After using your toothbrush, soak the head of your brush in hydrogen peroxide for 3 to 5 minutes. Rinse with warm water and store upright to dry. You can actually soak your toothbrush in hydrogen peroxide in between uses if your prefer.
How to Disinfect a Toothbrush with Mouthwash
How to Disinfect a Toothbrush with Baking Soda
Disinfect your toothbrush by placing it in mixture of 1 cup of warm water and 2 teaspoons of baking soda. Stir the mixture with the head of the toothbrush, allowing it to work its way into the bristles. Soak for up to 30 minutes, then rinse with warm water. Store upright to dry.
How to Disinfect a Toothbrush in the Dishwasher
You can easily disinfect your toothbrush by running it in the dishwasher with your dishes. (Not an electric toothbrush.) Simply place your toothbrush upright in the utensil holder of your dishwasher and run a regular cycle with your dishes.