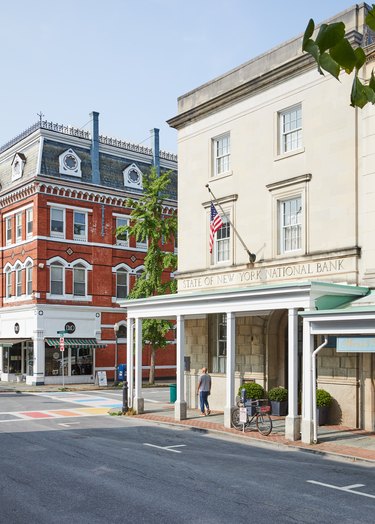 When an influential style icon flees New York City with his family for the Hudson Valley in search of more space to create and roam — and promptly opens a hotel there, you know it's going to be good.
The result is Taavo Somer's 43-room Hotel Kinsley, within a 19th century former bank building along Wall Street in downtown Kingston. The hotel opened last year. Somer is known for turning Freemans (a Colonial-tavern style eatery in Manhattan) into a lifestyle. Freemans now includes a barbershop and men's apparel line (both sporting and custom-made suits), so popular it spawned a location in Tokyo.
Robert McKinley, a former visual merchandiser for fashion brands that include Donna Karan and Giorgio Armani, was tasked with transforming a former bank into a hotel. "I wanted to move away from typical Upstate 'whistle-call' aesthetic — no antlers, no plaid-on-plaid and reclaimed wood," says McKinley.