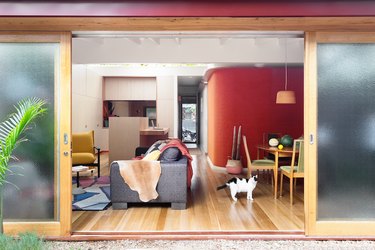 Originally built as a worker's cottage in a Victorian style, a previous renovation from the 1970s left one couple's home with a confused DIY modernist bent to the interior. For a travel-obsessed couple and their four pets —including two boisterous cats — a new renovation by Melbourne-based architectural firm WOWOWA revamped their space from into a highly functioning cat-approved home.
The plans for the house became clear from the firm's first visit. WOWOWA would open up the back of the house, create a corridor between the master bedroom and bathroom, and bring in more natural light while maximizing space and function for the couple. Located in Fitzroy North, a community near the bustling city of Melbourne, the house is situated on a compact lot, which didn't give the architects much room to create more space. Instead of expanding the footprint, the team worked within the compact space to maximize functionality of the interior.
Before the renovation, the couple's two cats spent a lot of time outside on their own adventures but now they have a playpen inside that allows them to jump, scratch, and explore in the safety of the house. Referred to as the "Casa de Gatos" (translating to "House of Cats" in Spanish), the redesign also derived inspiration from decor in Mexico. In an array of fun colors, the house is now a better representation for the kind of exciting world the couple have made for themselves … and their rowdy pets.