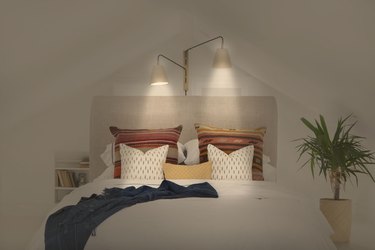 The real reason you have hundreds (or more) hygge-inspired bedroom photos saved to your camera roll isn't so you can obsess over strangers' bedroom looks. They act as inspo so you can eventually emulate the same vibe in your own home, right? But rather than hoarding more images that just sit on your phone, you can start creating this dreamy aesthetic on your own.
To make this process easier on you, we gave the Hunker House bedroom a down-time spruce-up, so you can get to shopping (instead of just scrolling). One of the biggest contributors to completing the final look? The lighting. Instead of harsh light that makes it way too difficult to wind down, we used Brilli bulbs that simulate the effects of sunrise and sunset to match your body's natural sleep rhythm.
You better watch out: After this, you won't only have a dreamy, sleep-inducing bedroom, you might be the inspiration on someone else's camera roll.