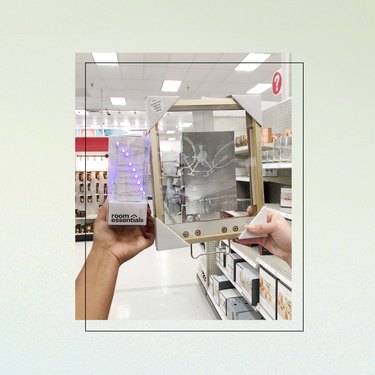 Welcome to $50 Challenge, where we arm two intrepid shoppers with $50 each and send them out to one of our favorite retailers.
Welcome to $50 Challenge, where we arm two people with fifty bucks each, send them into a store, and see what goodies they can find. Recently, we sent two fine ladies from Hunker's social team — Branché and Lacey — to the Target in Culver City, CA, to pick up some bargain buys.
Branché
"I have been wanting an artistic but understated way to showcase meaningful moments in my life. I love the floating frame because it feels more sleek and minimalistic."
"Tea is always best for two! I am looking to switch up my ceramics collection and I love the style of these mugs. Plus, you can't beat the price, at only $4 per — just $8 for a set of two."
"My living room is where everyone gathers and we often run out of space. I am excited to use this pillow as a floor pouf for guests. I love that it is black to add a more masculine edge to my very feminine, bohemian apartment."
Lacey
"I have a number of plants that need a home, including a very leafy one that would be so cute in this simple, yet modern planter."
"One of my goals in 2020 is to slowly, but surely, replace the crappy plates that I've had since college. These dark gray stoneware plates go with everything and are the perfect step up."
"Not only do these color-changing twinkle lights look really cool, I can also display my favorite memories via the photo clips."