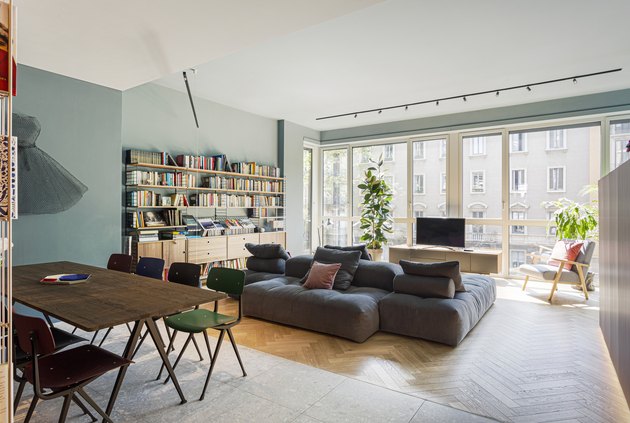 Located in the Cinque Giornate area in the fashionable Milan, Italy, a family of four hired local architectural studio Offstage to transform their apartment from an open space with a cramped kitchen into a comfortable home featuring an exciting array of bold colors. Housed in what was originally a midcentury-era factory, Offstage used bright elements — including powder blue walls and various hues of pink — to insert fun and creativity into the design.
The biggest change, though, was the decision to create an open concept living area that combines the kitchen, dining room, and living room. Custom elements, however, including a pony wall that separates the kitchen from the living room, succeed in allocating the rooms without crowding the layout.
1 of 10
Entrance
At the entrance, a pale pink and gray terrazzo combination allows minimalist pieces, such as the String System shelves by Fritz Hansen, to make a big impression. The gray floor tiles are from the Norr collection by Mirage.
2 of 10
Living Room
A pale pink pony wall provides a barrier between the kitchen and living room to make the open concept space still feel defined.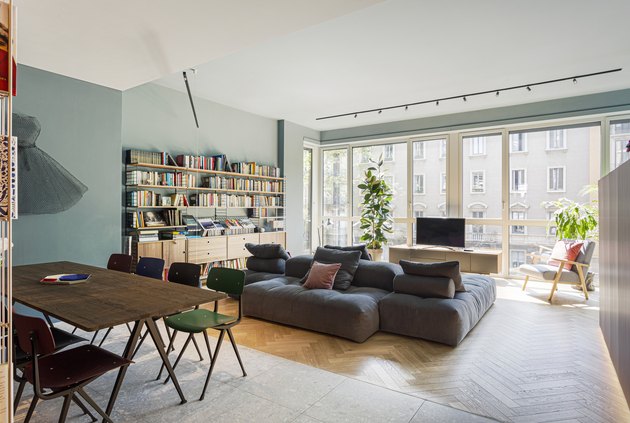 3 of 10
Living Room
Without walls to separate spaces, the designers relied on big furniture pieces that could anchor rooms. In the living room, a customizable grey Sergio Bicego-designed Pixel sofa by Saba Italia wastes no space and provides the maximum amount of comfort without disrupting the colorful walls.
4 of 10
Living Room
The abrupt change in floor material — from oak parquet to gray terrazzo — allows a subtle barrier to be drawn between the spaces without having to put up a wall. Along with the material shift below, the ceiling colors also change from above, from gleaming white to powder blue.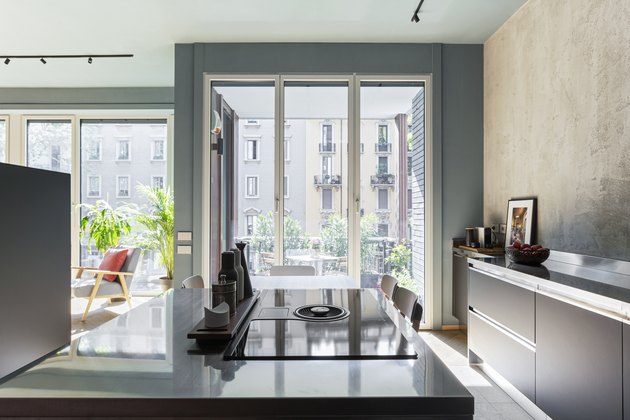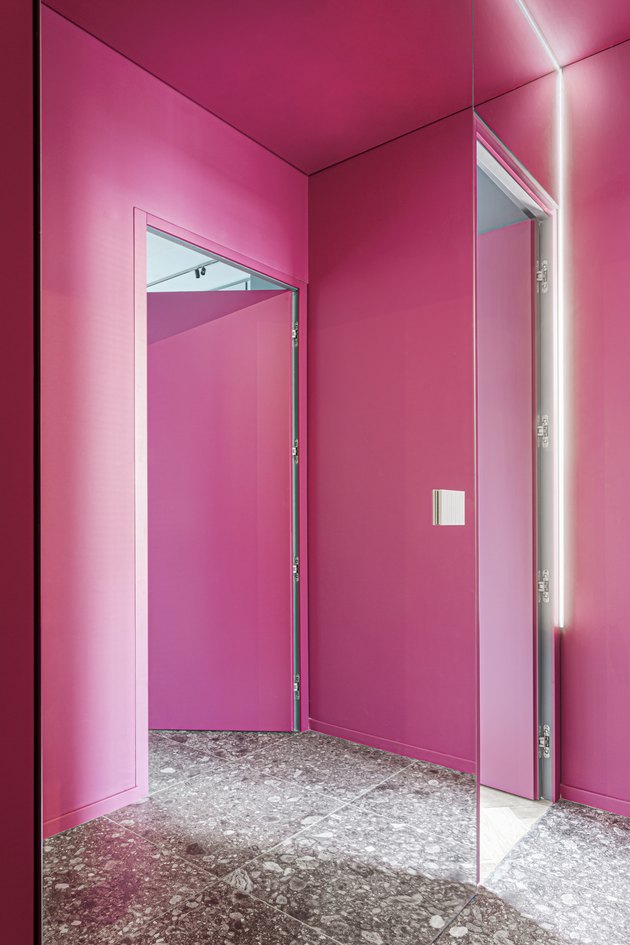 7 of 10
Hallway
While many of the walls in the shared rooms are light pink, the hallway features a jolt of hot pink with lacquered wardrobes designed by Offstage and a mirror-wall featuring a bright-white lit border.
8 of 10
Bedroom
In the bedroom, calm and comfort are key. When night falls and natural light is no longer flooding in from the patio window, Demetra Faretto light fixtures from Artemide provide just the right amount of mood lighting to wind down.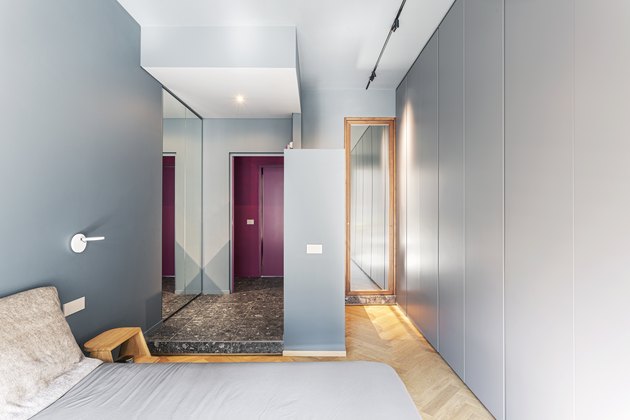 9 of 10
Bedroom
Light wood and powder blue are the two tones used to create a serene quality in this bedroom. Furniture is kept ultra-minimal to allow the color and material to define the space.
10 of 10
Bathroom
In the bathroom, double Color Elements sinks by GSI are each outfitted with silver Paffoni faucets. Dark gray tones throughout the bathroom (including the custom cabinets designed by Offstage) exude a feeling of privacy, while a small window lets in the ideal amount of outside light.
---
After interning at Dwell magazine in San Francisco, Kate began writing about arts, design and culture for other national publications. She is based in Los Angeles and San Francisco.
View Work