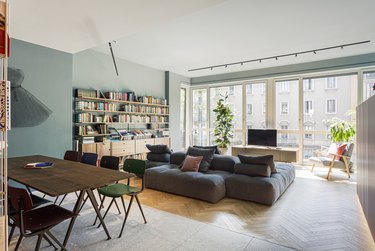 Located in the Cinque Giornate area in the fashionable Milan, Italy, a family of four hired local architectural studio Offstage to transform their apartment from an open space with a cramped kitchen into a comfortable home featuring an exciting array of bold colors. Housed in what was originally a midcentury-era factory, Offstage used bright elements — including powder blue walls and various hues of pink — to insert fun and creativity into the design.
The biggest change, though, was the decision to create an open concept living area that combines the kitchen, dining room, and living room. Custom elements, however, including a pony wall that separates the kitchen from the living room, succeed in allocating the rooms without crowding the layout.
---
After interning at Dwell magazine in San Francisco, Kate began writing about arts, design and culture for other national publications. She is based in Los Angeles and San Francisco.