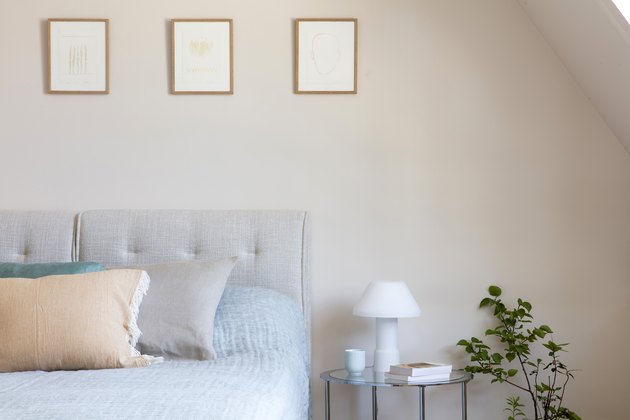 In "A Room of One's Own," Virginia Woolf brilliantly laments the unknown women writers who could have contributed to literary history — if only they possessed a space of their own in which to write. Inspired by the essay, the Swedish Institute in Paris partnered with The National Property Board of Sweden and furniture company DUX to create an apartment for writers to work in for short stays.
Paris-based architectural firm Septembre was brought in to guide the renovation of the 270-square-foot home, situated in a Marais mansion. The team took inspiration from other female creators including the artist Leonor Fini (a former resident of the building) and 20th century poet and modernist painter Greta Knutson. A work of Knutson's — a painting of a table in front of a window — guided the mood of the space.
1 of 9
Dining Room
The mansion, which was purchased and restored by the Swedish government, is hundreds of years old. Many of the historic elements have remained the same. The apartment's old pine wood floors were treated with linseed oil and soap.
2 of 9
Kitchen
The kitchen walls were painted in Pale Powder from Farrow and Ball, a very light blue tone. Cabinets and shelves, custom made by Septembre, provide guests with the opportunity to make the space their own during their short stays. A sink by Franke is outfitted in a faucet from Grohe.
3 of 9
Kitchen
Works from the painter Greta Knutson served as inspiration for some elements of the apartment, including her modern still life paintings. A light gray custom-cut marble countertop evokes a painterly backdrop for a simple bowl holding fruit for the residents.
4 of 9
Work Space
The goal of the renovation was to create more volume in the space, concentrating on the beautiful windows.
6 of 9
Work Space
A custom foldable desk allows guests to make the most of their temporary home.
7 of 9
Work Space
A wooden table was painted in the same taupe tone used for the apartment's walls, a hue called Dimity made by Farrow and Ball. The existing windows were repainted in order to reflect more natural light.
8 of 9
Window
Romantic rooftop views of Paris abound.
---
After interning at Dwell magazine in San Francisco, Kate began writing about arts, design and culture for other national publications. She is based in Los Angeles and San Francisco.
View Work