A home situated in the sand-hills among a golden light-filled pine forest in Fréhel, a commune in the Brittany region of France, was created with its lush, forest surroundings in mind. Designed by Atelier Victoria Migliore, the 900-square-foot vacation home is quite literally a treehouse, with the structure elevated from the earth. The design was careful to not disturb a single existing tree; a trunk even pokes through some exterior decking.
Inside, the serene architecture brings the outdoors in with plenty of picture windows and wood built-ins. But what is coolest about the house is the blue-and-white tiled water catchment basin, which brings a bit of the seaside to the design.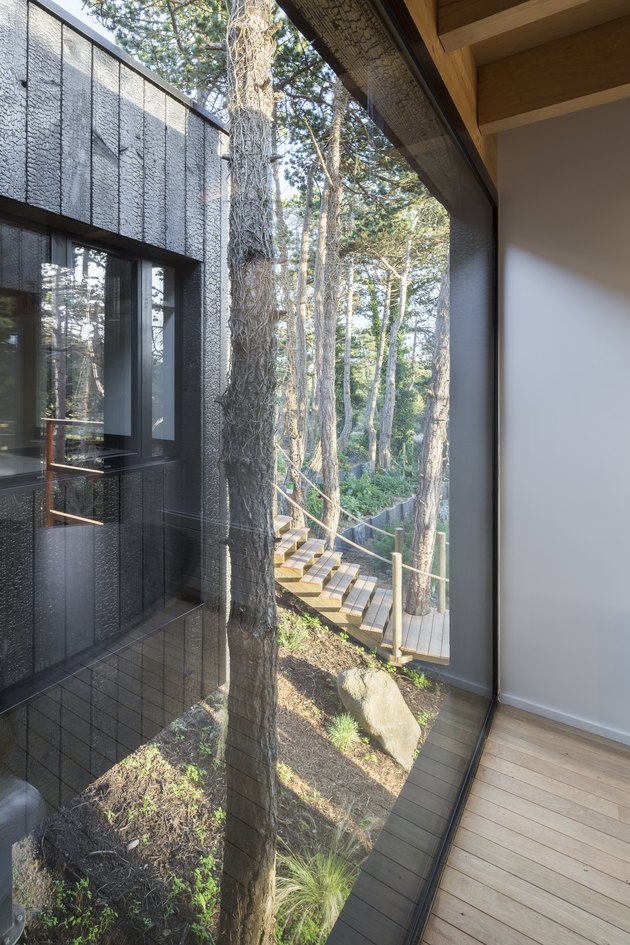 1 of 9
Hall
Built with natural materials, the interior and exterior are interwoven, creating the ideal space for rest and relaxation.
2 of 9
Living Room
An open courtyard at the center of the house, clad in blue and white chevron tiles, is slightly sunken, allowing it to fill with rainwater to create a pool-like effect. A modern suspended fireplace by Focus Fireplaces increases the coziness level in the living room area.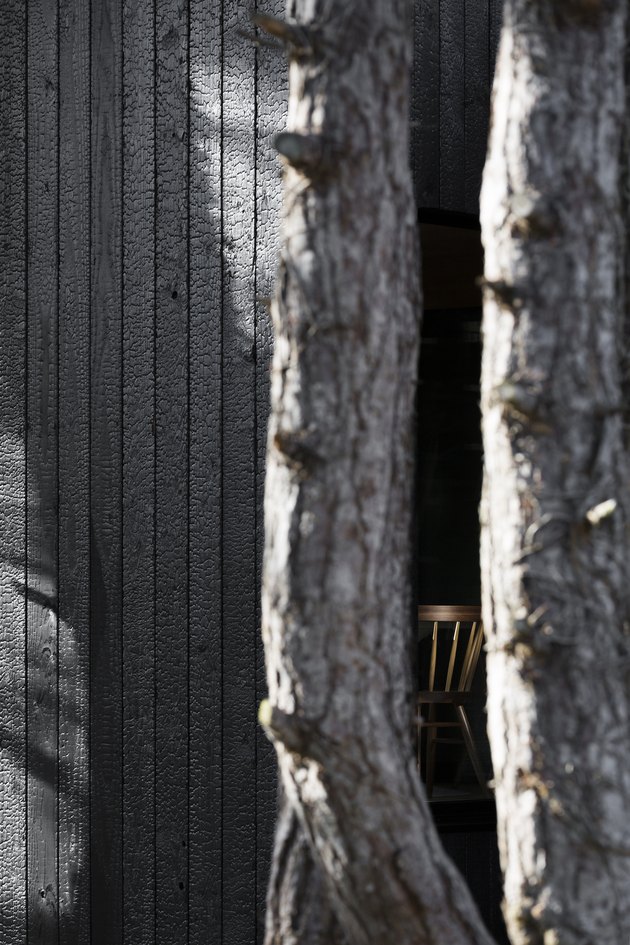 3 of 9
Exterior
The exterior features wood — carefully treated with an age-old Japanese method — that has been burned and charred to create an ashy effect.
4 of 9
Kitchen
Light wood materials continue in the kitchen, which features blonde wood cabinets and exposed timber ceiling beams. Fresh meals are made easier with the house's own vegetable garden situated on the terrace.
5 of 9
Kitchen
The residence truly feels like a treehouse thanks to a design that didn't cut down any trees, instead making way for them to integrate into the home.
6 of 9
Dining Room
In the dining room (as well as throughout the home), minimalism is the name of the game, where the structure itself makes up most of the visual intrigue. A simple table and chairs cap off the design.
7 of 9
Bedroom
A private terrace extending from the bedroom becomes the perfect place for morning coffee.
8 of 9
Spa Bath
In a spa-like bathroom, visible from the central corridor, the blue and white tile continues in a generously sized bathtub.
9 of 9
Bathroom/Wardrobe
In another bathroom, a standalone tub sits adjacent to a walk-in closet comprised of wood-framed doors and built-ins.
---
After interning at Dwell magazine in San Francisco, Kate began writing about arts, design and culture for other national publications. She is based in Los Angeles and San Francisco.
View Work