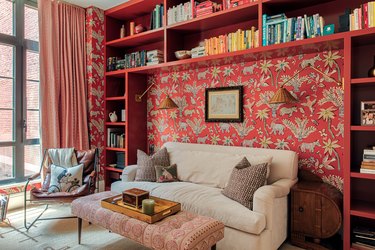 New developments tend to celebrate minimalism, with neutral palettes and sleek surfaces. But for their their new duplex in the East Village, a couple wanted to bring a bit of British tradition. The husband was raised in England, so interior designer (and fellow Brit) Louisa Roeder used his background as inspiration for the design. "Right off the bat, my clients knew they wanted a botanical chinoiserie wallpaper in the bedroom and a traditional red den," says Roeder. "With those items set, we each selected landmark items that we loved and built each room around those pieces."
Roeder made the apartment's open kitchen, living, and dining area feel cohesive, grounding the space with a large rug and incorporating blue accents throughout. Floral floor-to-ceiling drapes add a bit of tradition to the modern space, which is filled with paintings and sculptures. The parade of patterns continues into the nursery, which was added to the project during the design process when the couple found out they were expecting. Throughout the entire home, classic prints and antiques are mixed with modern furniture and colorful art, creating a fresh take on tradition.
---
Elizabeth Stamp is a freelance writer in Los Angeles. Her work has appeared in Architectural Digest, Elle Decor, and CNN Style.