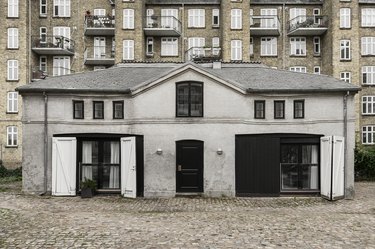 Originally used to house horses that brought in water from the Copenhagen Lakes in the city's center, a careful renovation by Frama Studio transformed the historic stables (built in 1878) into an open layout while keeping many of the traditionally Danish features in tact. But what the new residents really needed was an open interior and more storage options. Starting with what architect Rita Trindade describes as a "deceptively compact" house, the team got to work on creating solutions for the clients, tackling the project room by room.
Because of the unique layout, it was important to introduce elements to the space that wouldn't overtake the simplistic yet powerful architecture. "After careful study of the space, and many conversations with its owners, we found that everything placed in the environment made [a] large impact," architect Rita Trindade said. By creating custom furniture in a minimalist but natural style, including the Douglas Fir bed and airy wardrobe shelving, Frama Studio devised an interior that is peaceful, open, and wholly Danish.
---
After interning at Dwell magazine in San Francisco, Kate began writing about arts, design and culture for other national publications. She is based in Los Angeles and San Francisco.