Hanukkah is coming up soon. Here at Hunker, that means we're Yelping all the best donut spots in town, practicing our dreidel skills, and finding the perfect "ugly sweater" to celebrate the Festival of Lights with our loved ones. It also means we're on the hunt for chic, modern, and lovely ways to decorate our homes for the holiday.
Here's some inspo we found online that'll help you have the #BestHanukkahEver this year.
Unique Menorahs for Hanukkah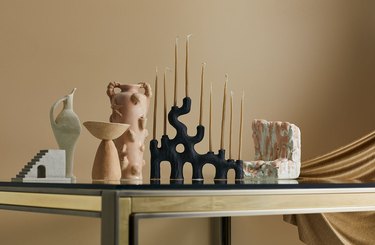 The Menorah Lumena in Hand Built Ceramic by Kerryn Levy, an artist based in Australia, looks as if it could fit in perfectly in a beachy or modern home. The design is meant to evoke a natural feeling, according to Modern Times, where the menorah is sold: "Using traditional ceramic processes, Kerryn creates objects that have a connection to the human body that formed them, and the landscape from whence they came." Put this beauty in the center of your Hanukkah party; we guarantee your friends won't be able to stop talking about it.
This lipstick menorah by ceramicist Alex Simon is a millennial lipstick lovers' dream. It's so funky … it's so kitschy … but it doesn't compete with her cute pup, sadly. You can purchase another version of this menorah on Simon's Etsy shop or get her rainbow menorah on there as well, making for a very colorful Hanukkah.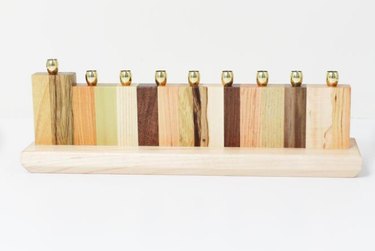 Are you obsessed with wood? Then check out artist Eli Ben Moshe's take on the menorah. His version is made of 16 rare wood species like rosewood, rainbow poplar, African mahogany, red gym, and bubinga (bu-what a?). It'll fit in perfectly with midcentury modern decor.
Fun Hanukkah Tablescapes & Decor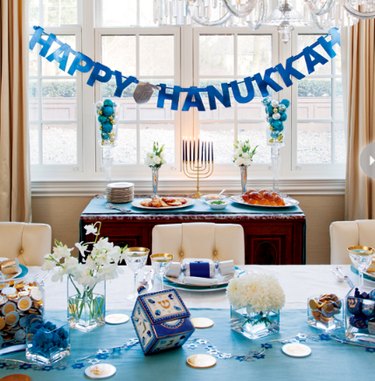 We are all about this elegant Hanukkah table setup from Style at Home. From the varying shades of blue to the delicate white flowers in the center, we wish we could be at this upscale dinner party, munching on some latkes with all the sour cream and applesauce we could ever want.
Above, the Jewish version of a minimalist holiday wreath: A Star of David made out of branches and adorned with eucalyptus and flowers.
For a tablescape, don't limit yourself to blue and white. Take notes from Tassels, a Brooklyn-based tableware company, whose Hanukkah table features a bit of the traditional (dreidels and blue goblets) mixed in with the unexpected (a green tablecloth and gray accents).
Want to serve some donuts to your guests, but you're afraid the Krispy Kreme box isn't quite classy? Then put together a fun dessert station like Tassels did. The marble, the cute cake pops, the gold-rimmed mugs with hot cocoa? Yes, please!
Festive Hanukkah Dinnerware
Use some of your own gelt you got last year for Hanukkah to purchase this set of four stoneware plates for serving all your favorite fried foods to friends and family. They each contain the Star of David symbol and traditional holiday colors and will make your celebration even livelier.
Pair your plates with these blue mosaic goblets, which will make you feel like you're stepping back in time and dining amongst the Maccabees themselves. Though there's no customary Hanukkah drink, you could always fill them up with He'brew beer or a sufganiyot (jelly donut) cocktail (yes, it does exist).