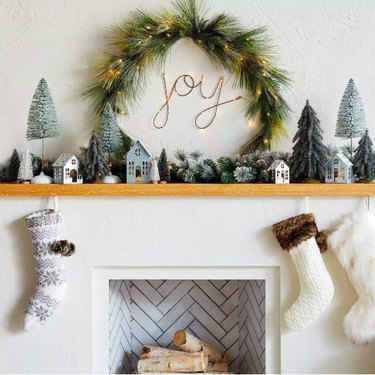 Moving is a momentous task any time of year, but add in the madness of the holidays (how do pine needles always end up everywhere?) and your home can start feeling less like your cozy end-of-day haven and more like a disaster zone real quick.
Putting up seasonal decorations might be the last task you feel like tackling when you're still facing stacks of moving boxes, but if you want your place to feel festive for any out-of-town guests (or, let's be honest, yourself—because a season without cheer is just sad), you can make it happen without much effort. (Cue giant sigh of relief.)
To help, we rounded up six simple pieces that will instantly add holiday charm to your space—even if half your stuff is still in storage.
First order of business: food. Add all your ingredients to this gem the night before or morning of, set it, and forget it. Your space will smell delicious all day, and you'll be hands-free until dinner-time—so you can get back to unpacking, or just relaxing with the fam.
No table cloths? No problem. Dress your dining room table in a luxe-looking table runner that will distract your guests from the last few boxes stashed in the corner.
Dress up your tablescape even more with gold dishes that will give a boost to your regular dinner scene. PSA: They make even disposable plates look elevated, if you still haven't unpacked your real ones.
Find your (literal) joy amidst all the craziness with a happiness-invoking wreath. Hang it on your doorway to greet guests, or put it up in the kitchen and use the twinkling lights as a reminder to find moments to enjoy the season, even when your to-do list won't shrink.
Since you're likely not operating with your full wardrobe at your disposal, you're going to need a cozy sweater you can live in. This one is classic enough to be dressed up or down, and comes in burgundy and olive for understated nods to the season. Go ahead and grab both.
If you feel like you need backup in managing the holidays and moving, this gadget is going to become your new BFF. Play music to set a festive ambience, display a slideshow of photos of your fam, dim the lights, and make last-minute phone calls (when you inevitably need someone to stop for ice on their way)—all without lifting a finger. It's like having your own personal holiday elf.