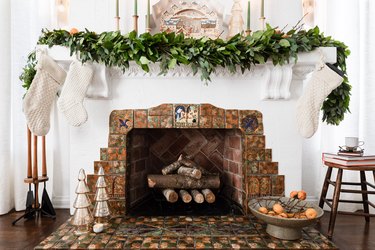 After you successfully check off everything on your list of gifts for friends and family, your leftover decor budget isn't exactly overflowing. But accessorizing your home for the season is just too festive to resist—so, how do you transform your abode into a winter wonderland while still limiting your spending?
All it really takes is a few strategic pieces to get in peak holiday mode, which is why we've rounded up seven products from Target that are all under $50, but look like you dropped some serious cash.
Perched on your front door, living room wall, or anywhere you want some extra cheer, this mixed faux-foliage wreath will bring those winter vibes inside to kick the holiday spirit up a notch.
Scent is a major player in creating your holiday ambience, so light up this birch candle to fill the air with the familiar pine scent everyone expects (and loves) this time of year. Plus, it burns up to 90 hours, so it's truly a gift that won't stop giving—at least for awhile.
Hang up this hardwood wall art for an instant mood boost to your living room or bedroom. Its simplicity makes it easy to decorate around, and unlike your neighbors' tacky lights that stay up until mid-March, this piece is evergreen.
For a nod to all the holiday cooking (and subsequent feasting), grab a few of these 100 percent cotton, embroidered kitchen towels with a subtle-yet-festive seasonal design. (Psst: They also make a great hostess gift.)
Add some greenery for a woodsy aesthetic with this faux juniper plant that could totally pass for the real thing. With the addition of the glass jar, your home will have that effortlessly cool, straight-from-a-holiday-catalogue look.
You can start the seasonal theme before even stepping inside your home this year with this classic, inviting doormat. And since it's made with 100 percent coir, it's durable, long-lasting, and easy to clean—AKA the dream after a week of nonstop gatherings.
Whether you wrap them around a decorative vase, a dining room table centerpiece, or your front door, these white LED string lights provide an extra oomph to your holiday feel—and act as the perfect backdrop for your yearly photoshoot with the fam (or your dog).