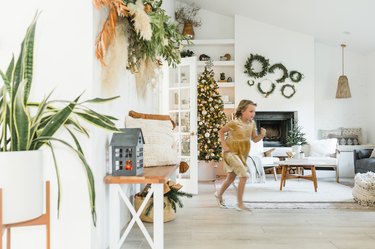 There's something about having kids around during the holidays that brings you back to your own childhood. The one thing that can snap you right out of that nostalgia-inspired Instagram filter in your mind, though? Finding sticky fingerprints all over your new brass entryway mirror or discovering that your fancy wrapping paper has been (prematurely) repurposed as confetti.
If you'll be spending the holidays with tiny humans—whether they're your own or you're hosting—check out these decor items that'll stand up against roughhousing but still satisfy your adult (ish) taste.
Finding pieces that can't be broken by curious hands is key, which makes this pop-art garland—that uses pom poms instead of glass ornaments—the ideal shatter-proof decoration for decking the halls.
The real bonus of faux wreaths? No pine needles from vigorous shaking. This version adds sprigs of eucalyptus for a modern twist, and kids will love the battery-operated twinkling lights hidden inside.
Whether you're using them to trim a tree or punch up your entryway, the beauty of these sparkly ornaments is that they're wood (AKA, accident-proof).
If you want to serve the kids dinner on something indestructible to avoid any dropped-plate disasters, pick up a pack of these gold-dotted disposable dishes. They look so much like the real thing that adults might plop down to eat without realizing they're at the kids' table.
Keep little ones entertained (and out from underfoot while you're standing over a pot of boiling tomato sauce) with a wooden play kitchen that's almost as nice your actual one, courtesy of Chip and Joanna Gaines' kids collection.
If their creative brains have exhausted all other options for entertainment, you can't go wrong with a holiday movie (bonus points if it's an old-school one you'll enjoy, too). Upgrade to a smart TV for easy access to your streaming accounts so you can click and play when meltdowns loom.
Throw a few of these plush pillows on your couch for a splash of festive-but-not-gaudy cheer. (They also make great nap time pillows for anyone who might fall asleep before the party is over.)
Is it really the holidays if you don't get matching pajamas for everyone in your family? Don't answer that—just snag these classic buffalo check sets for your photo opp. The best part: You can even get them for the dog.