Easy Decor and Thoughtful Touches Make for the Perfect Rustic Friendsgiving Table
We may earn compensation through affiliate links in this story.
If there's one thing we're always giving thanks for, it's our friends. Is there a better cause for gratitude than the family you get to choose — and that chooses you back?
So this year, together with Walmart, we're hosting a Friendsgiving feast at Hunker House to show our appreciation for the people who have made our year special. Along the way, we created a lavish holiday table to make guests feel welcome.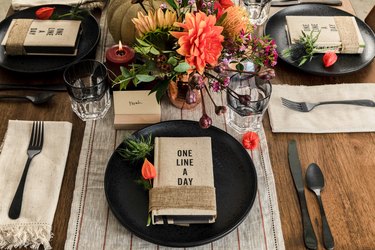 The final touch on each place setting is a "One Line a Day" journal, wrapped simply with burlap ribbon and fresh flowers — our way of showing our gratitude to our guests, and a sweet gift to encourage mindfulness and memory in the coming year.
Pro tip: Mix faux and natural elements to create visual interest — and build a collection of go-to decor items to be reused year after year.
Even with a smaller guest list, it's possible to have a sumptuous-looking buffet. Of course, the food is the star of the spread, but we also saw an opportunity to create another strong seasonal decor moment.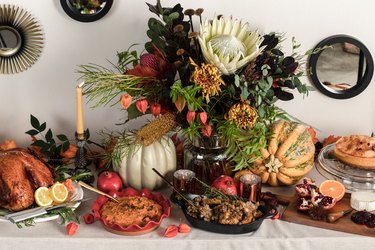 First, we covered our sideboard with a neutral tablecloth, which gave us a blank canvas to build on. Then, as with the table, we combined fresh and faux elements, including a beautiful Thanksgiving garland and the other half of the aforementioned pumpkin set. We filled in the botanicals with candlelight, making use of metallic mercury-glass votives as well as tapers. We loved how the scene and candlelight reflected in the wall mirrors, a combination of sets from Mainstays and Better Homes & Gardens.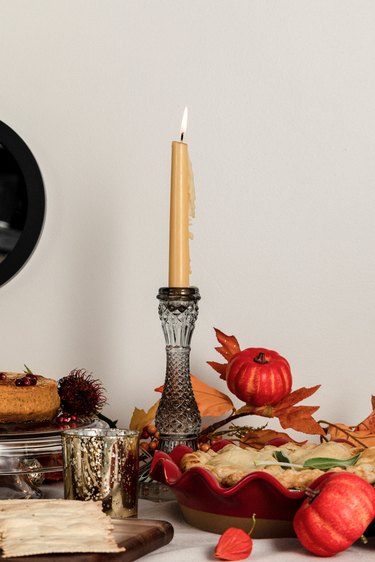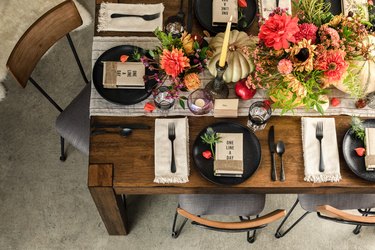 Before digging in, take some time to share your gratitude and love for the people at your table. Because no matter how much care you put into the decor and food, it's the company you're really there for. Happy Thanksgiving!