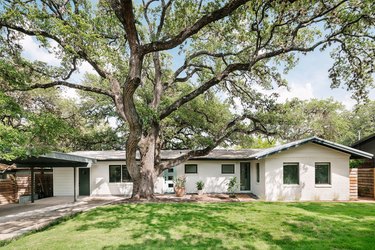 Texas is a land of wide open spaces. Unfortunately, one couple's 1950s ranch in Austin's Travis Heights neighborhood was anything but. The one-story home felt dated and dark with a chopped-up layout and no real master bedroom. But the California transplants saw plenty of potential in the house and its yard, which is home to a 400-year-old live oak tree. They hired Stephanie and Ryan Lemmo, partners at Lemmo Architecture and Design, to renovate the home and add a pool and master suite.
One of the couple's biggest goals for the project was adding more natural light. "They wanted to create an urban sanctuary by connecting indoor and outdoor spaces to oak tree views and to bring light into the existing dark space," says Stephanie. The architects added new windows and skylights to help brighten things up and create exterior views. The light color palette, which was inspired by local shop Nannie Inez, complements the now light-filled space. "The use of subtle colors was the goal but the soft pink color for the kitchen is probably the most fun," says Stephanie. The interiors now feel lively and spacious, and with the addition of the pool, the couple now has the urban retreat they were dreaming of.
---
Elizabeth Stamp is a freelance writer in Los Angeles. Her work has appeared in Architectural Digest, Elle Decor, and CNN Style.
View Work