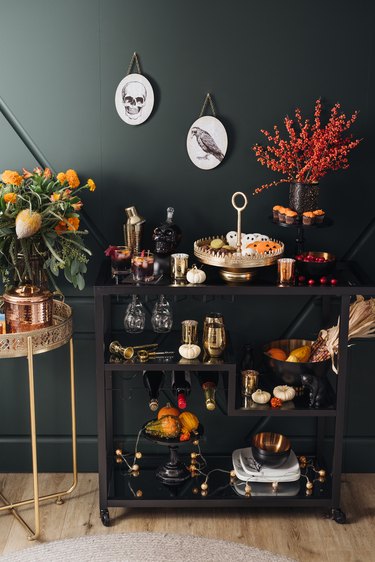 Halloween decor has come a long way since the days of orange-and-black streamers and plastic pumpkins. And why not? More than just a night for costumes and candy, Halloween is the first herald of the holiday season, a celebration of hearth and harvest that kicks off the most festive time of year.
In that spirit, we gathered at Hunker House to imagine a stylish, sultry, and altogether grown-up Halloween cocktail party (why should kids have all the fun?) with some of Walmart's chicest products. These are pieces so on-trend, they'll take you all the way through the holiday season — and beyond.
We chose a matte-black-and-gold color scheme to keep things sleek and sophisticated, creating a backdrop for traditional seasonal elements like gourds, pumpkins, and autumnal florals. The Holly & Martin bar cart is really both the star and the workhorse in this setup — lots of surface area and storage options make it super-functional, while the smoked-glass shelves subtly amplify the gleam and sparkle of the decor.
Using serving items that provide some height allowed us to maximize space on our bar cart. Cake stands aren't just for cakes anymore — they work as a space-maker for finger foods and decor as well. We also love how the black-and-gold bowl set from the MoDRN collection make anything you put inside look extra beautiful.
Mixing metallics may once have been a no-no, but we find that grouping copper and gold tones together just feels right at this time of year — especially when tempered by the matte black and softer natural elements in the room. As the season goes on, you'll find this combo lends itself just as beautifully to your Thanksgiving table, a luxe Christmas spread, and even a New Year's gathering.
See? With a little forethought, holiday decor is nothing to be afraid of.