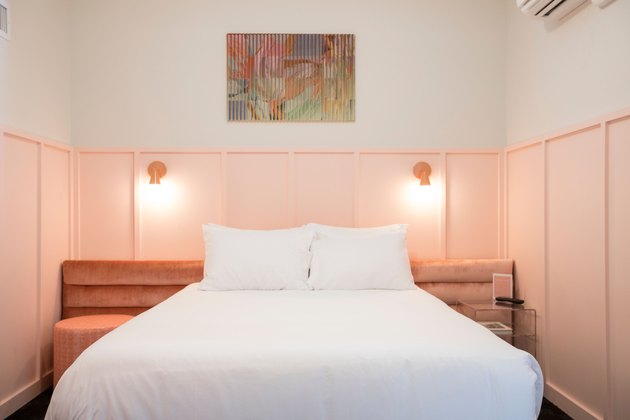 A 23-room hotel tucked into a former church? Sure, why not. That was the divine design goal for The Russell, which opened in Nashville's East Nashville neighborhood in June.
Two 115-year-old stained-glass windows — now in the hotel lobby — served as owner-developer Micah Lacher's inspiration for what he dubs "a happy place." "It's hard not to smile when you look at them, mixed with all of the colorful furniture and historic elements," he says.
Upgrades were both aesthetic and structural. "We basically built an entirely new building into the original church shell," explains Lacher. "Where possible, we reincorporated historic elements of the building that had been covered up for years — brick walls and historic trusses — and reincorporated the attic back into the building."
"We worked with local artisans on everything we could," says Lacher. Powell Architecture and Building Studio helped with the interiors, procuring furniture from HollerDesign and Maple Built, a non-profit that apprentices young men in North Nashville into woodworking careers. Other partners include I Saw the Sign (art and sign painting throughout), Fortify (also contributed signage on site), and Elemental Art House (metal work and custom fabrication). Adds Lacher, "We love supporting them, and Nashville is lucky to have some of the most talented creatives in the country."
1 of 9
Stained-glass windows
Existing stained-glass windows dating back to the building's original use — as a church — were preserved during the renovation.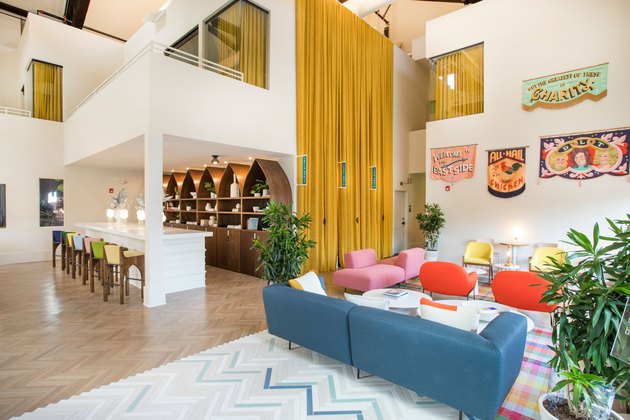 2 of 9
Lobby
Brightly colored furnishings, vintage-like pendants and signs, and floor-to-ceiling goldenrod curtains are among the lobby's eye-catching details. Flooring throughout the hotel is by Textures Flooring in Nashville.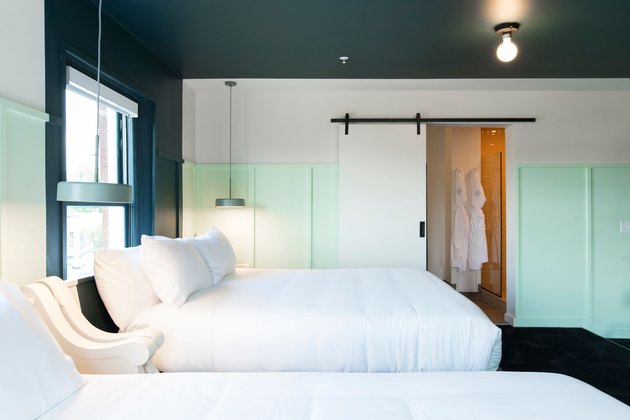 3 of 9
Room
Coats of mint-green paint on the three-quarter walls as well as a sliding barn door to the bath and darker paint used on the ceiling contribute to this guest room's minimalist style — but with dramatic edge.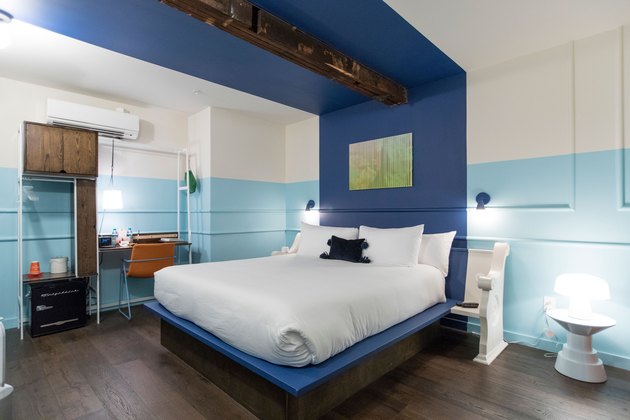 4 of 9
Room
Each room at The Russell is different, but many include similar historic features (like the church pew-turned-headboard) and original art from New Hat.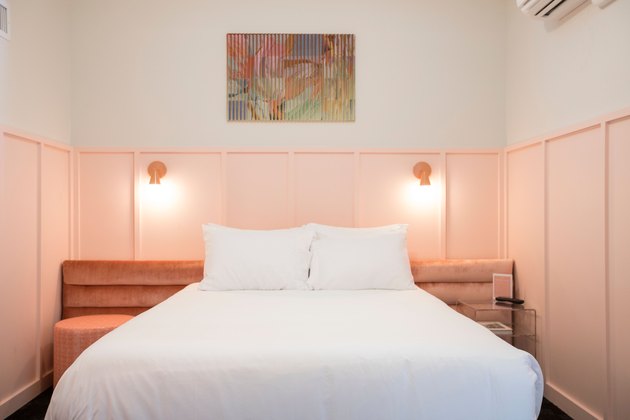 5 of 9
Room
Pale-pink panels paired with elegant sconces (much of the lighting was sourced from Southern Lights Electric) and a plush headboard in a warm mauve tone drive the decor in this guest room.
6 of 9
Bath
Each of the baths is wildly unique, and that includes the tangerine-colored tiles in this bath. The church-like arched windows above the vanity are a nod to the building's past.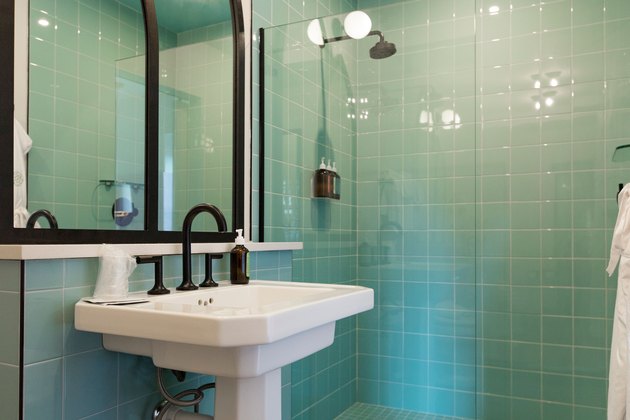 7 of 9
Bath
Aquamarine tiles wrap around the walls in this bath, inspired by midcentury-modern color palettes.
8 of 9
Communal space
A church's high rafters are reborn into a communal space with artsy furnishings, including an iconic "hand chair" and colorful geometric-patterned carpet.
9 of 9
Bar area
Crisp, white walls and multicolored stools are paired with milk-glass globe lighting, which picks up colors in the stained-glass windows when sunlight shines through.
---
Based in Wisconsin, Kristine Hansen covers art, architecture, travel and food/drink, and lives in a 1920s bungalow.
View Work