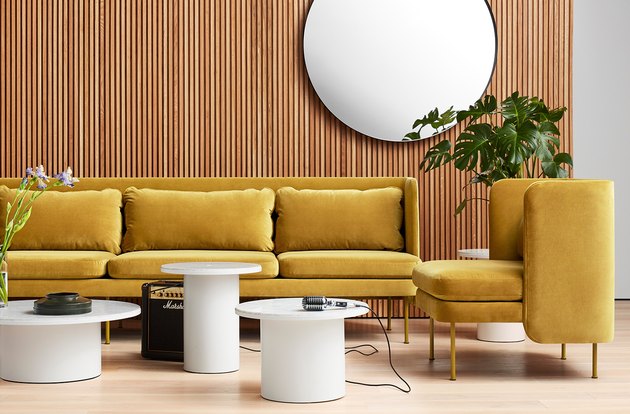 Your Pinterest boards are overflowing with one-day-my-house-will-look-like-this photos, but if you've been waiting for the right moment to actually add your dream decor to your IRL home, the time is now.
Why, you ask? Because the Blu Dot annual sale is happening now through October 27, and it's your once-a-year opportunity to score all the modern pieces you've been pining over at a fraction of the cost (20 percent off everything in-store and online, to be exact).
Just in case Pinterest isn't enough, we rounded up our eight favorite items so you can start shopping for your "one day" house—today.
If you want to use your dining room table to make a statement, you need a (tastefully subtle) statement piece. In white oak or walnut, this is the conversation-starter to kick-off all your brilliant dinner chats.
Nearly as important as the table is the chairs that surround it, and the clean lines on these ones make them the just-right supporting player. Go matchy-matchy with wooden finishes, or shake things up with eclectic choices like oxblood or grey green.
One of our longtime personal favorites, the Hunker Bed (I mean, duh) has built-in walnut night stands with a wraparound headboard to create even more of a cocoon effect than your army of blankets.
Consider this the perfect marriage of plush coziness and sleek minimalism (not an easy combo to nail). Add jewel-toned throw pillows, or let the ochre velvet speak for itself.
Made for curling up with a book and a mug of tea (or just for scrolling through social media in an extremely comfortable, velvet setting—we won't judge), this is your new "I'm lounging now" chair.
Perforated metal furniture is trending this fall, but the stately lines and brass details on this console give it the timelessness to make it a mainstay. Bonus: The perforation on the doors allows you to still use your remotes while hiding your tech.
Who says chaise lounges are just for sitting poolside? Bring that level of relaxation indoors with this ergonomically designed leather number, just as primed for relaxing with an adult beverage.
A coffee table is the ultimate sidekick, and the simplicity of these ones make them perfect for popping into any nook. More good news: The more surfaces you have, the more space you have for new decor. (Permission to shop for that too.)