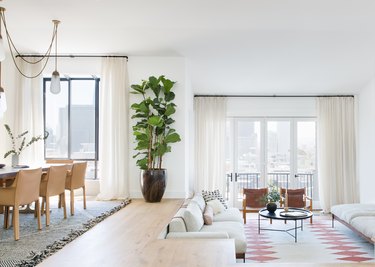 Moving in with a romantic partner is a huge step. But it's a tricky one if one of you is moving into the others' existing home. So when Kristen Peña of K Interiors was brought on to make over a young couple's San Francisco apartment, she knew the result had to reflect both of their styles.
The designer wanted the Telegraph Hill home to be able to grow with the couple, so she chose materials and hues that wouldn't feel dated by the time they walked down the aisle. "We wanted to use deep saturated colors in the home that felt bold and moody, but also timeless," she says of the palette of rust, forest green, and indigo. She also chose materials like brass and marble that would patina overtime, rather than ones that would need constant upkeep. (Who has time for a high-maintenance faucet?)
Peña picked furniture that felt casual but polished and added color and texture with rugs, pillows, and other textiles. She also made sure the home's newest resident moved into a space that already felt like it was hers. "[We] made it a point to incorporate layers of texture and personal touches to make her truly feel at home in San Francisco," she says.