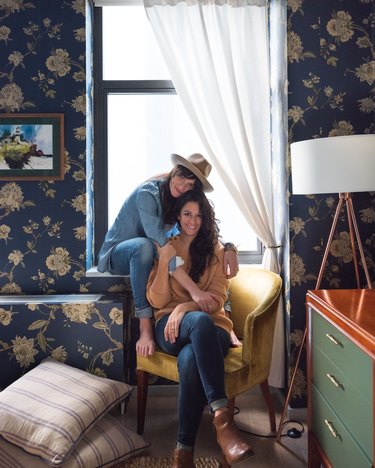 When Shelly Lynch-Sparks and her wife, Anna Maltezos, moved into their South Williamsburg, Brooklyn, apartment it was a white box with neutral finishes. A blank canvas might be intimidating for some, but not Lynch-Sparks, founder of New York design firm Hyphen & Co. She took the lead in the design, working to merge both of their styles into a comfortable, personalized home. "My wife gave me space to explore different design techniques," says Lynch-Sparks. "She gives me a lot of freedom to experiment with design." (Aww!)
The palette blends the couple's favorite hues, including black (Maltezos), navy, and earth tones (Lynch-Sparks). The end result celebrates their individual and collective tastes for a home that's truly "them." But that doesn't mean Lynch-Sparks is done. "As a designer, [I] have access to so many different options for furniture, lighting, and fabrics," she says. "The options are endless. Deciding on these pieces was tricky and, of course, I'm at the point now where I'm ready to redesign and do it all over again."
---
Elizabeth Stamp is a freelance writer in Los Angeles. Her work has appeared in Architectural Digest, Elle Decor, and CNN Style.