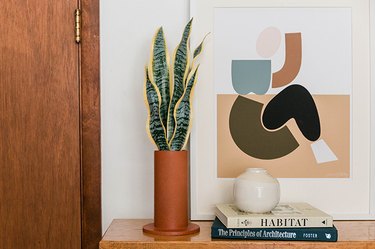 There's nothing real about this minimalist faux terra cotta vase (including the greenery!), but there's no denying that it sure is real cute. Bring this California boho-inspired tabletop project to life using our couldn't-be-easier DIY tutorial below.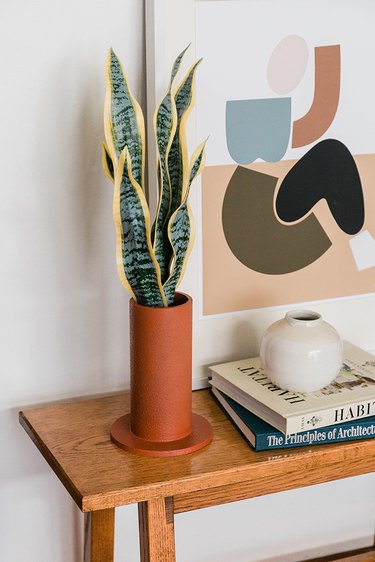 Step 1
Use a ruler and pencil or pen to measure your PVC pipe to roughly eight inches in length.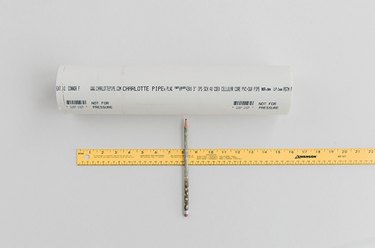 Step 2
Step 3
Glue and clamp three of the unfinished wood circles together to create a thicker, stouter foundation for your faux vase. Allow to dry clamped up for two to three hours.
Note that you can also press wood filler into the sides of the circles at this time to minimize any exposed seams. Allow the wood filler to set for the same two to three hour period as the glue. Sand the wood filler to a smooth finish once dry before moving on to the next step.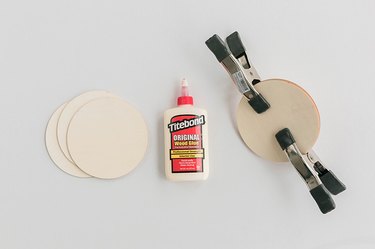 Step 4
Attach the cut PVC pipe to the top center of the circles you just glued together using a thin bead of silicone caulk (you can just eyeball it, like we did!). Allow to dry for two to three hours, then add another bead of caulk around the seam where the base of the pipe meets the circles. Smooth this bead out with a wet fingertip to minimize the exposed edge between the two materials. Allow to dry for another hour or two.
Step 5
Spray the constructed vase shape first with the 'Stone' spray paint. Allow to dry for 30 minutes, then spray the piece down with one to two thin and even coats of the 'Satin Cinnamon' spray paint. The stone paint will give the vase the texture needed to look like terra cotta, and the cinnamon-colored paint will give it the right terra cotta color.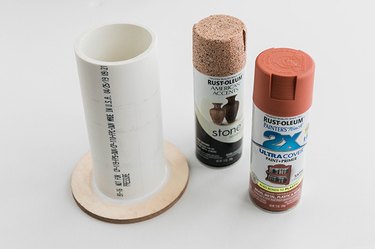 Step 6
Allow the finished vase to dry overnight, then fill it with faux greenery to complete the decorative project!