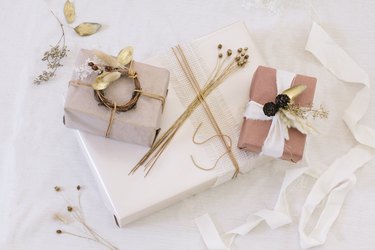 Elevate your gifting game with gorgeous dried floral toppers. Not only are they perfectly on-trend for the 'gram, but they can be made in advance without worry of wilting. We contrasted the earthy elements with more luxe items like linen and leather, and opted for a subtle color palette inspired by nature. A pop of metallic paint infuses a bit of festivity and glamour to create the prettiest little packages. Gift giving never looked so good!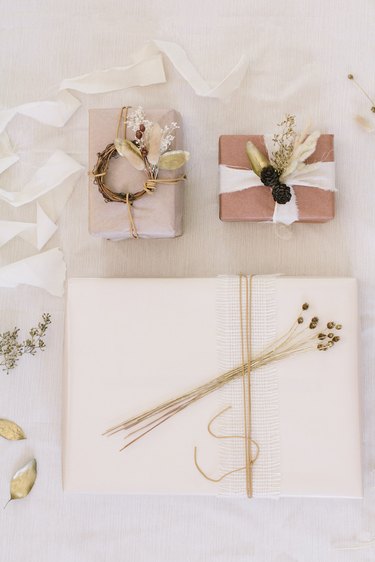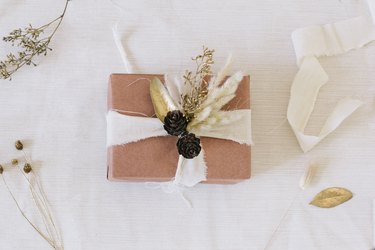 Step 1
Start by spray painting a few of your floral elements with metallic paint, and let them dry. We chose to paint the seeded eucalyptus gold and the happy flowers copper and gold, and left the rest in their natural state. The key is to have a good mix of tones and textures.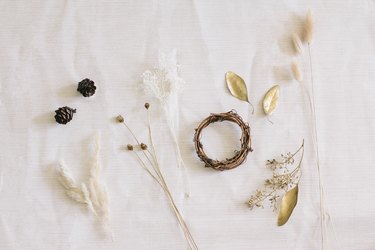 Step 2
Cut a small stem of pampas grass and layer it with a stem of seeded eucalyptus.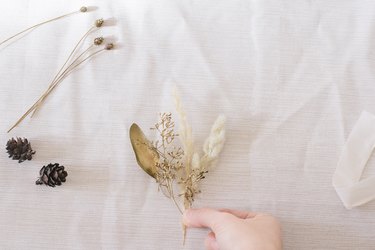 Step 3
Tie the bottoms of the stems together with floral wire, leaving long tails on the wire. Then place two mini pine cones on top and twist the tails of the wire around them to secure them to the florals. Clip off any excess wire. Either tie the floral bundle to the gift box with ribbon, or attach it with hot glue.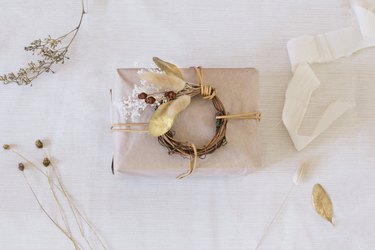 Step 1
Layer a small bunch of baby's breath with a couple of eucalyptus leaves.
Step 2
Layer a couple of bunny tails and happy flowers on top.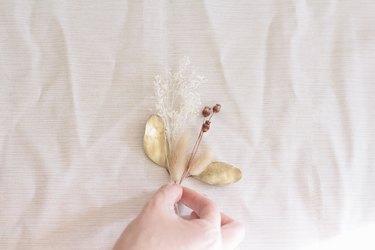 Step 3
Tie the bottom of the stems together with floral wire, leaving long tails on the wire. Then use the tails on the wire to attach the floral bundle to the mini grapevine wreath. Tie the floral wreath to the gift box with ribbon.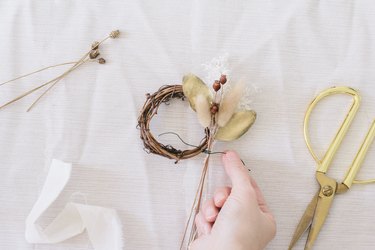 Step 1
Wrap a wide ribbon around the gift box. Here we've used a rustic ivory burlap to create textural contrast, since our paper and ribbon are similar in color tone.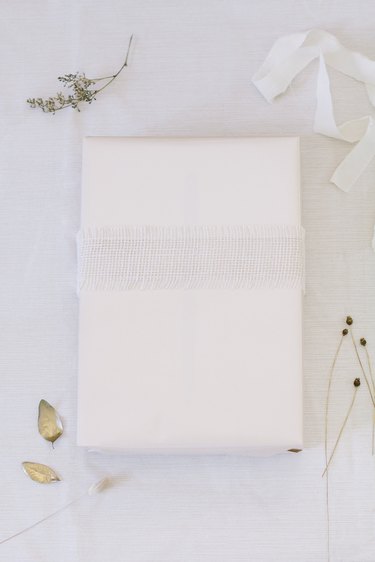 Step 2
Wrap a smaller thin ribbon around the box several times, on top of the wider ribbon, and secure with a knot. We've used leather cording here to balance out the burlap.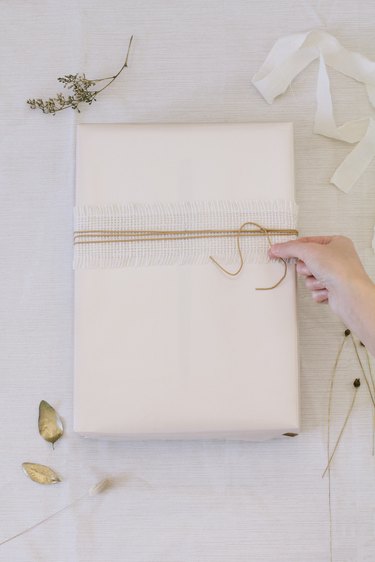 Step 3
Now tuck a bunch of long-stem happy flowers under the thinner ribbon, and your beautiful floral-topped gifts are ready for their recipients.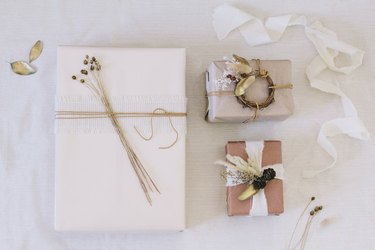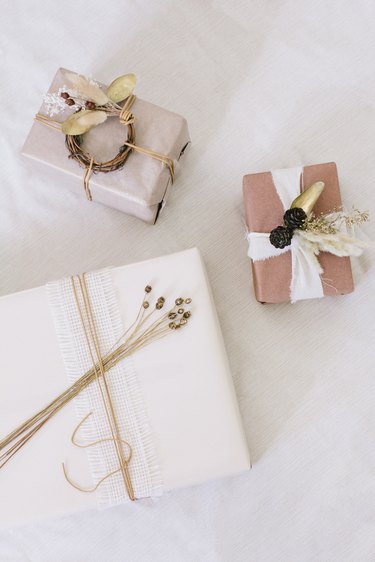 ---
Trisha is a writer, video producer + maker with a knack for creating modern DIY content. When her hands aren't covered in paint, she's most likely holding a camera or power drill or both.