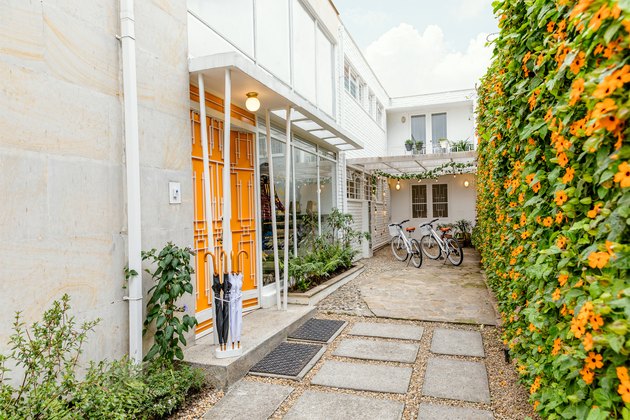 Helena Davila opened Casa Legado in Bogotá, Colombia, with a succinct mission — to honor her family. Meals are served in an open-concept kitchen, and each of the seven rooms is named after a family member, with the person's personality conveyed in a decor scheme.
Nailing down the design in a few words? Nearly impossible because it's that eclectic. Gingham-checked pillows, a hammock on the balcony, Toucan-themed wallpaper, Persian carpets, and framed vintage posters are just a few examples. Also, art by local artists is hung throughout the hotel in abundance. "It's an eclectic blend of styles, design, and a space filled with treasures from the family," says Davila.
Although the building dates back to the 1950s, its unfortunate chapter as offices during the '90s meant a facelift was in order. "We wanted to honor the story and the period of the property in order to bring it to its former glory," says Davila. "All the living areas were kept the same and the gardens and exteriors were (redone) to be all about nature and oxygen, to contribute to the city's need for green spaces." Davila also makes sure the vibe remains local. "Our collection changes constantly, so we have hundreds of Colombian artists that pass through the house." This includes ceramics and dinnerware by Tybso and Manola Ceramica, as well as light fixtures by Alejotapias Studio.
Given the cozy vibe, it's no surprise Davila wants guests to feel, "that they are staying at home with family ... that they can trust that they are in the hands of locals and friends."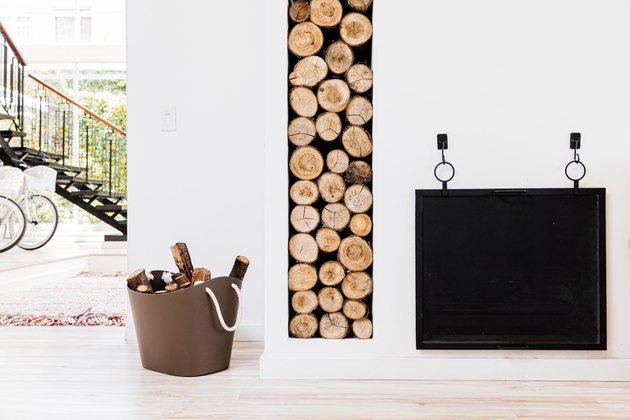 1 of 9
Lobby
This artful fireplace in the lobby immediately coaxes guests into relaxation and a "home away from home" vibe.
2 of 9
Room
Texture-heavy fabrics for the "wholesome but cozy" feel in The Helen room extend to a soft heather-gray throw on the bed, comfy plush armchair, and wicker accents (including the pendant lamp).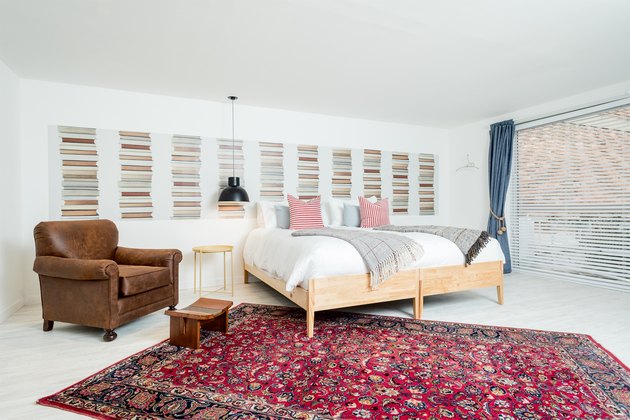 3 of 9
Room
As an homage to literature, the wallpaper behind the bed in The Lucho room features book spines, and the armchair is the kind you wouldn't mind curling up in for hours with a good book. A Persian carpet, black pendant light, striped pillows, and plaid blankets infuse just a touch of preppiness without feeling formal or fussy.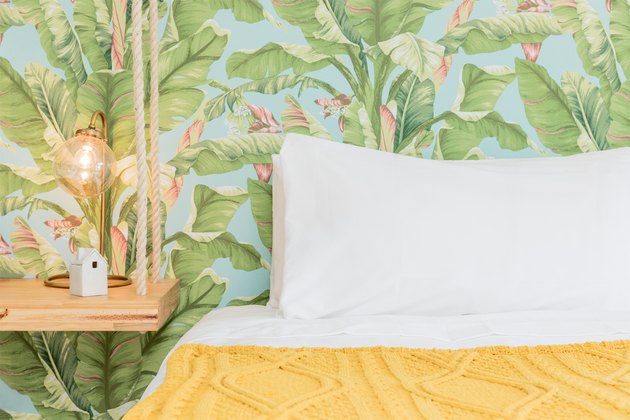 4 of 9
Room
Tropical wallpaper and a bedside table crafted out of a floating shelf and nautical rope create a dreamy sanctuary in The Luisa room.
5 of 9
Bath
In The Helen room's bath, a design goal was to create a sparse, fresh space, achieved through white walls, eye-catching floor tiles, a "stepped" countertop, and eucalyptus hanging from the shower fixture. Gold-finish fixtures and dark-stained wood easily inject some glam.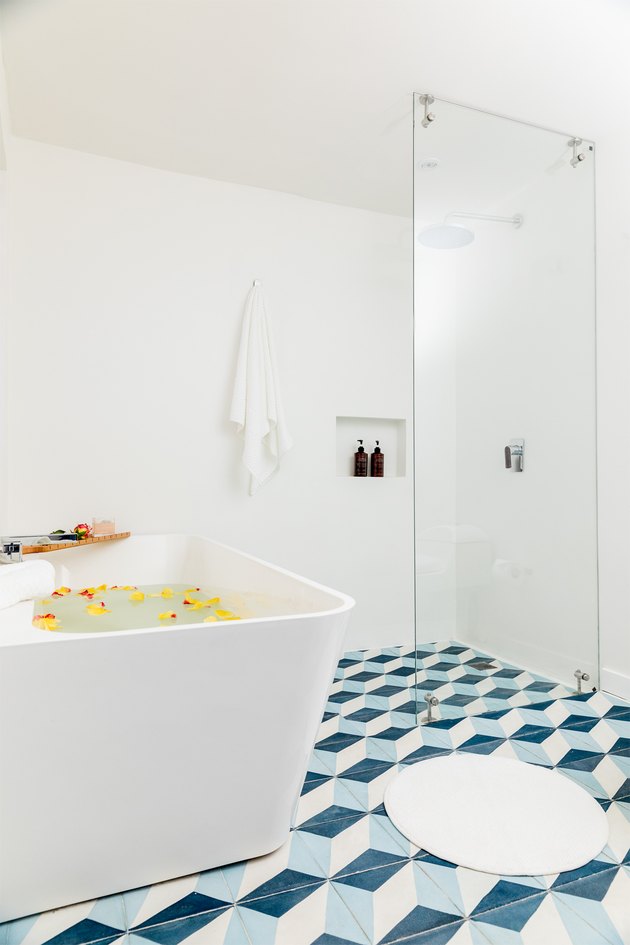 6 of 9
Bath
In another bath — in The Lucho room — luxury is not compromised with a soaking tub and cool geometric patterns in the same color family (blue) within the floor tile.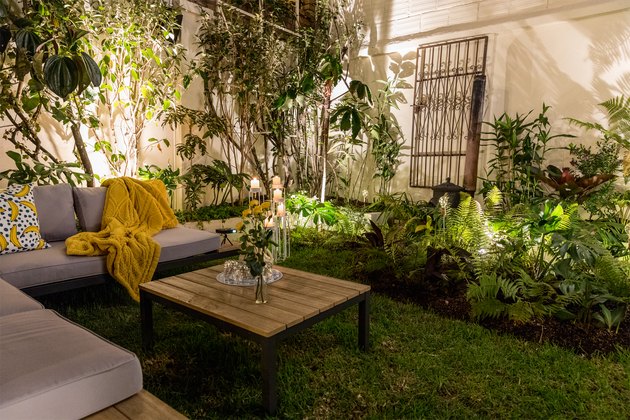 7 of 9
Garden
The garden space feels more like your friends' backyard than hotel lounge.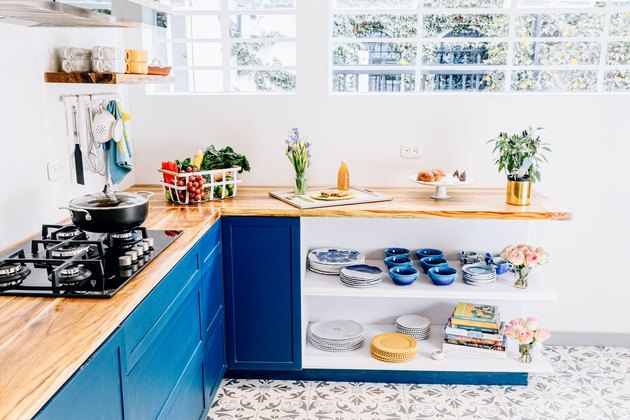 8 of 9
Kitchen
While there's no restaurant per se at the hotel, the kitchen was designed as an open-concept where guests could come and go, either snacking on what's already out, enjoying breakfast, or preparing their own meals. Blue cabinets and gold flatware are a twist on traditional kitchens for a little bit of eye candy. "When you are comfortable enough to open the fridge somewhere you definitely feel at home," says Davila.
9 of 9
Dining Room
Artfully matched furnishings — including Windsor chairs painted white, a Mission-style bench, and a midcentury modern-like buffet — create an eclectic vibe in the dining room.
---
Based in Wisconsin, Kristine Hansen covers art, architecture, travel and food/drink, and lives in a 1920s bungalow.
View Work