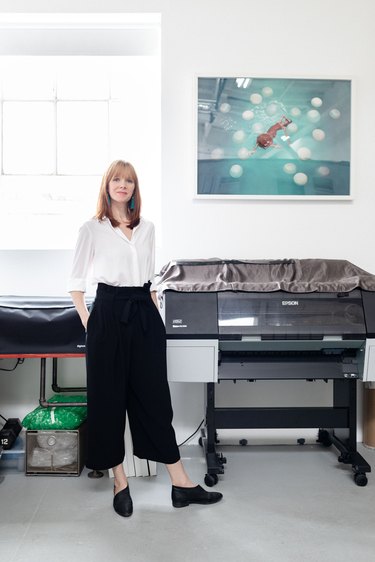 There's something about being underwater. It's ethereal. It's evocative. It can be unnerving. Mallory Morrison's fine art underwater photography is all that, and more.
At a group show, one woman stood for a long time in front of one of Morrison's photographs. She told Morrison that her brother had drowned when he was eight years old, and this was the first time she could see someone underwater without being flooded with anxiety. "She told me, 'This is the first time that I feel completely relaxed and can let that go and I can look at it,'" says Morrison.
Another woman, a judge, has a photograph of Morrison's — one of her darkest and most ominous —hanging in her chambers. "In the image, she's falling in the water, which is a dark, dark, dark blue," says Morrison. "I think about her, deciding fate, all day every day."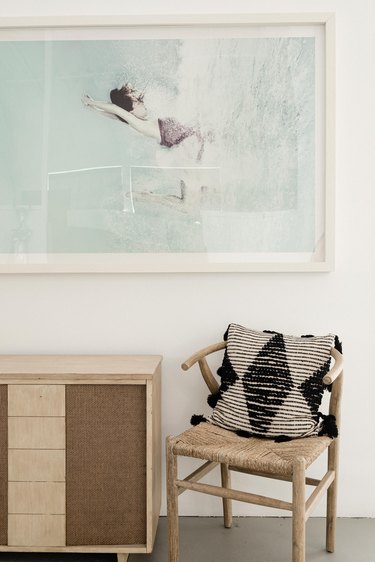 Each piece, says Morrison, is meant to unearth those deeper elements. "It's not just a pretty picture," she says. "There's a theme and a purpose. How [the models] are dressed, what the tone is, the mood of the lighting, the posing is all to tell a story. It's a moment within a story that has an ellipsis before and after. Whoever is looking at it can fill in their own story. "
Morrison's work is also about process, of bringing someone — a model, a dancer, a synchronized swimmer — down into the water with her to achieve something you could never achieve on land.
Can you tell me a little bit about the piece of yours that's hanging in Hunker House?
There's one piece called "The Path."
Is it representative of your work?
Oddly enough, that piece specifically is a culmination of a whole series of work. The image itself can be seen from either direction. You can flip it 180 degrees. Someone's rising — or falling.
I represent it as falling, but it can be what I call a convertible image. It can be rearranged, so that it's someone who is floating up. [The] concept of that image, and that whole series, is about a journey and finding your way through a very uncertain time. It's a little bit of a dream within a dream.
It's me trying to grasp and understand what I'm doing shooting underwater, shooting people underwater, how do I navigate that realm as a very niche specific thing that I'm doing? I find myself feeling lonely and confused and trying to navigate that business of being so specific and trying to have that be the sole focus for my photography business.
You make a point of using dancers in your work.
I was a dancer for 24 years. I did ballet mainly.
It's a way for me to still be in that role and be more on the choreography side of things and director side. But also, I'm able to speak the same language with them, and there's an instant trust that's built when you say, I'm a dancer, too. I am able to communicate a lot quickly. I can show them what I want them to do. There's not so much a talking explanation, but a showing explanation. That definitely helps me get what I want to get.
Water is such a freeing environment for a dancer. Dancers are fighting gravity. When they're moving, there's a push and pull with gravity. So to defy gravity and have a low gravity space, it's freeing. For me as a dancer, I'm not a strong swimmer, but I can tread water well and hold my breath, because I have that dance experience. You're just released from that pull of gravity. You can move slo-mo in a three dimensional space. It opens a whole other door of choreography.
Is it easy to find subjects?
LA is the perfect place for me to be. I have access to swimming pools and access to these types of models. It's all actors, models, dancers. These people are walking around in LA because we're near the ocean, because we're a swimming pool city. There are lots of people who grew up with water in their lives.
I've mostly worked with dancers who can swim. But the last few years I've gotten connected to a small synchronized swimming group (Aquateque). Working with them, not only do they have dance experience and swimming experience, they have a whole other set of choreography. I'm pulling from in-air, on-land choreography. They have years and years of choreography underwater already. It's a collaborative experience. If you want to be straight up and down, upside down in the pool, with hair looking good, with wardrobe looking good, they can figure out how to get there. So we're maximizing the time that we're under there.
I loved discovering some images of you in action on your Instagram. Before that I just wondered, *How did she do that? *
There is always the question of how.
For a long time, I wanted to keep that mystery and keep that a secret, to keep the dream alive. Then I posted one behind the scenes video. I was nervous. I thought, in some way, having it out there would mean a little magic was lost.
What are you working on now?
About a month ago, I shot my first shoot in [my new studio]. I got a couple of dancers to play around with me. I was shooting through colored films [and] magnifying glass.
I've been wanting to try this, but I didn't have access. Now I live in it.
Six months ago, Morrison moved into the Santa Fe Art Colony, the last art colony in Los Angeles where you have to be an artist to live there.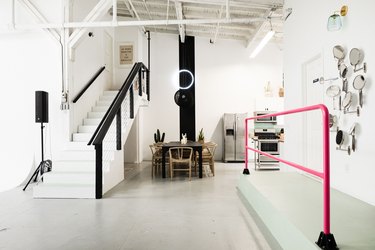 Morrison shares the 3,000 square foot live-work space with Liz Bretz and her long-time partner, Brandon Henderson. Together, they are Moon Seven Collective.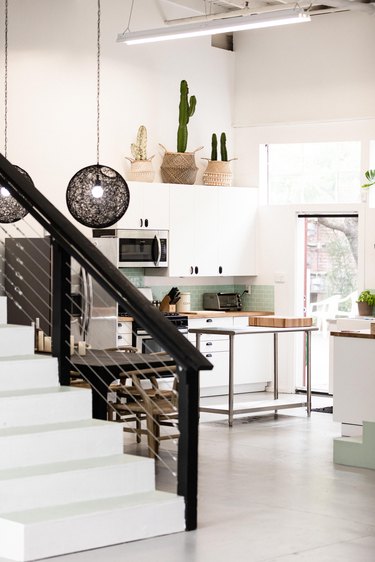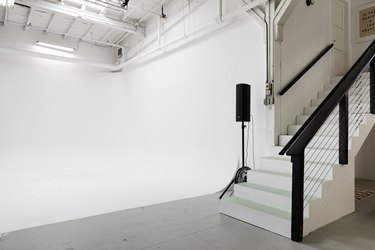 Two large skylights bring in amazing natural light. They built a cyclorama wall, gutted, redid the kitchen, and have painted the space, inch by inch, so that it's brand new. "We want people to feel energetically really good so that they want to stay here and they want to create things and be inspired," says Morrison.
Underneath the stairs is the green room and their library of artist books. All of the art on the walls is black and white. "We each chose one of our own images to be in there as well," says Morrison.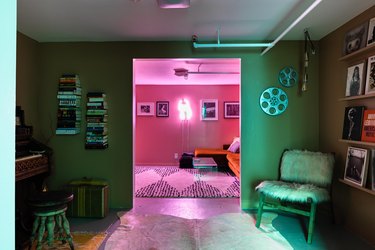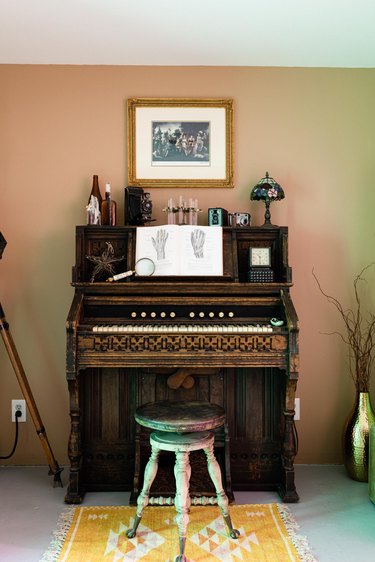 The organ is from a previous photo shoot. "I've been lugging it around for eight years," says Morrison. "It finally has a home."