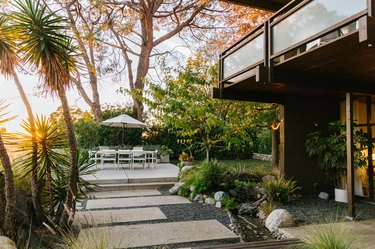 Summer's in full swing in August, so it's natural to take some time off for sunbathing, barbecuing, and admiring the glorious results of your spring season gardening work. But you'll need to fit in some maintenance time, too, to keep the garden in good shape and prepare for autumn. If you aren't sure what to do in August, don't worry. We've got you covered. Just check off this August to-do list.
Keep the Blooms Coming
In the long, lazy days of August, you'll have plenty of outdoor time to appreciate the summer-flowering plants. Both annuals and perennials are in full show-mode, setting the backyard ablaze with color and fragrance.
Water your flowers: To keep the garden humming along requires a continuing effort on your part, including irrigation. If you live in a region that swelters in August, water early and often; in cooler coastal areas, water when the soil feels dry. Container plants have limited dry out much faster than flower beds and may need daily water.
Weed your beds: Just as your favorite plants are in their annual heyday, weeds are happy in August as well. These tough opportunists seem to appear out of nowhere during the late summer season. They look unsightly and also steal water and nutrients from your garden flowers and shrubs.
Deadhead spent flowers: Many of those flowers that bloomed in July will be wilting in August. You'll need to remove those dead blooms, clipping off old seedheads to focus the plant's energy on producing fresh new buds. Deadhead spent flowers on both perennials and most annuals.
Allow annuals to reseed: If you are hoping for a repeat of an annual in your garden, do not deadhead. The wilted flowers develop into seedheads. In autumn, they'll self-sow and do your work for you. A few annuals that you can count on to reseed:
Cosmos

California poppies

Marigolds
Coneflowers
Sweet William
Foxgloves
Morning glories
Love-in-a-mist

Check mulch levels: Mulch serves as a protective blanket on the soil surface. It keeps soil cool when late summer temperatures rise. It also locks moisture into the soil and prevents it from evaporating in summer heat. You mulched in spring, but organic mulch decomposes into the soil over time, so check mulch levels now and top up if necessary.
Prune back perennials: Trim back perennial plants that have finished blooming to keep them compact and shapely.
Help Your Veggies Thrive
Harvest daily: Your vegetable garden is overflowing with yummy ripe crops, so harvesting is on your August list. Many leafy greens can be harvested on a daily, as-you-need basis, including leaf lettuce and herbs. Other crops, like summer squashes and runner beans, just keep coming if you regularly pick young, tender vegetables.
Extend veggie season: By planting quick-growing fall plants now, you can extend the garden run into September. Both spinach and pea starts mature fast and are good choices.
Add compost: Spread a layer of organic compost over your garden soil in August. This will give your plants the extra nutrients they need to be rock stars.
Water and weed: Vegetables may require daily irrigation in the heat of summer. Remember that a superficial spray of H2O doesn't get water to the roots, where it is needed. Weeds will flourish as much in the vegetable garden as the flower beds, so don't shirk on weeding.
Preparing for Future Seasons
August may be peak season in the garden, but it's also the last month of summer. That means it's time to prepare and plant for autumn and winter.
Plant fall-blooming bulbs: Most bulbs get planted a season or two before they bloom. But there are a few bulbs you can plant in August for September flowers, including autumn-blooming crocus and colchicum.
Order spring-flowering bulbs: If you live in a frost-free area, many spring bulbs will need several months in the refrigerator before planting. Order them now to allow time for chilling.
Start your fall and winter veggies: Yes, those tomatoes and zucchinis are taking up garden real estate now. But if you have a fall or winter garden in your plans, now is the time to start. You can start cool season veggie seeds directly into the garden or in seed pots. What to plant? Cool season veggies include:
Arugula
Beets
Broccoli
Brussels sprouts
Cabbage
Carrots
Cauliflower
Chard
Kale
Lettuce
Onions
Peas
Potatoes
Radishes
Spinach
Other Tasks
Top up ponds and change water in birdbaths regularly. This is a season where water is everyone's friend.
Prune out broken and diseased branches and dispose of them in the garbage. It's easier to spot them before leaves start turning brown and falling.
Prune back early blooming perennials to renovate them and give them new vigor.