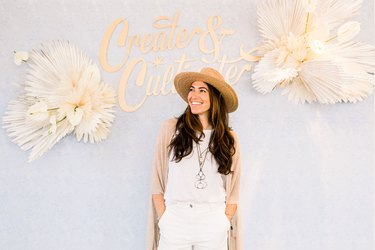 It's no secret that we've long admired Whitney Leigh Morris of The Tiny Canal Cottage and her ability to live well with less. Frankly, we're in awe that she manages to fit her family of three (including a toddler and, not to mention, two rescue beagles) into a 400-square-foot home in Venice, California — and, evidently, we aren't the only ones. Morris has garnered an audience of over 138,000 followers on Instagram who are also rapt by her penchant for making the most of every square inch of her tiny home.
Recently, we had the opportunity to catch up with Morris at Create & Cultivate's Self-Care Summit in Los Angeles, and we asked the small-space dweller to share her top tips for staying organized when square footage is at a premium. Her secret is surprisingly simple: "We make it work simply by having less stuff," Morris tells Hunker. "It's not better organization, more organization, or new organization techniques. It's just having less stuff and organizing it in a way that works for us." Inspired to pare down your belongings? Read on for five small-space living lessons we learned from the organization expert.
1. Start With a Problem Area
Getting started is, arguably, the hardest part, which is precisely why Morris advises tackling a problem area first. "Start with the area that you don't want to think about because, once you've tackled it, you've already cleared the hardest hurdle," she says. By starting with an area that you've been dreading or that's vibrating with bad feelings, you'll immediately see tangible results, you'll feel good, and you'll feel inspired to replicate the process throughout the rest of your space, reassures Morris.
While kicking off a large-scale organization project with the most problematic area in your home or apartment may sound daunting, Morris is quick to point out that you should also start small. "I really like to start small because the last thing you want to do is tear up your whole house and then be resentful of the whole process because it's never-ending," she explains. First things first, identify the problematic space in your home (Morris refers to this as "the black hole"), and then start chipping away at it, little by little.
2. Go Vertical
Devising creative vertical storage solutions is Morris' number one tip for making the most of a space with limited square footage. "Go vertical because, not only do you want to find a place for your stuff in your small space, but you also need space in which to breathe and to live your life — and you're not going to have that if your floors and surfaces are really cluttered," she explains. "By going vertical, you're accessing feet and inches that were otherwise unused."
Whether you install hooks in dead spaces behind doors, invest in custom built-in shelving solutions, or suspend everyday homewares, as Morris has done with the mugs in her kitchen here, using vertical space wisely frees up valuable floor and counter space, preventing a small home from feeling claustrophobic. Besides, crafty storage solutions "make a space look more interesting in addition to obviously making it more functional and more livable," says Morris.
3. Buy Less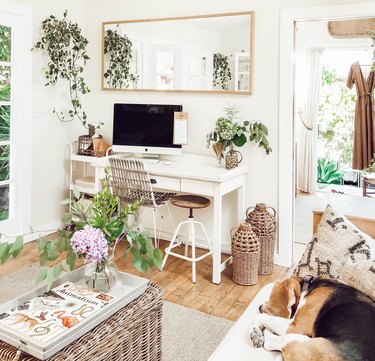 Another key takeaway from our conversation with Morris? Buy less. "It's great to have an organizational framework in place, but the framework doesn't mean anything if you're not stopping the influx of new goods," she says.
To keep clutter at bay, Morris asks herself a rigorous set of questions whenever she considers buying a new item for her home, and she recommends fellow small-space dwellers do the same. Morris' questions include: "Do I already own something that can accomplish what this product accomplishes? How was the product produced? Was it made with sustainable materials? Was it ethically produced? Were there human rights violations when it came to producing this product?"
This is a very personal process and to each their own, so think about which factors are important to you and devise a set of requirements for the new items you purchase for your own home accordingly, recommends Morris.
4. And When You Do Buy — Purge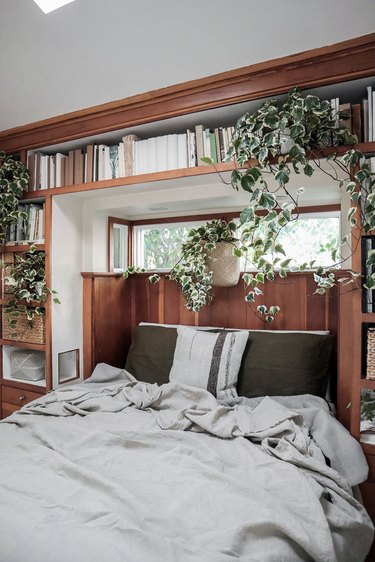 Whenever you do purchase a new item for your home, Morris recommends removing two items in turn. "Getting rid of two things when you get something new not only helps to keep the number of items you own at bay but also gives you the liberty of reorganizing different spaces throughout your home," she explains.
"When you're living in a small space, even though everything has a home, it's not necessarily a traditional home," Morris elaborates. "For example, you might keep your pens organized in the bedroom or you might keep your shoes organized in the living room." Parting ways with items as you gain new ones makes way for new organizational possibilities.
Of course, donating items is an ideal way to purge your home of things you no longer need while giving them new life and ensuring they don't end up in a landfill. "Think of a topic that you want to give to and simply do some Google research," advises Morris, who frequently donates to local women's shelters and foster care emancipation organizations in her community.
5. Skip Standard-Size Storage Containers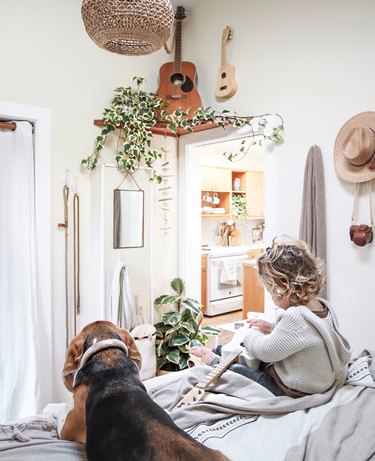 Don't limit yourself to one-size-fits-all storage containers, cautions Morris. "Frequently, people seek out items specifically by their name, such as a 'makeup organizer,'" explains Morris. "But by doing so, you're limiting yourself to searching within that terminology, so you end up with one of those silly acrylic things that will never biodegrade. Plus, you're also restricting where you can put that within your house because those tend to come in very standard dimensions which normally don't apply to small spaces."
To avoid making your house feel cluttered and sterile, search instead for the size, shape, and material of the storage container that you need, and then use it according to your needs, explains Morris. For instance, rather than purchasing an acrylic "makeup organizer," consider repurposing a pretty tea tin or glass candle jar to contain your brushes. "Not only is this better for the planet, but you're going to make your house look that much more original and unique," says Morris.