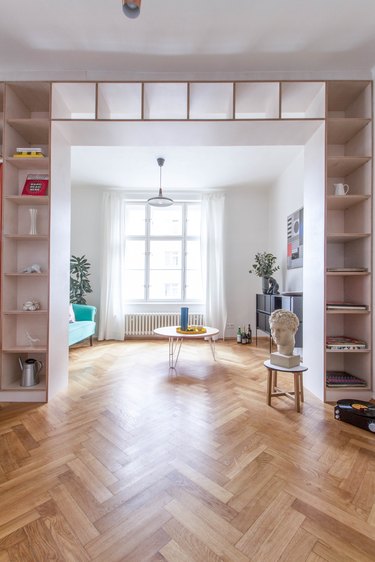 In a city celebrated for its architecture, Prague's Žižkov district is one of the more exciting areas. There, you'll find the famous Žižkov Television Tower, adorned with surrealist art, alongside a Baroque 17th century church built during the throes of the plague epidemic. One Žižkov couple hired the architectural firm DDAANN to transform their flat situated inside a house from the 1930s.
The concept, to create a more connected space full of light, was approached by rearranging the apartment to fit the needs of two people rather than one. Balancing privacy with ample shared space was a challenge the team at DDAANN overcame by creating doors in the entrance hall leading to the more private areas of the house, a dressing room, a half-bathroom, and a separate bedroom.
But what we love most is DDAANN's creative use of storage —the bookshelf built-ins throughout allow the couple to use books and objects to create their decorative aesthetic without it getting messy.