For Natalie Myers, her vacation home is more than a place to escape to; it's also a place to experiment. When the Los Angeles-based owner of Veneer Designs and her husband found a desert cabin in Yucca Valley, near Joshua Tree National Park, she decided to use their new retreat as an opportunity to hone her design P.O.V. without having clients to answer to. "I had concepts I was itching to try and companies I wanted to work with, but it was hard to convince clients to commit to in their homes," says Myers. "I wanted to take a few design risks and the only place to really do that is in a vacation home, where things can be more light hearted." Myers refers to that lighthearted aesthetic as "Scandifornian," a mix of minimalist Scandinavian style with earthy Californian elements.
The home was built in the 1950s as a hunting cabin and had been expanded over the years. Myers started by stripping away laminate floors, wall paneling, and other dated details. "I wanted to bring it back to the basics with simple materials that were either part of its vernacular — like vintage metal kitchen cabinets, polished concrete floors, and glazed brick tile — or introduce new elements that seemed right for the desert," says Myers.
The walls and ceilings were painted in a crisp white, creating a blank canvas for an eclectic mix of materials and warm hues that nod to the desert landscape. Touches of black and streamlined furnishings keep the space from feeling like a typical Joshua Tree retreat. "There was a desire to get away from the rustic boho look that's somewhat expected in the High Desert area," says Myers. "I wanted to create a house that felt relaxed and inviting, but also refined in a way that's appreciated by design lovers." The designer says she still has plans for more experimentation on the cabin in the future, but in the meantime, Scandifornian lovers can rent it on Airbnb.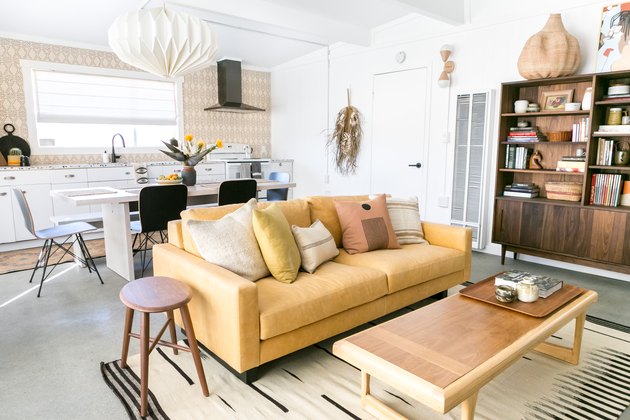 1 of 10
Living Room
The main living area of the home is filled with texture and warmth. Myers chose a Room & Board leather sofa that would look good but also stand up to guests, kids, and Airbnb renters. She found the vintage Lane coffee table on Craigslist and pulled the seating area together with a Room & Board rug.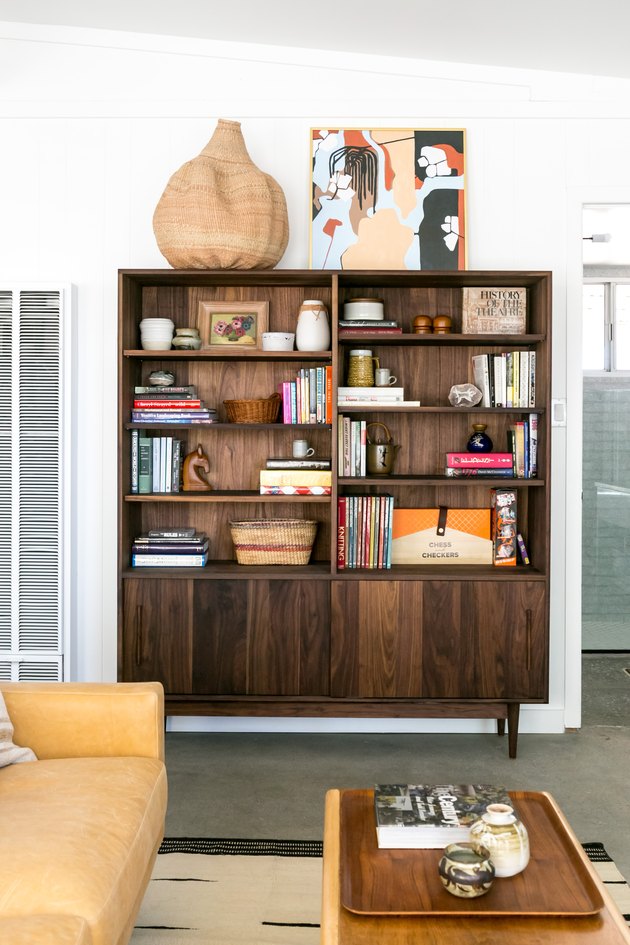 2 of 10
Living Room
A Room & Board bookcase is filled with books, ceramics, and games for guests of all ages.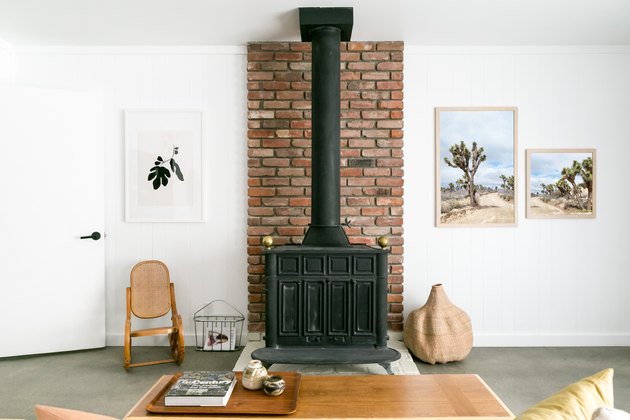 3 of 10
Living Room
The house was overhauled, but the living room's Franklin stove and exposed brick were keepers. Myers worked with her maker friends to create custom pieces for the cabin, including the diptych by Denise Crew and the sofa's Kesslyr Dean pillows.
4 of 10
Dining Area and Kitchen
The black chairs and range hood underscore the Nordic influence in the kitchen and dining area. Myers chose a sculptural light fixture from Room & Board as the centerpiece of the space.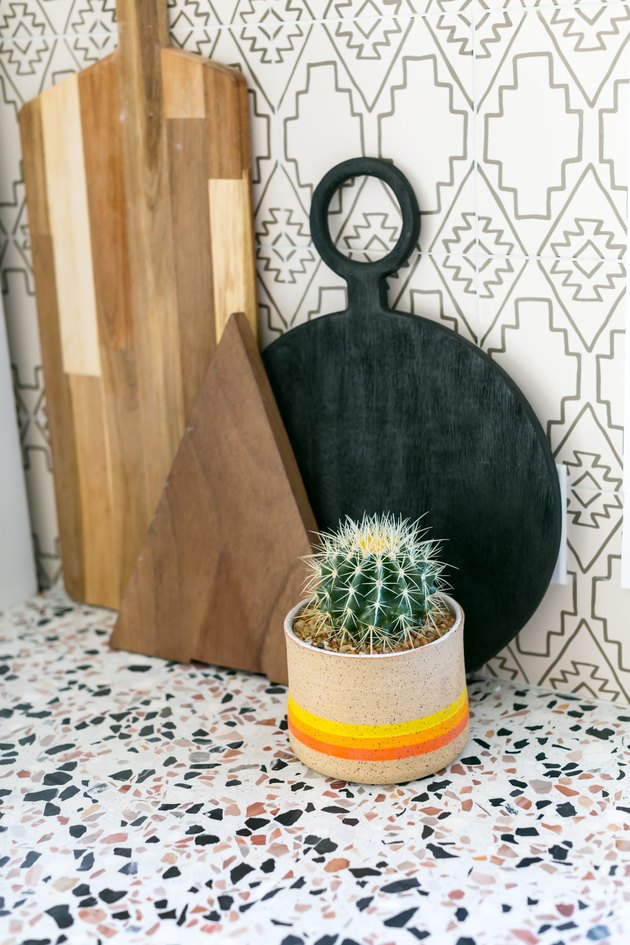 5 of 10
Kitchen
Aimee La Calle tile was installed from the top of the terrazzo counter up to the ceiling, adding a southwestern vibe to the kitchen.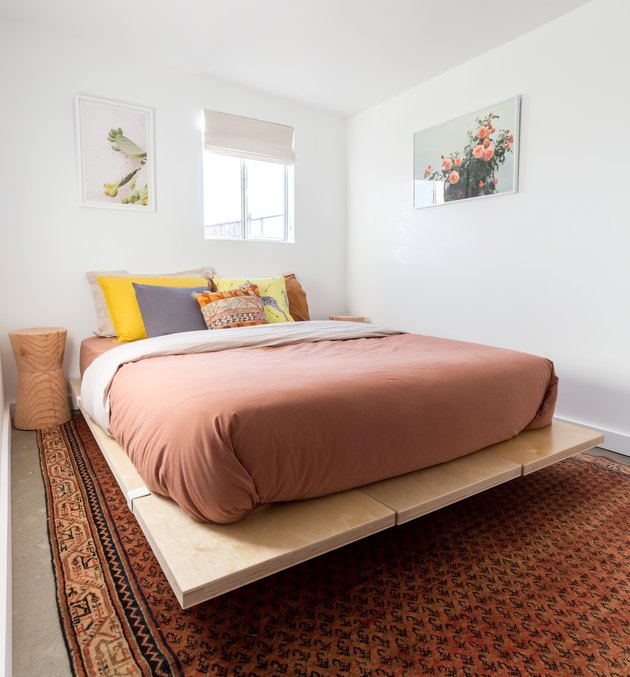 7 of 10
Bedroom
Another bedroom is decorated in hues of terra cotta and rust. "If I feel like changing up the color story, it's easy to swap out the textiles," says Myers of the home's palette. "Whatever I put in will always go with the neutral black, white, and sandy hues of the fixed elements."
8 of 10
Bedroom
A woven cactus hamper adds a whimsical note to the bedroom. Myers opted for wood furniture in either white-washed ash or blackened ash ("to underscore the Scandinavian influence") or walnut ("to harken to the cabin's midcentury roots.")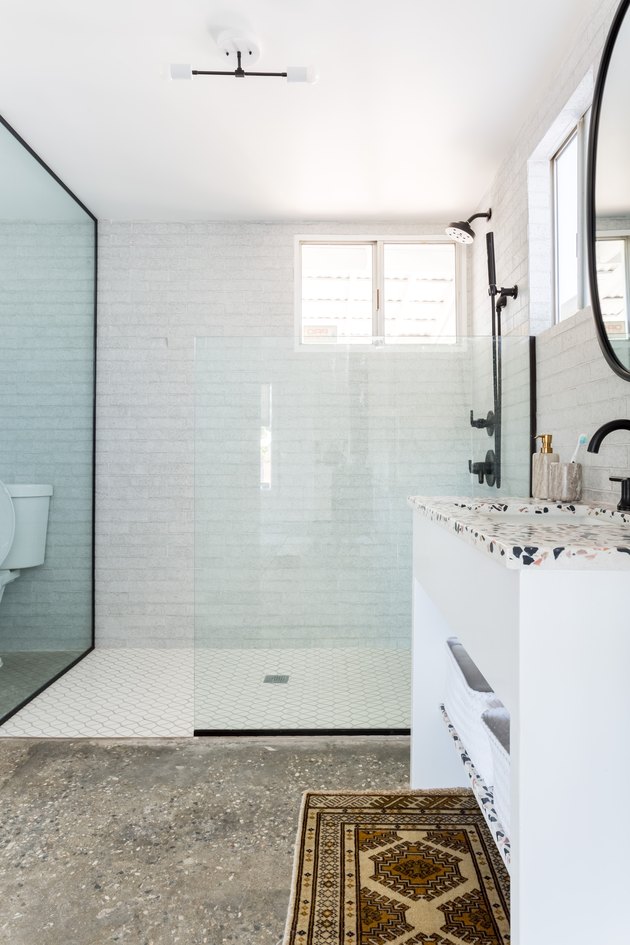 9 of 10
Bathroom
Black fixtures contrast with the white tile in a bathroom. The concrete terrazzo, which was also used in the kitchen, livens up the space.
10 of 10
Outdoor Living Area
A patio living and dining area allows for indoor-outdoor living. The sectional and chairs are topped with Turkish kilim wool pillows. "Those are my go-to for outdoor pillows, "says Myers. "They fade with time and get the perfect desert hues."
---
Elizabeth Stamp is a freelance writer in Los Angeles. Her work has appeared in Architectural Digest, Elle Decor, and CNN Style.
View Work