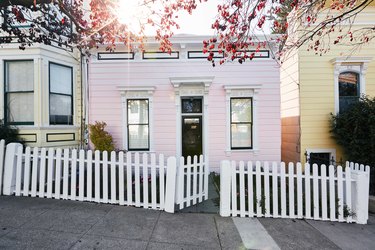 San Francisco is known for its "painted ladies," which are towering Victorian row houses sporting saturated shades. So it seems only natural that a color-loving couple in San Francisco's Noe Valley would take a bit of that inspiration for their own home. Their charming 900-square-foot Victorian may not have the height of the famous painted ladies, but with its new pink exterior, it certainly has the charm. Leading the couple on this vibrant project was Clara Jung, owner of design firm Banner Day. "There are many original Victorians in this neighborhood although, I have to say, this house stands out," says Jung, who worked with the couple on their previous home as well.
Jung's main objectives were to make the small space livable for the clan of three and to showcase the family's art collection. She paid close attention to scale, making sure that the artwork, furnishings, and accessories didn't overpower the space. Jung also made the interior as colorful as the exterior with vibrant seating and fun, patterned wallpapers. "The clients were not afraid of an abundance of color, which made the design process all that much more fun," she says.
---
Elizabeth Stamp is a freelance writer in Los Angeles. Her work has appeared in Architectural Digest, Elle Decor, and CNN Style.