Who: Tyler Silvestre of Sama Sama Kitchen
Where: Santa Barbara, California
Style: Relaxed, California modern
Sama Sama means "You're welcome" in Indonesian — and there is much to be thankful for in this farm-to-fork, modern Cal-Indonesian restaurant, which, incidentally, just made the 2019 Bib Gourmand list from Michelin Guide California. (Bib Gourmand highlights notable restaurants that serve two courses and a glass of wine or dessert for $40 or less. Indeed, during Sama Sama's happy hour, a galangal- and kaffir lime-infused margarita will only set you back $6, classic Mie Goreng, just $9.) As an extension of the Shelter Social Club empire, Sama Sama's aesthetic is quintessentially Californian — modern, relaxed, with saltillo tiles and warm wood, communal tables, a perfect brick-lined patio with string lights, and a simple, modern bar.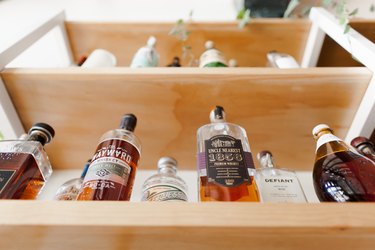 The man behind Sama Sama's notable cocktails, and select beer and wine, is 24-year-old Tyler Silvestre. Originally from Sacramento, he arrived in Santa Barbara earlier this year to invent cocktails, curate wine, and — separately — roast coffee for an up-and-coming cafe.
"The work I do is supposed to bring people closer," says Silvestre. "It's making that first date less awkward, it's helping old friends reconnect, it's being the secret weapon to impressing somebody's in-laws — all of these things are happening in restaurants and cafes every day. I live on that." Here, Silvestre shares what he's pouring now — and some of his favorite Santa Barbara addresses.
What to Mix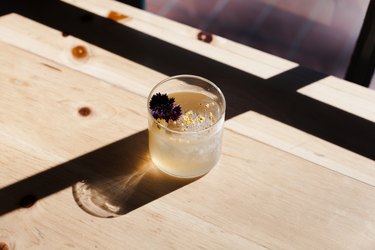 "This cocktail was my homage to the intense super blooms that happened this year," says Silvestre. "We like to use Del Maguey Vida because it's a single-village focused mezcal cooperative. Del Maguey is a product of real integrity, bringing recognition to the sites and families that are producing mezcal through methods as indigenous as the agave itself. It's important to support these people because mezcal, to them, is the blood of Oaxacan heritage."
Chamomile-infused mezcal, 2 ounces

Local honey, 0.5 ounces

Bordiga Extra Dry vermouth (a small production vermouth from Piedmont, Italy), 0.75 ounces

A pinch of local bee pollen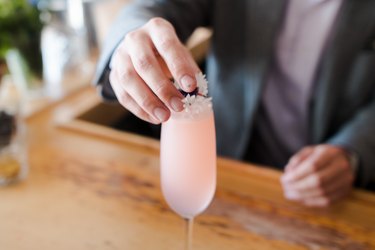 "This cocktail is my guilty pleasure," says Silvestre. "It's actually been a few years in the making, and I got the inspiration from another cocktail I made awhile ago called The Abigail. The Abigail was a cocktail I made for a special event a few years ago, where I was trying to impress this girl I had a massive crush on at the time. To start, the cocktail is a riff on an all-time favorite of mine, the French 75. Between gin, champagne, and citrus, what could go wrong? The 'So Fetch!' is a sparkling rosé cocktail served in a flute. Best enjoyed on a Wednesday. On Wednesdays we drink pink."
Gin, 1.5 ounces
Freshly squeezed oro blanco juice, 1.5 ounces
Peychaud's bitters, 4 dashes

Simple syrup, 0.25 ounces
A heady topping of Cremant de Bourgogne rosé
"The Amaro sour is sassy, earthy, and alluring. I could go on about it all day, but it's not so easily explainable like the other drinks," says Silvestre. "Amaro has a mysterious edge. It reminds me of a sarcastic joke, or like a snide comment followed by a wink of the eye."
Medley of amaro, 2 ounces

Lemon, 0.75 ounces
Honey, 0.75 ounces
1 egg white
What to Pour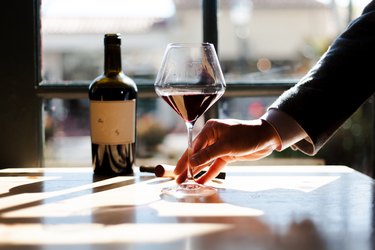 "The Piedrasassi PS Syrah is not a wine I take lightly," says Silvestre. "Though the wine doesn't come across as pensive, the wine has really become a wine of deeper meaning to me. The first time I had a Piedrasassi wine was two years ago, just as I was getting into the industry. Sashi Moorman, champion winemaker, owns the label Piedrasassi with his wife Melissa. Their wines are available for purchase at the Saturday morning farmers' market. I love wines like this because I know that by purchasing a bottle I'm not just supporting local wine — I'm supporting a local family, too."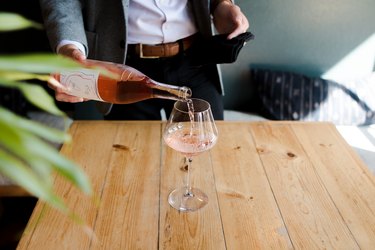 Press Gang "Savannah Rhea" Rosé of Grenache
"I've always been a fan of Kyle Knapp's wines. He's the owner and winemaker for Press Gang Cellars. Almost every wine he makes has a real story. Many of the labels on his wines are candid, meaning he doesn't necessarily propose that there is any deeper meaning. The labels are inherently meaningful, but not because they are artistically lofty. They are meaningful because they describe the moments and experiences of Kyle's life. Many of the wine labels are pictures taken while surfing or traveling along the California coast. In the case of the 'Savannah Rhea' rosé of Grenache, the label is a portrait drawn of Savannah, by Milo, Savannah and Kyle's young son. Every year, Kyle makes this wine as a dedication to his wife Savannah, as a thank you to her for all that she does for him and their family. Though the wine is delicious on its own, it's the story behind that leaves an impression on me. I believe that truly great wines have a story."
Where to Go
Favorite piece of design or architecture in your neighborhood, town, or city: "If I could count roads as a form of architecture, I would count the Camino Cielo, a mountaintop highway that traces the divide between ocean views and far-reaching canyon country. At the top of the Camino there are some stellar views."
Best farmers' market: "There are great pop-up farmers' markets in Santa Barbara, but they always seem so hectic to me. I love Mesa Produce because I can see exactly where all the produce is coming from — they have great relationships with local farms, apiaries, and bakeries. There are also cats that roam the property, almost like they have assumed post to protect the market. It's like a temple of groceries to me."
Best happy hour: "The best happy hour in Santa Barbara is at Wine + Beer. It's actually not a real happy hour, but the way that the beers are priced makes it a great place to have a beer and save money. Some of my favorite beers, such as the Amalgamator by Beachwood or the Maibock by Enegren, are available in the can for less than $5. Seriously, where can you find an excellent beer these days under $5?"
Best cheap and cheerful restaurant: "Cold Springs Tavern! It's a bit of a drive, but it's well worth it. The move is to drive out to the tavern, located just over San Marcos Pass, and to snag a bench seat outside with a 20-ounce beer and a freshly grilled tri-tip sandwich. I always douse my sandwich in the horseradish sauce they have available. On the weekends they often have blues music playing. It's a real family spot. Bikers, friends, families, all soaking in the music and [the] smell of canyon oaks and scattered pines. It's sinful to be here and not be smiling."
Best coffee shop: "Well, it's not open yet, but I roast for a local company called Low Pigeon. We are in the process of opening a brick and mortar."
If I were to have visitors, I would take them to... "Makesmith Leather Company is owned by a very good friend of mine, Steve Soria. Steve is kind of a local legend, and a guard of Santa Barbara's culture. He is a third generation leather craftsman and his family has been living in the Santa Barbara area for generations. All of the products are made from saddlery quality leather as well. It's an authentic experience when people go there. To me, it represents true craftsmanship — his products are made slowly, but correctly. It represents something that seems to be dying in our culture.
"Bettina Pizzeria is almost "culty" in following. When I think about the one place I would go out to eat in Santa Barbara, I think of Bettina. I have a uniquely consistent craving for pizza, and they do an outstanding job. Rather than the obviously delicious grease-fest that is the normal association with pizza, here they leaven their own bread and ferment the grain for 48 hours. I still haven't had a bad dish from here, and their beverage program is spectacular! The beverage program is very Italian-influenced, between the cocktail list and the wine list. I'd bring my family and friends here if they are coming from out of town, but it's also my go-to date spot!
"Frequency Wine Company is located right next to C'est Cheese, a local cheese shop, and it's a favorite of mine. Much of coming here isn't just about drinking delicious wines. Zac Wasserman, owner and winemaker, is somebody I really look to for inspiration. Very few people have started a successful wine label from scratch like he has. Every time he and I hang out we get to pop some crazy bottles of wine, so I feel like I learned something after all of our hangouts.
"Camino Cielo, to catch a sunset. The best way to do it is to swing into Bettina and get a pizza to go, then take that pizza up to the camino. Catch some beauty and eat some delicious food. What more is there to life?"