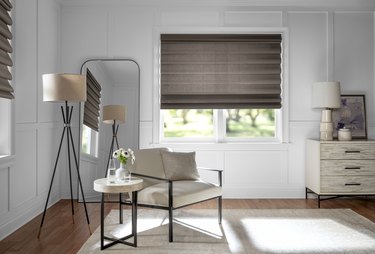 You spend time stocking up on all the rugs, art, and vintage pieces to accent your home, but what about your windows? It's easy to overlook, but if the light in your home doesn't reflect the design style you're after, so-so blinds (or lack of window coverings entirely) can start to draw the wrong kind of attention.
Truth: Light can totally alter the feel and functionality of your space, so selecting the proper window covering is one of the first and most important steps when styling any room.
That's why Anissa Zajac—owner and lead designer of House Seven Design + Build—harps on the importance of high-quality window coverings that don't just look beautiful, but won't fall apart from constant use. In her own home, Zajac trusts LEVOLOR. There's a clear distinction amongst other brands once you install wood blinds in your own home—just ask Zajac.
"Your windows and view outside are the focal point of any space and no matter what, your eyes will always be attracted to the light of the window," says Zajac. And since blinds are a 24/7 design factor (dubbed as "working pieces" by Zajac) you need your window coverings to be durable, long-lasting quality investments so you're not swapping out your design every few months.
"LEVOLOR blinds are more durable than your typical blinds and in the quality and the finishes alone, you can see a difference," she says. Keep reading for Zajac's tips on how to perfect your window situation in three key spots.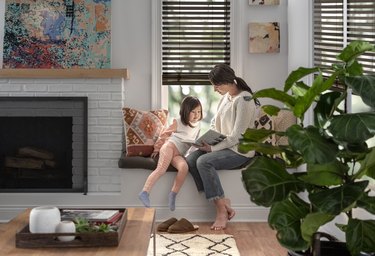 Kids' bedrooms (and adults', too)
If, like Zajac, you have kids at home, opting for motorized blinds instead of curtains in their rooms will give it a classic, clean look while also allowing you to program and schedule their blinds to open at a specific time in the morning by using the LEVOLOR app. Finally, the solution to actually leaving the house on time.
LEVOLOR blinds are equally ideal for your room, too. You can control the level of privacy with its cordless operation and privacy slat design that eliminates light gaps (so long, 5 a.m. wakeup calls.)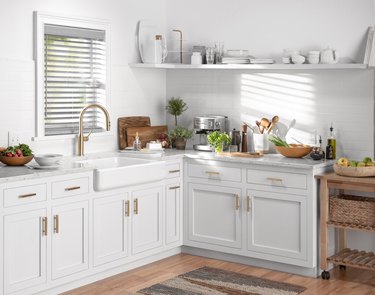 The kitchen
If you're thinking of giving your kitchen an elevated refresh, LEVOLOR Faux Wood Blinds are a strong candidate for your everyday cooking needs. They offer a clean look while simultaneously protecting your floors and furniture from fading.
With a highly durable design—and a variety of colored finishes—faux wood blinds won't warp, crack or fade, especially above your kitchen sink. Not to mention, they look exactly like the real thing.
Living Room or sunroom
The obvious spot where you'd like to enjoy family time in your home—without totally going blind, ahem—is your living room. You want to keep this area open, warm, and inviting, especially if there are a lot of windows. Opt for LEVOLOR's Motorized Real Wood Blinds, so you can sip wine, hang out, and adjust any harsh glares by using the LEVOLOR app—without ever leaving your couch.
Available in an unsurpassed palette of natural wood finishes, you can choose from three style packages that come complete with a coordinating valance, tassels, and wand in modern, traditional, and transitional styles. Plus, real wood blinds have a special coating so the finish won't fade—so you never have to think about replacing them. Consider it the finishing touch to your dream room.
Want to see how LEVOLOR Real Wood and Faux Wood Blinds will look in your home? Order 10 free swatches so you can give them a thorough test drive (and then never look back).