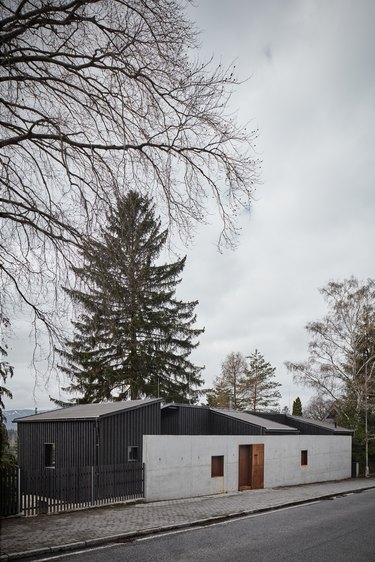 When designing a home for a family in Liberec, Czech Republic, Mjölk Architects started with a solid foundation. An over 100-year-old one to be exact. The owners had purchased an old house on a road leading to the Jizera Mountains and rather than starting over from top to bottom, the firm opted to keep the original stone basement. The space was transformed into the kitchen and dining area, with an additional utility room.
The basement serves as the foundation for not one, but two homes. The larger house is used by the owners and their daughter; a smaller guest house was built for their son, a sailor who is frequently off at sea. Both buildings are set behind the concrete wall facade, which gives the family privacy and reduces the noise from the busy street outside. The architects defined the interior with large windows, concrete floors, and walls lined with warm wood. The black, tar-painted exterior and asphalt roof contrast with the light interiors and give a nod to the original house. The end result is a contemporary design with a strong link to the past.
---
Elizabeth Stamp is a freelance writer in Los Angeles. Her work has appeared in Architectural Digest, Elle Decor, and CNN Style.