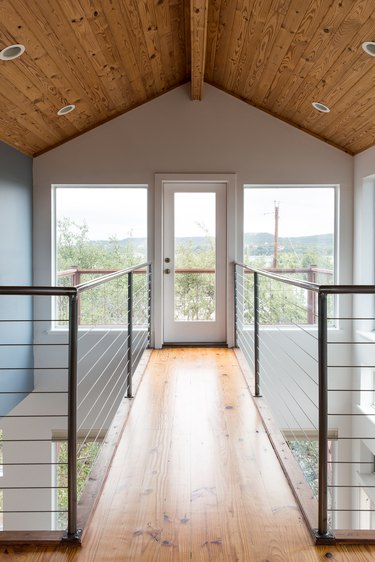 Who: Maureen Stevens
Where: Lake Travis, Texas
Style: Split personality — part 1960s ranch, part modern loft
When Maureen Stevens, her husband, and young son moved to Lake Travis, Texas, they were leaving downtown Austin, where they'd lived for eight years. In part, the move was to escape the relative hustle and bustle. And space had simply become more important with a child. Lake Travis had a view of the water just a few hundred feet away, as well as privacy, but "civilization," as it were, was still only a 20-minute drive away. It was the best of both worlds.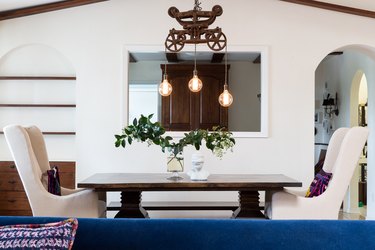 The home they chose had its own version of two different worlds. Upstairs, there was an architecturally minded modern loft with 20-foot ceilings and a catwalk. Downstairs, the original 1960s ranch felt classic and traditional — almost European, with its plaster walls and dark wood beams.
"This home wasn't a sought-after home, not a lot of people wanted it," Stevens says of the 3,200-square-foot, three-bedroom house. "At least for me, I never want the cookie-cutter home."
Indeed, Stevens liked the disparity. But it still had to make some kind of visual sense.
She started by painting everything to create a blank slate. "Even though it was modern, we tried to make it warmer," she recalls, talking about the upstairs loft in particular. The ivory paint she chose brought out the blues of the lake and surrounding greenery — all of which highlighted what Stevens calls the home's "treehouse" feel.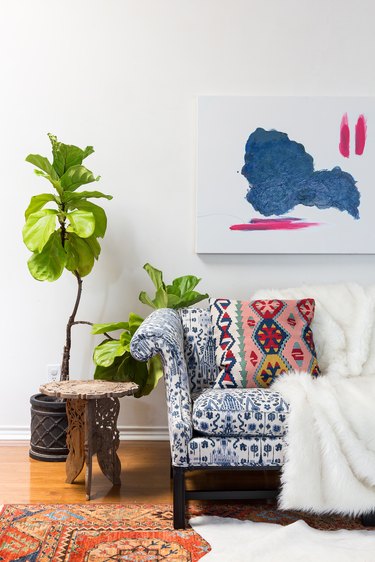 Then she brought in key items she had amassed over six different homes and a career in interior design. "I am not a hoarder," she laughs. "But I do have things that come with me wherever I am." Downstairs, traditional chairs and accent pieces were paired with vibrant navy and fuchsia and patterns with a global feel. Vintage finds — many from the famed Round Top Antiques Fair — can be found in every room. Craigslist finds were made upscale with custom upholstery. Everything, in its way, finds a second life.
Stevens and family have since departed Lake Travis for New Orleans. "Everything's bigger in Texas — and as a family of three, it was too big for us." Now, they are renovating three buildings on a single block outside the French Quarter — a plot that dates back to the 1860s, complete with gas lanterns on the porch. The vibe there is a little more classic, more "Marie Antoinette," Stevens says — but with some quirks. "Design is about problem-solving," she says. "It's not cookie-cutter. Each one is different."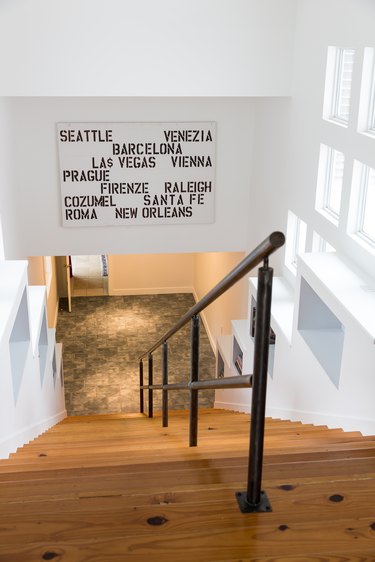 At the Lake Travis home, Stevens says what many guests would respond to most are the wide stairs leading up to the modern loft. "It's like they didn't know it was coming," she says. The DIY art she hung above it is still ever evolving. "My husband and I started it when we were dating," she explains. "Those are the places we've gone to together. That's one thing we bring with us everywhere."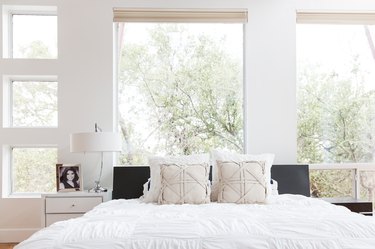 The master, at the top of the stairs, was kept rather spare and modern. "Every season the surroundings changed," Stevens says. "We didn't need any art at all."
Vintage accent pieces throughout the home, like the two mirrors from Round Top in the master bedroom, help make it feel more cohesive.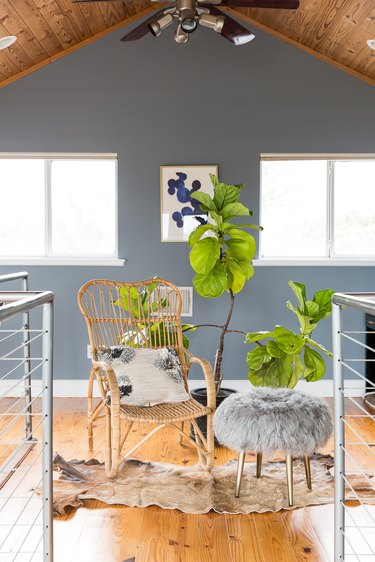 Stevens used natural materials strategically to soften up the loft and catwalk.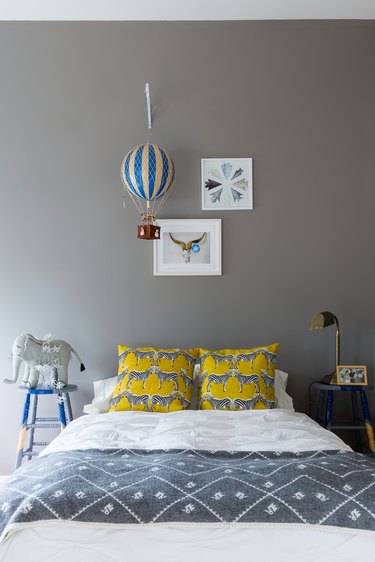 Across the hall, Stevens filled her son's room with colorful, sentimental touches.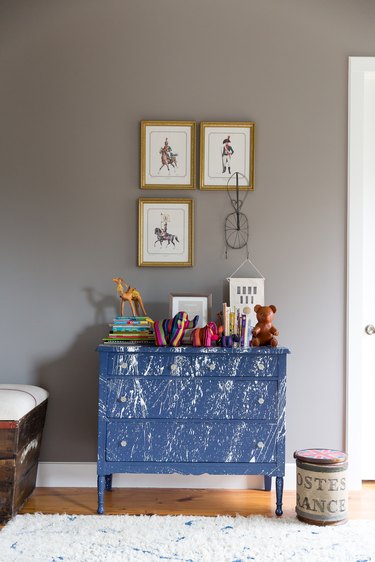 The dresser was repurposed and painted from a dramatic, glossy black. "The splatter was fun to do," Stevens says. The soldier prints are from Round Top.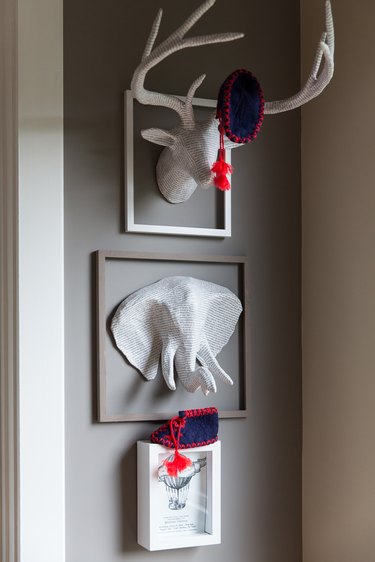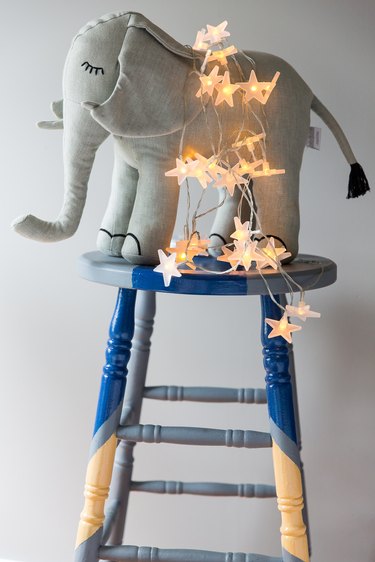 Stevens painted the stool, another treasure from Round Top, by hand.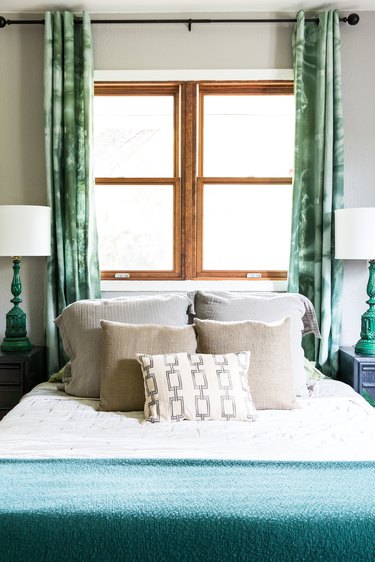 Downstairs, a third bedroom had a more global feel.
Stevens carried a similar vibe throughout the living room, where two tufted white chairs she's had for 15 years sat. "They were my first splurge," she shares.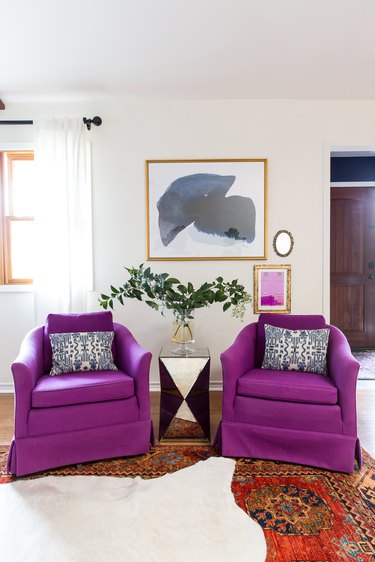 "At that time, I had just finished a project with a lot of magenta and navy," Stevens says. "I bought a lot of things that spoke to me." The magenta chairs were a Craigslist find.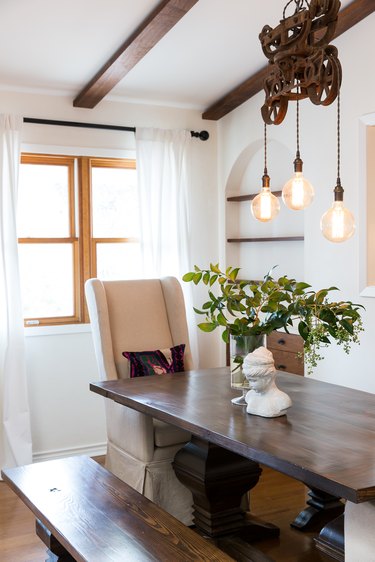 The lighting in the formal dining room hailed from a salvage yard in Texas. "I got it electrified and equipped with Edison bulbs," Stevens says. "We thought it would be perfect." It anchored the one room in the house that she left very traditional. The custom table was from a furniture maker in Austin.
Another dining area was situated right off the kitchen, with a banquette. "True to European kitchens, it was pretty small for a big house," Stevens says. "We used that banquette more than the dining table."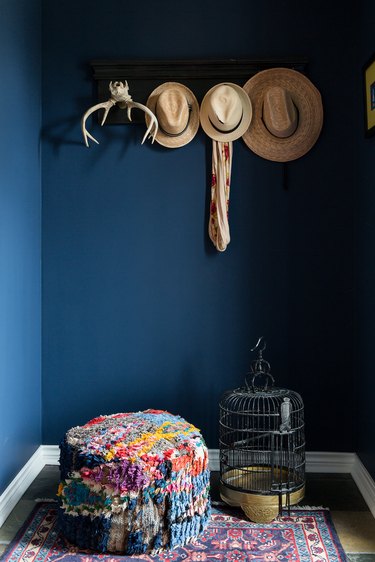 Stevens filled the small but striking foyer with little finds from Round Top, plus a pouf from Morocco. "I like making vignettes in every space, so that it's never boring."
---
Laura Lambert is a Los Angeles-based writer and editor who covers lifestyle, design, and women's health.
View Work