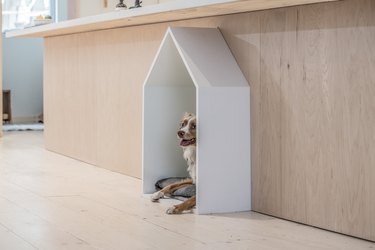 Renovating can be a slippery slope — but a good one. Take the case of a Toronto home handled by StudioAC: The client wanted a place to tuck away a dog bed ... which evolved into a complete gut redesign.
What was StudioAC's idea? Creating what they dubbed "the mass," a multipurpose storage unit that ended up completely defining the structure of the living areas, as well as the tone of the three-bedroom home. Before the renovation, the house, located in the Dundas West neighborhood of Toronto, was dark, cramped, and broken up into separate rooms. Owned by a contractor who also acted as a consultant on the project, the 1,500-square-foot space was cleared out to create a sense of openness.
Because the design team was on a budget, they opted for inexpensive materials, incorporating elements from IKEA and cladding "the mass" with plywood from Home Depot for a sleek look. The team also got creative by using plywood boards for the flooring. By rearranging the layout, the house has transformed into an airy, open space complete with a playful home for Rusty the dog.