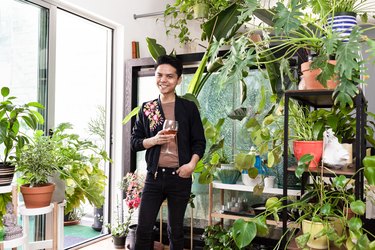 Who: Alec Perez
Where: Downtown Los Angeles, California
Style: Lush urban oasis
When Alec Perez wakes up each morning, he lights some incense, makes coffee, and walks toward the alcove that leads out to the balcony to "hang out with the guys," as he puts it — meaning, to mist and tend to some 85+ plants he currently has sprawled across his downtown LA loft.
"I call it FernGully," he laughs.
For a painter, graphic designer, and all-around creative like Perez, the ample two-bedroom, two-bath corner loft, part of the Market Lofts near 9th Street and Flower Street, is a fitting home. Shaped like a T, with few permanent features or walls, he's able to rearrange it at will.
"I like to keep it pretty fluid," he says. "Sometimes I have to do a photo shoot, and the floor is taken over with tarps and canvases." This is where he paints. It's where he does laundry, and yoga. It's where he entertains. It's been home since he was an undergraduate at Fashion Institute of Design & Merchandising (FIDM).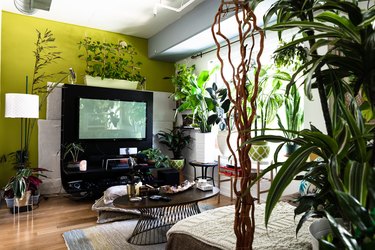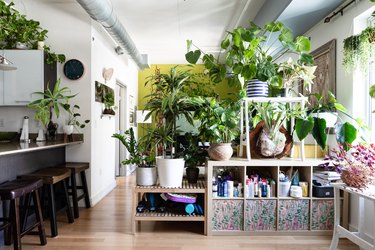 When Perez first moved to this part of downtown — which, at the time, was mostly empty parking lots — he shared the space with his sister, who now lives in Echo Park. Then, a cousin moved in. In the fall of 2017, she moved out — and the loft was his. "I cried for a day, then I drank a bottle of rosé and painted my apartment." Before, everything made a statement — the hallway walls were orange, the bedroom was green, surfaces were red, bright pink, yellow. "I knew this was going to be a cleansing moment," Perez says. "I Marie Kondo-ed my life."
The space is now heavily white and gray, with accent walls in muted coral and chartreuse. "There's an architectural vibe in here again," he says.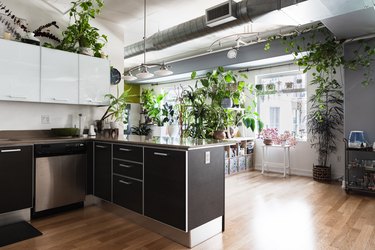 The plants that give the space life and texture are a nod to his childhood and the lush garden his parents tended.
"Some are gifts. Some are 15 years old. Some I got yesterday — shhh, don't tell anyone," he laughs. "I love this canopy idea, with the leaves or the trees above you. I feel comfortable and safe."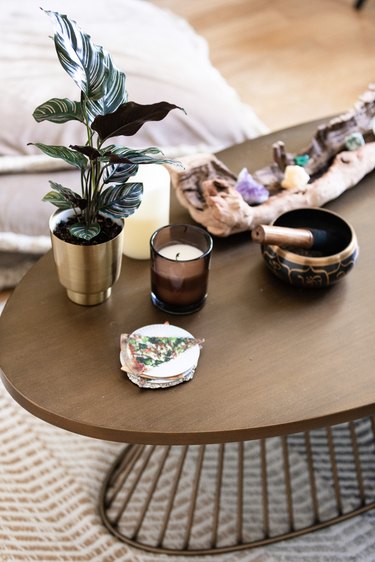 And it's that sense of safety, in a way, that allows him to flourish creatively — and to bring others in to collaborate. He makes a point to hold "Inspo Days" where he invites like-minded friends over to cook and discuss creative projects and business ideas. "We light incense and we really hone in our creativity," Perez says. "It is like one big, lush downtown creative living space."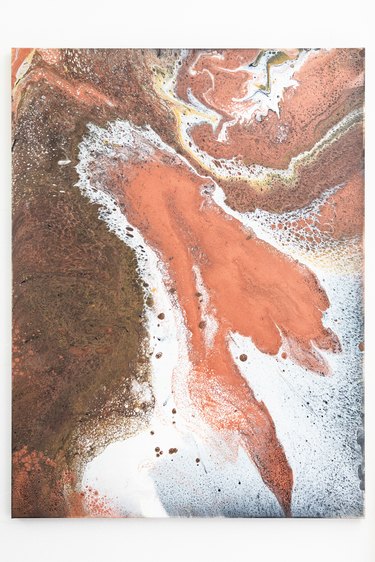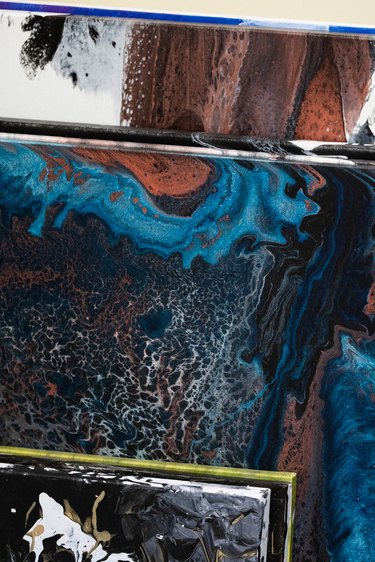 "Every painting that is up is my own. I like the idea of being surrounded by my art," Perez says. His background is in graphic design and photography but two years ago he started painting. "I had my first art show, self-hosted, in the fall of 2017. I showcased 30 paintings at my sister's apartment in Echo Park."
"My most prized plant is a cutting of a staghorn fern from my parents garden. My dad gave my mom a staghorn fern for their first wedding anniversary." They've been married 33 years, now. And the fern cutting, which Perez mounted on wood, now takes center stage in the loft — though it's too heavy to hang.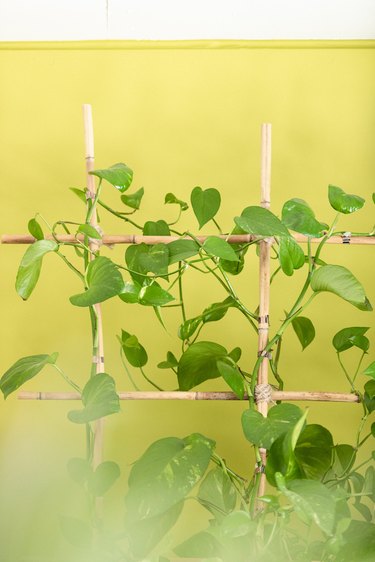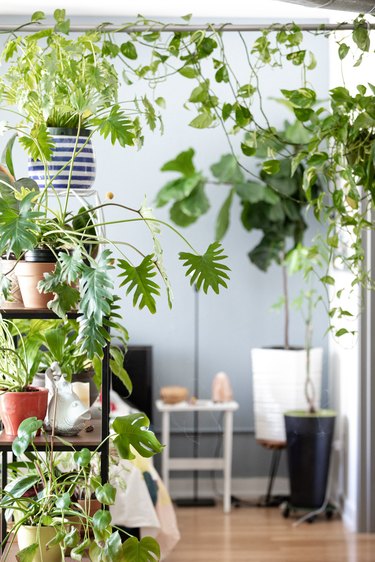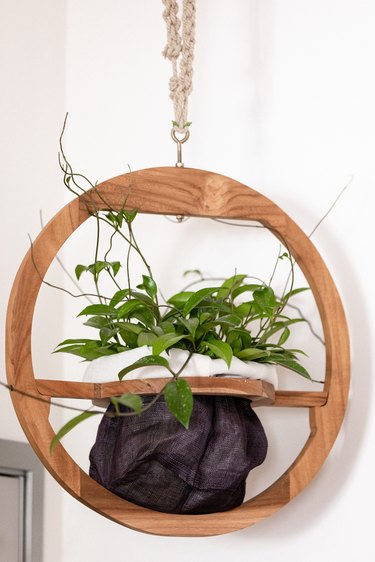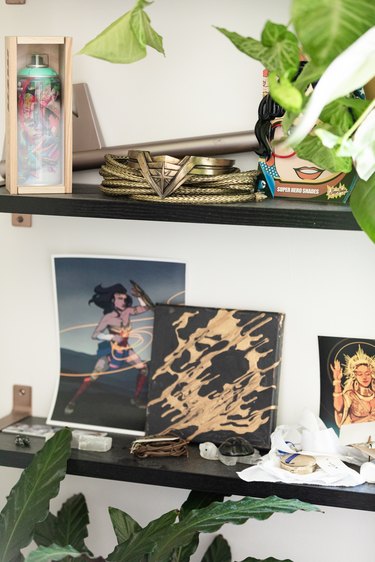 "I have a lot of sentimental things. I'm a low-key fan of a lot of things," he says. "I have a replica of Wonder Woman's tiara and her lasso. I have my Beyonce stuff."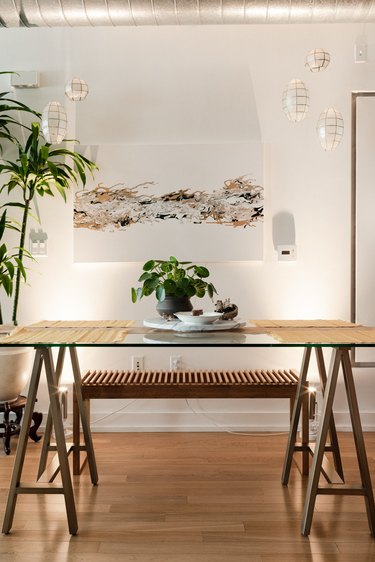 "I'm proud of my Filipino heritage, and I love these Capiz lanterns. It's mother-of-pearl, very thin and delicate, and it looks great against my skin tone," Perez says. "I wanted a design element that spoke to me and my heritage."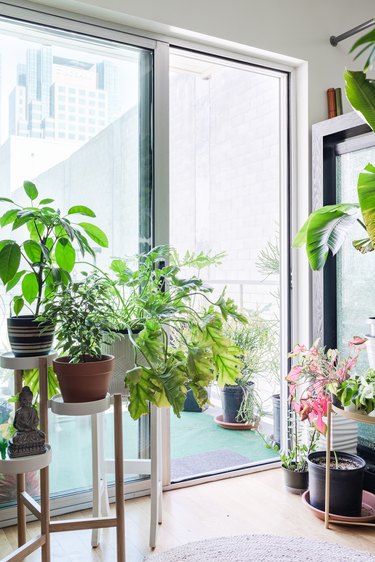 "I've got a separate shower just to water my plants."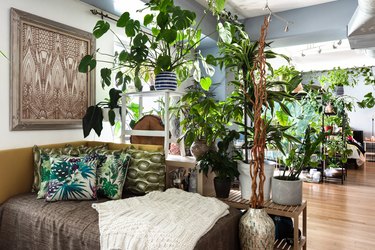 "In a rosé-fueled, inspiration-burst moment, I got the idea to flip the apartment around, so I rotated everything, moved the bed from one side to the other, and now the living room is its own separate space."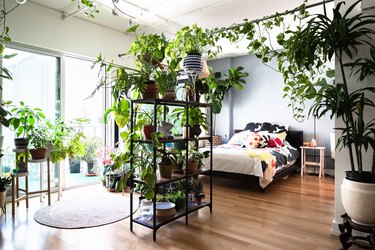 "I'm very open, I don't even have blinds," he says.
Locals Know Best
Favorite piece of design or architecture in your neighborhood, town, or city:
"There's a network of bridges on Flower Street that connect the Financial District and Bunker Hill together, near 5th and Flower Streets, next to the Central Library and the Bonaventure. They connect all those buildings together, up until the residential buildings on Figueroa. I think it's a nice way to create community, and connect those buildings. It used to be not so walkable. They could just as easily be separate."
Best places for thrift store finds, antiques, or flea markets:
"Don't shop in downtown LA. If I were to go to a flea market, it would be the Rose Bowl Flea Market. But really, it's when I'm driving around in neighborhoods outside of LA — at a reduced price, not with the LA tax! I'm a child of immigrants so any deal is a good deal."
"Also! A couple of my vintage pieces were sitting in my parents' garage from when we would go 'antique-ing' as kids."
"There are two in downtown — one next to the library and another one in the Historic Core. But, really, I live walking distance from Whole Foods and above a Ralphs [grocery store]."
"I enjoy wine at home because I can enjoy my own music. No one plays Mariah Carey anymore!
"But I appreciate a good roof. My friends and I frequent Broken Shaker, and we used to go to the Ace a lot. I like Everson Royce Bar in the Arts District. Or Karaoke happy hour at Max's in Little Tokyo."
Best cheap and cheerful restaurant:
"One of my favorite spots for poke is in the Little Tokyo Market, from one of the stalls next to the frozen food."
Best place to experience art and culture:
"A lot of my friends are in the pop-up realm — pop-up art shows or pop-up dinners. They show up in storefronts off Broadway, or loft spaces in the Arts District. There's a network, and once you get on a newsletter, you're exposed to all of it.
If I were to have visitors, I would take them to:
"It depends on whether they like Mexican or not. And it depends on whether they day-drink. But if I could send you off to three things ...
First, to see the view, we'd grab a drink at 71 Above, which has a panoramic view of LA. Then we would pop by the hills around Dodger Stadium for some great hiking. That also has a nice view of city from a distance — and I would grab a sandwich on the way. Then, if you are a plant person, Mickey's in West Hollywood. Most of my plants are from there."
I hosted family last week and took them on the following tour. First stop, a walking tour of Grand Central Market and Filipino breakfast/brunch at Sari Sari Store with a Sarita's Pupuseria pupusa on the side. Then off to Wanderlust Creamery in Atwater Village for their special Game of Thrones - inspired 'Game of Cones' menu. A small hike around Elysian Park to see the views of downtown to walk off the food. Then for dinner, we went to Ma'am Sir in Silver Lake, where it is always a family party. Then for second dinner, we went to Pine and Crane for the dan dan noodles!"
---
Laura Lambert is a Los Angeles-based writer and editor who covers lifestyle, design, and women's health.
View Work