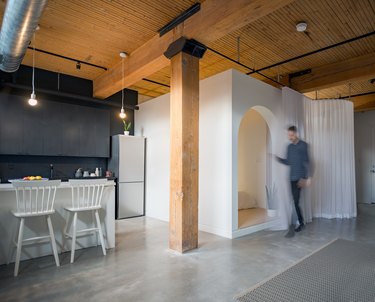 For StudioAC, there were multiple challenges in transforming a small Toronto apartment into a functional home. First there was the space — or lack thereof — of only 550 square feet. Second, there was a budget of less than $50,000.
Before the reno, the kitchen dominated the apartment. The team opted to downsize it and focus on creating more room for a bedroom. Or rather, a bedroom-like area that resulted in what they call a "bed box" — an arched structure within the loft just large enough for a double bed that can be sectioned off with a curtain.
To keep costs down, the home lets its industrial bones shine, with simple concrete flooring and exposed piping.