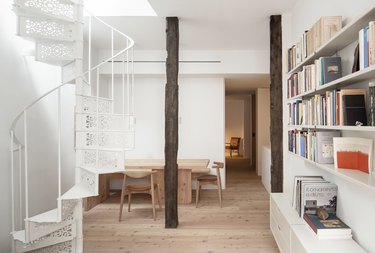 Small spaces are already tough. But a small space shared over two floors is even trickier. Take this Barcelona apartment — which is less than 600 square feet in total — that features two levels. But it's that very feature that actually makes the home so stunning.
With a renovation overseen by the team at Rifé Studio, a striking wrought-iron spiral staircase defines the space. On the upper level, natural light pours in from the terrace. The downstairs is sectioned into a living room, dining room, open kitchen area, and bedroom. The firm also made reference to the apartment's past by using pine wood for the floors and some furniture — a uniting touch.
The apartment, which is now more cozy than cramped, offers a tranquil getaway from the bustling Malasaña neighborhood.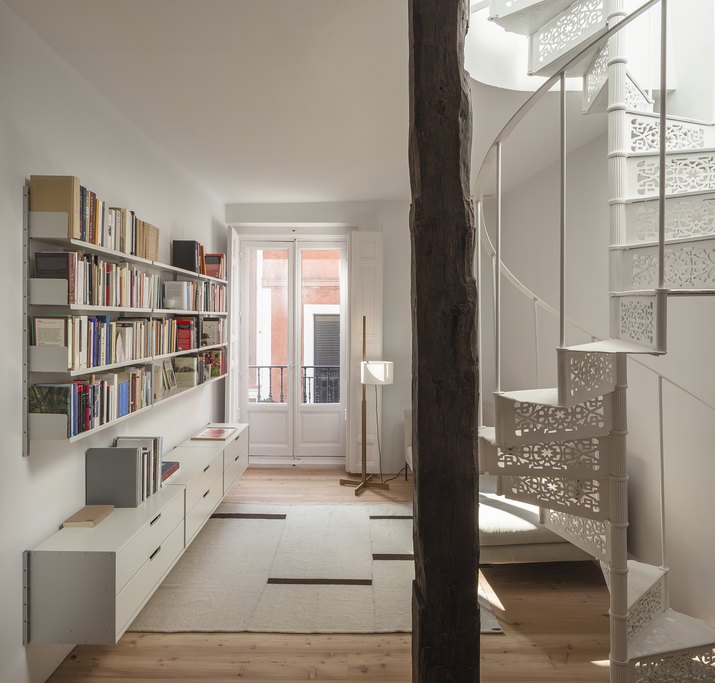 1 of 10
Minimalist furnishings (like a re-released 1961 Miguel Milá floor lamp and a simple rug by Ábbatte, a Spanish company) let the mix of materials — the wrought iron, the dark wood posts, the lighter wood flooring — shine.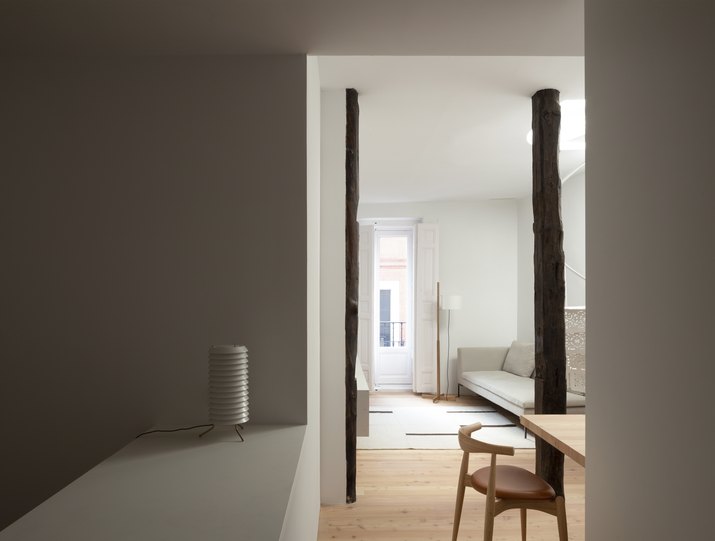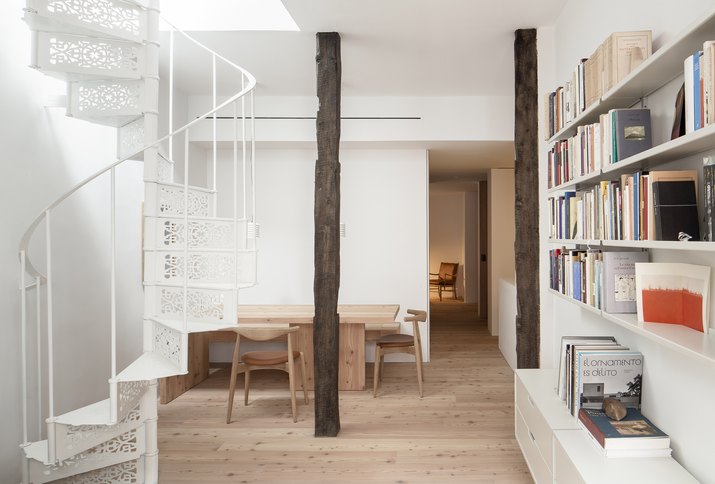 3 of 10
A 606 Universal Shelving System designed by Dieter Rams in 1960 and made by Vitsœ displays the book collection in the living room in an organized manner. Parallel to the bookshelf, a cabinet also functions as a place for storage.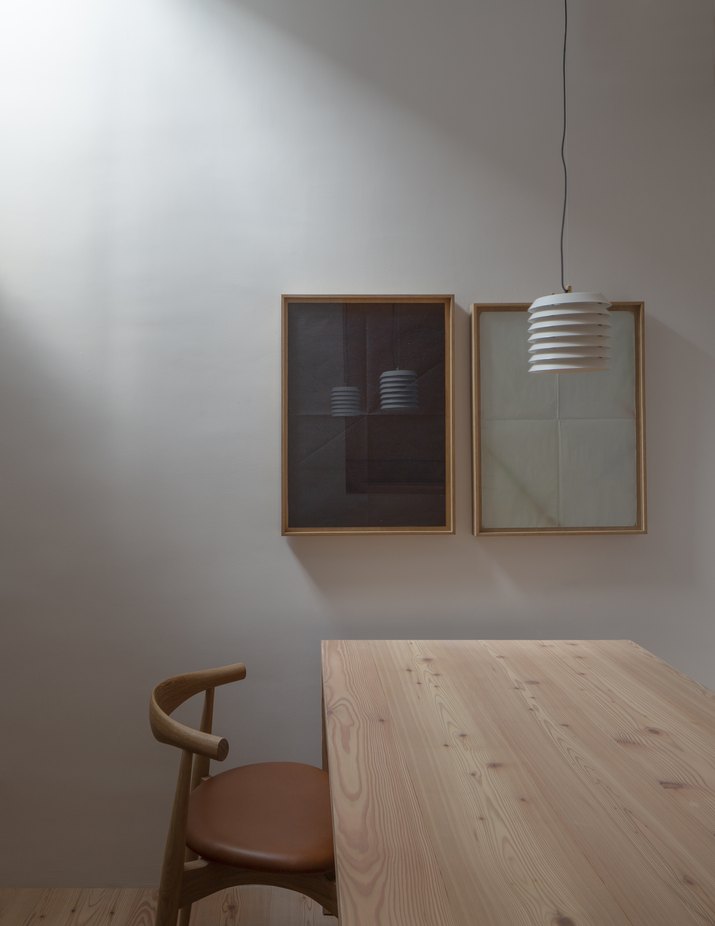 4 of 10
A custom table and bench were made from the same pine material used in the kitchen.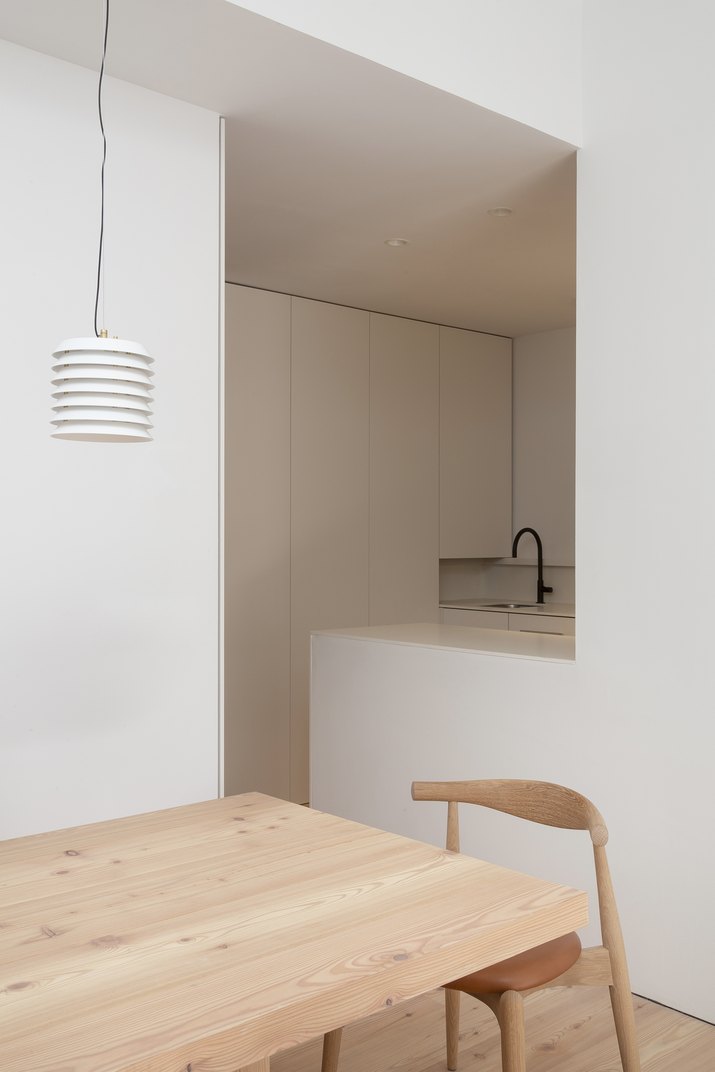 5 of 10
A Maija model pendant lamp above the dining table adds some texture to the straight, modern lines that define the eating area.
6 of 10
A minimalist kitchen, uncluttered by cords and appliances, relies on the almost-unadorned cabinetry for a clean look. By minimizing chaos, the small kitchen feels larger and more functional.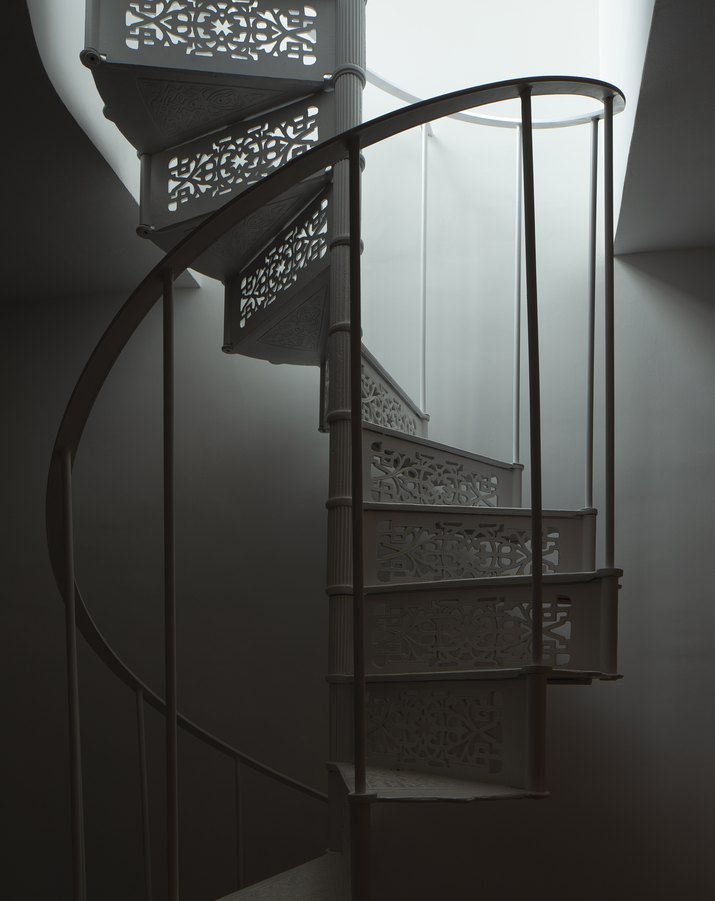 7 of 10
Serene and clean, white paint was used to cover walls and ceilings. The same white paint gives the staircase a light appeal.
8 of 10
Sheer white curtains allow natural light to filter into the bedroom. A massive pine wood headboard is a practical homage to the apartment's past. An Occasional LTR (Low Table Rod Base) designed by Charles and Ray Eames and purchased from Vitra functions as the ideal minimalist bedside table.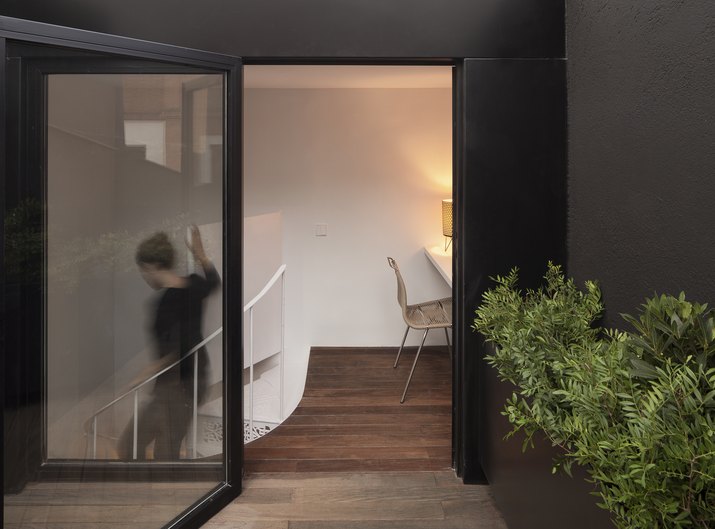 9 of 10
A sliding door separates the interior from the garden patio.
10 of 10
Located on the third floor of an apartment building in Malasaña, the home's garden area provides views of the Spanish capital below. The dark-toned outdoor patio, complete with a But Armchair designed by Francesc Rifé for Point, contrasts with the bright whites and natural tones of the interior.
---