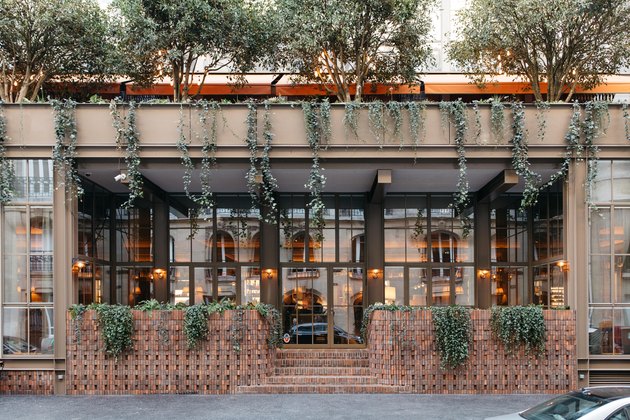 Seriously, is there a hotel in Paris that doesn't make us swoon?
Add to your Insta feed one of the City of Light's latest openings: Brach, a 59-room property in the posh 16th arrondissement. Starchitect Philippe Starck went to task on the new boutique hotel's design.
"Brach is a mix between modern Bauhaus and the surprise and wonder of Africa," says Starck. "It's all about culture, about these life moments when things happen, these moments of uncertainty in between."
"It is a place full of what I call 'fertile surprises,'" he says about the Evok Hotels Collection property. "Everywhere you look, there is a surprise, there is a game. A Chareau stool by the Maison de Verre positioned here, an Italian folding knife from the beginning of the century over there, an African stool here." Wood, stone, leather, concrete, and bronze are dominant materials, but with a soft twist away from cold modernism.
Transforming this former mail-sorting facility into a boutique hotel was no small feat.
"The industrial structure of the building appealed to me," says Starck. "We had to redo everything inside out." While some architects might shudder at that, this was in perfect pitch with Starck's process. He likes to start with "a blank page": "I visualize my projects in an unconscious way, as in a dream, a piece of poetry, something unsaid."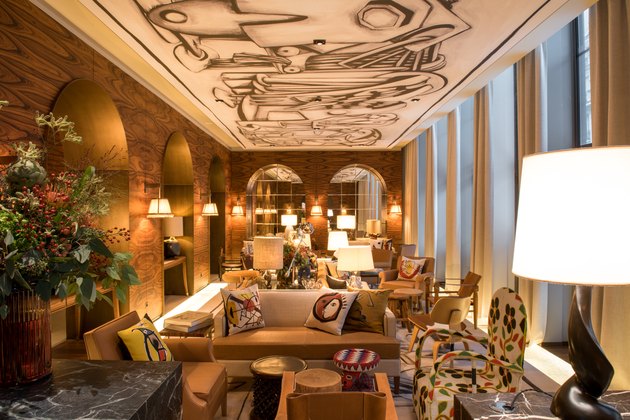 1 of 7
Lobby
From ceiling art to delightfully mismatched stools, the lobby is pure eye candy. Arched doorways add elegance.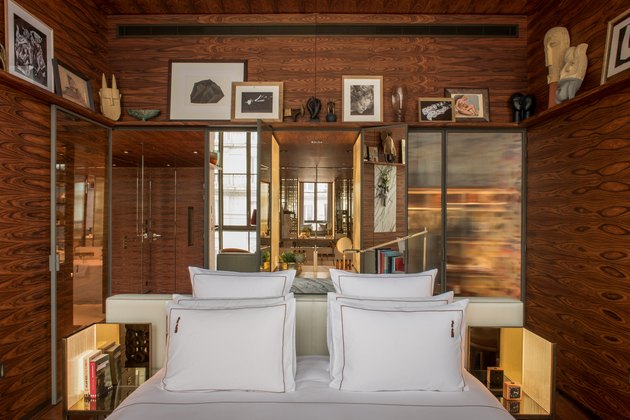 2 of 7
Room
Items crafted from natural materials — like African masks — soften the rooms while also creating visual interest. "Usually, when you see African masks, they are always old or try to look old with a patina effect," says Starck. "We found artisans in Africa who make new African masks, in white wood. It's beautiful and very surprising."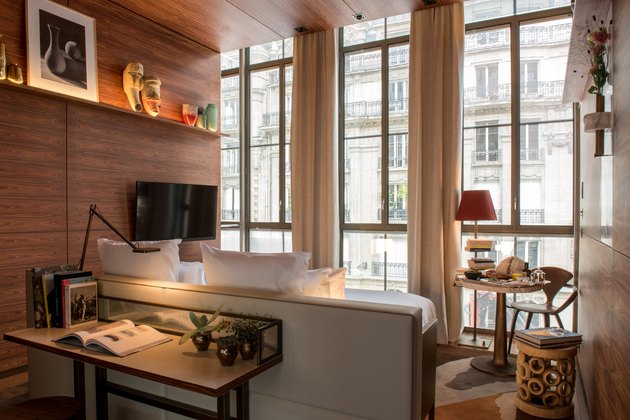 3 of 7
Room
Plants, coffee-table books (about art and design), and decorative arts (adorning a floating shelf) complement the rooms' wood-paneled walls, cultivating a cozy, den-like vibe.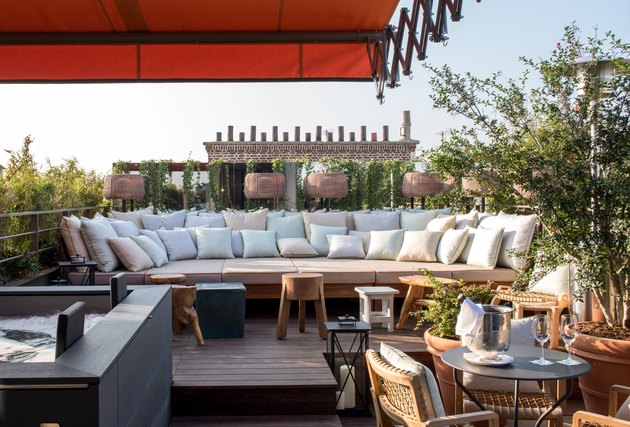 4 of 7
Suite
In the Georges suite, you'll have your own private rooftop party patio, complete with a Jacuzzi.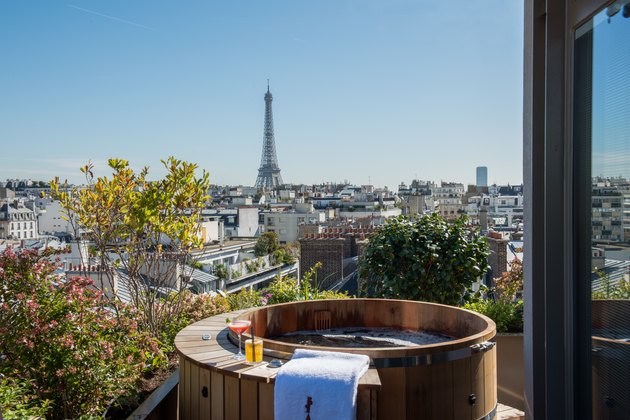 5 of 7
Suite
Each of the suites features either a Jacuzzi or a Norwegian-style wooden hot tub. The Henri suite comes with especially choice Eiffel Tower views.
6 of 7
Restaurant
Built-in shelves with books, framed works of art, and decorative objects give the restaurant instant coziness.
7 of 7
Terrace
On the hotel's terrace, natural materials, white canvas couches, and Equipale chairs create a resort-like vibe.
---
Based in Wisconsin, Kristine Hansen covers art, architecture, travel and food/drink, and lives in a 1920s bungalow.
View Work