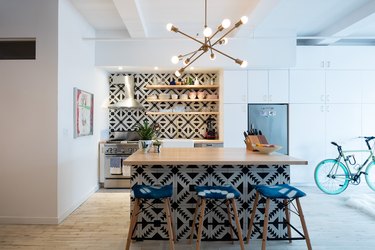 When brand consultant Marika Wagle went looking for a home in New York City, a condo in the Silk Building in NoHo was a perfect match. Originally built in 1908, the landmarked building was converted into residences in 1987 and its history as a factory for silk garments made it ideal for Wagle, a former fashion exec. But what wasn't ideal was the duplex apartment's dated condition. That's when Hatchet Design Build came on board to brighten and modernize the home.
They started by removing a few walls to open up the space in the main area. The apartment's original floors were stripped to showcase the character of the wood and help lighten up the home. Custom millwork was added throughout the apartment — a tricky task given that historic buildings are notorious for their lack of right angles. Since they kept the walls and millwork bright white, the firm installed graphic encaustic tile in the kitchen and bathrooms for contrast. Wagle added her own fashionable touches to the decor, incorporating colorful finds from her travels.
---
Elizabeth Stamp is a freelance writer in Los Angeles. Her work has appeared in Architectural Digest, Elle Decor, and CNN Style.
View Work