Don't get us wrong: When it comes to Palm Springs, we are totally on board with the up-front and in-your-face midcentury modernism. But it's always interesting when decor there takes a not-as-obvious approach.
Enter Villa Royale, a hotel offering rooms as well as villas that hold on tight to its 1947 design roots. Fresh off a reno, there's an artful mix of Hollywood glam, lots of Spanish influence, and OK, a bit of midcentury thrown in.
Owned by Provenance Hotels and Lightning Bar Collective, Villa Royale aims to embrace its past as a glam hideaway for actors and screenwriters. "We found an array of old photos of the property that inspired and influenced the design," says John Janulis, Lighting Bar Collective founder. "For example, our current sign was inspired by the original Villa Royale sign from 1947."
All rooms and common areas were completely refreshed with tile sourced from Spain, Portugal, and Mexico; refurbished vintage furniture; and custom mahogany and oak woodwork. The result is a desert vacation spot that offers something a little different and more contemporary.
1 of 10
Exterior
A graphic, spray-painted sign that reads "Welcome to Your Paradise," created by Los Angeles tattoo artist and muralist Sagent Staygold, greets guests upon arrival.
2 of 10
Room
Shiplap ceilings and earth-tone floor tiles are paired with nature-inspired blue and green furnishings, Mascioni linens, and graphic throws.
3 of 10
Guest Suite
The hotel contains some impressive artworks. In one suite, a portrait of Debbie Harry by Juan Antonio Casas reigns over the room.
4 of 10
Room
Ratio Eight automatic coffee makers (crafted by Portland, Oregon's Ratio from die-cast aluminum, borosilicate glass, and hardwoods) are in larger studios, and one- and two-bedroom villas. The coffee is brewed pour-over style.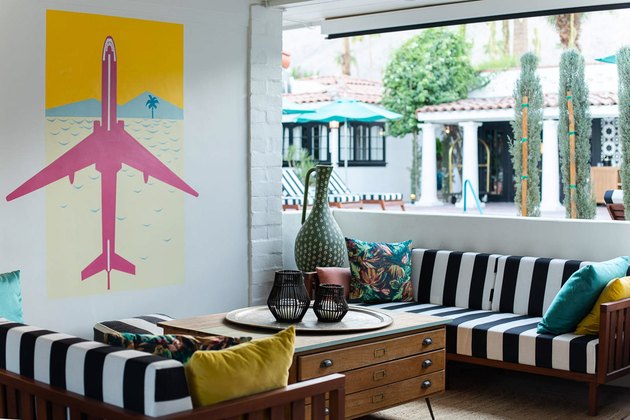 5 of 10
Cabana
Inspired by travel, Sara Radovanovitch's mural "El Viajae" — which translates to "the journey" in Spanish — sits close to the pool.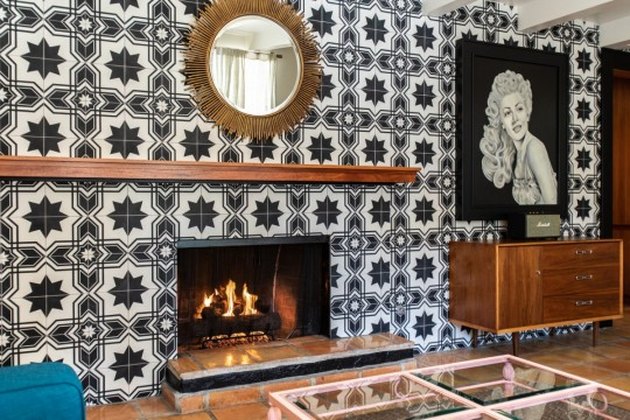 6 of 10
Evelyn Pell Villa
One of the villas is named after Evelyn Pell, the hotel's original owner.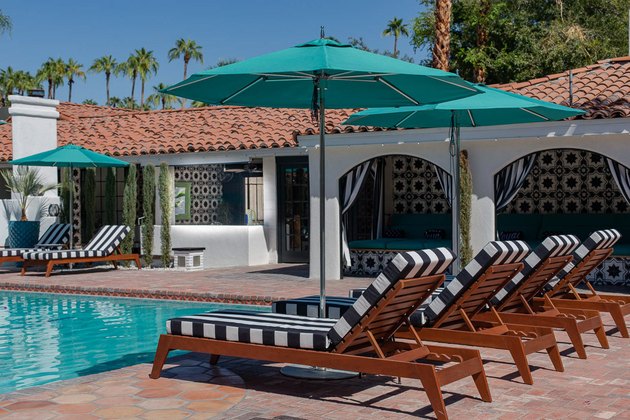 7 of 10
Pool
A chic black-and-white theme around the pool channels old Hollywood, appropriate as Hollywood celebs (including Mickey Rooney) used to flock to the hotel when they weren't filming.
8 of 10
Del Rey
Dubbed Del Rey, the hotel's noshing and drinking spot includes a bar outfitted in a very 1940s-esque aqua hue.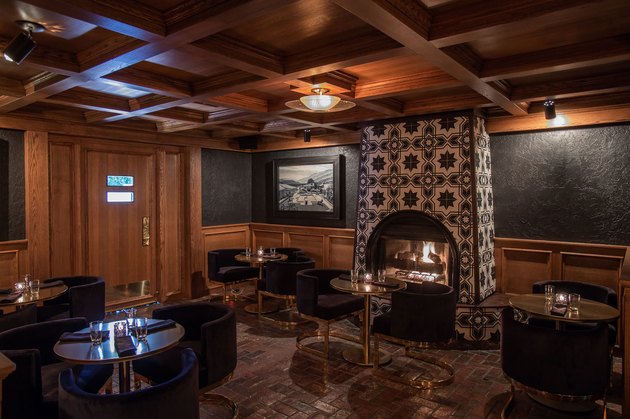 9 of 10
Del Rey
Stucco walls, a 12-seat bar, and tufted oxblood vinyl booths make Del Rey a destination for not only tapas lovers but design fiends.
10 of 10
Del Rey
Alfresco dining at Del Rey includes this delightful little courtyard under the shade of a citrus tree.
---
Based in Wisconsin, Kristine Hansen covers art, architecture, travel and food/drink, and lives in a 1920s bungalow.
View Work