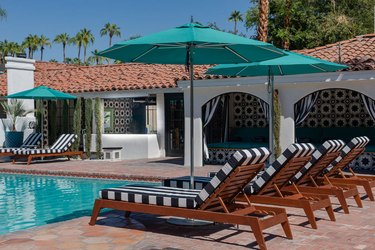 Don't get us wrong: When it comes to Palm Springs, we are totally on board with the up-front and in-your-face midcentury modernism. But it's always interesting when decor there takes a not-as-obvious approach.
Enter Villa Royale, a hotel offering rooms as well as villas that hold on tight to its 1947 design roots. Fresh off a reno, there's an artful mix of Hollywood glam, lots of Spanish influence, and OK, a bit of midcentury thrown in.
Owned by Provenance Hotels and Lightning Bar Collective, Villa Royale aims to embrace its past as a glam hideaway for actors and screenwriters. "We found an array of old photos of the property that inspired and influenced the design," says John Janulis, Lighting Bar Collective founder. "For example, our current sign was inspired by the original Villa Royale sign from 1947."
All rooms and common areas were completely refreshed with tile sourced from Spain, Portugal, and Mexico; refurbished vintage furniture; and custom mahogany and oak woodwork. The result is a desert vacation spot that offers something a little different and more contemporary.