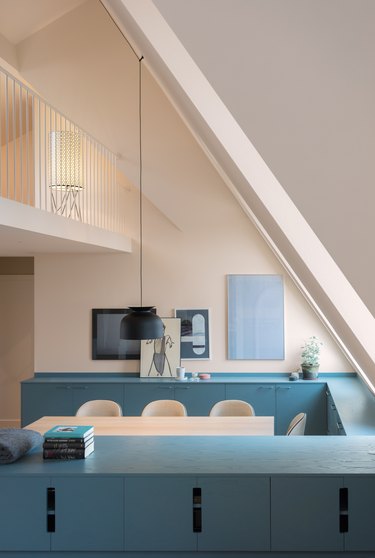 When researching cool homes, we've found that there are some very common sources for design inspiration. There's "inspired by the couple's travels" or someone's "distinct personal style." More often than not, this results in some really neat spaces. But we love the more random sources, too, and the inspo for this loft in Stockholm's SoFo neighborhood is certainly one we've never heard before: a plaza in Rome, a brown cashmere coat, and a pair of sand-colored sneakers.
Stockholm-based Note Design Studio took on the task, painting the 1930s-era space in soft beiges and sandy pinks, avoiding stark whites and creating a soft, warm backdrop. Blue-gray storage units installed along the lower walls are a quiet contrast to the rest of the color palette. The streamlined architecture — from built-in cabinets to the minimalist staircase — gives this apartment a sophisticated simplicity, while blue design elements and a muted color palette add personality and keep it from feeling like a typical modern loft.
---
Elizabeth Stamp is a freelance writer in Los Angeles. Her work has appeared in Architectural Digest, Elle Decor, and CNN Style.